Screencast inspired by the release of Huawei Honor Smart Screen
iPazzPort
On August 10th, the world's first Huawei smart screen equipped with Huawei's Harmony OS was officially released in Dongguan. With the launch of the honor smart screen, more cutting-edge technologies will be introduced into the large-screen field to redefine the boundaries of industrial development and to promote continuous iteration and upgrade the entire industry.
Zhao Ming, president of Huawei's honor business department, said that through a single touch, mobile phones and smart screens can be synchronized and you can control TV by mobile phones, supporting mobile games with a low-latency 60-frame projection.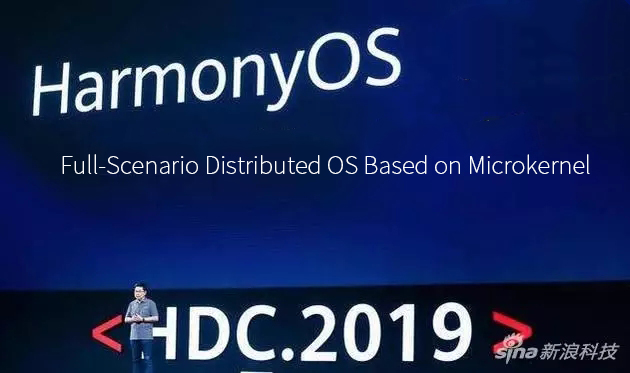 In the help of honor magic-link property, content on Huawei phone including movies, pictures, games, can be displayed on Honor smart screen by a touch with the supplied NFC label, no need of any pre-installed APP.

Magic-link property can achieve up to 60 frames, pair with each other within 2 seconds and obtain in-between synchronized images in less than 150 milliseconds.
The content of the mobile phone can not only be placed on the smart screen, but also be captured. When the mobile phone is bound to the smart screen APP, the mobile phone can be used as a remote control of the smart screen, which enables the children working outside to help their parents to complete complicated operations and other functions remotely.
Smart screen supports Huawei share, at a transmission rate of 600Mb every 20 seconds between phone and Huawei screen, which assures the users of no-delay images when playing games, no hassle of unsynchronized pictures due to low latency.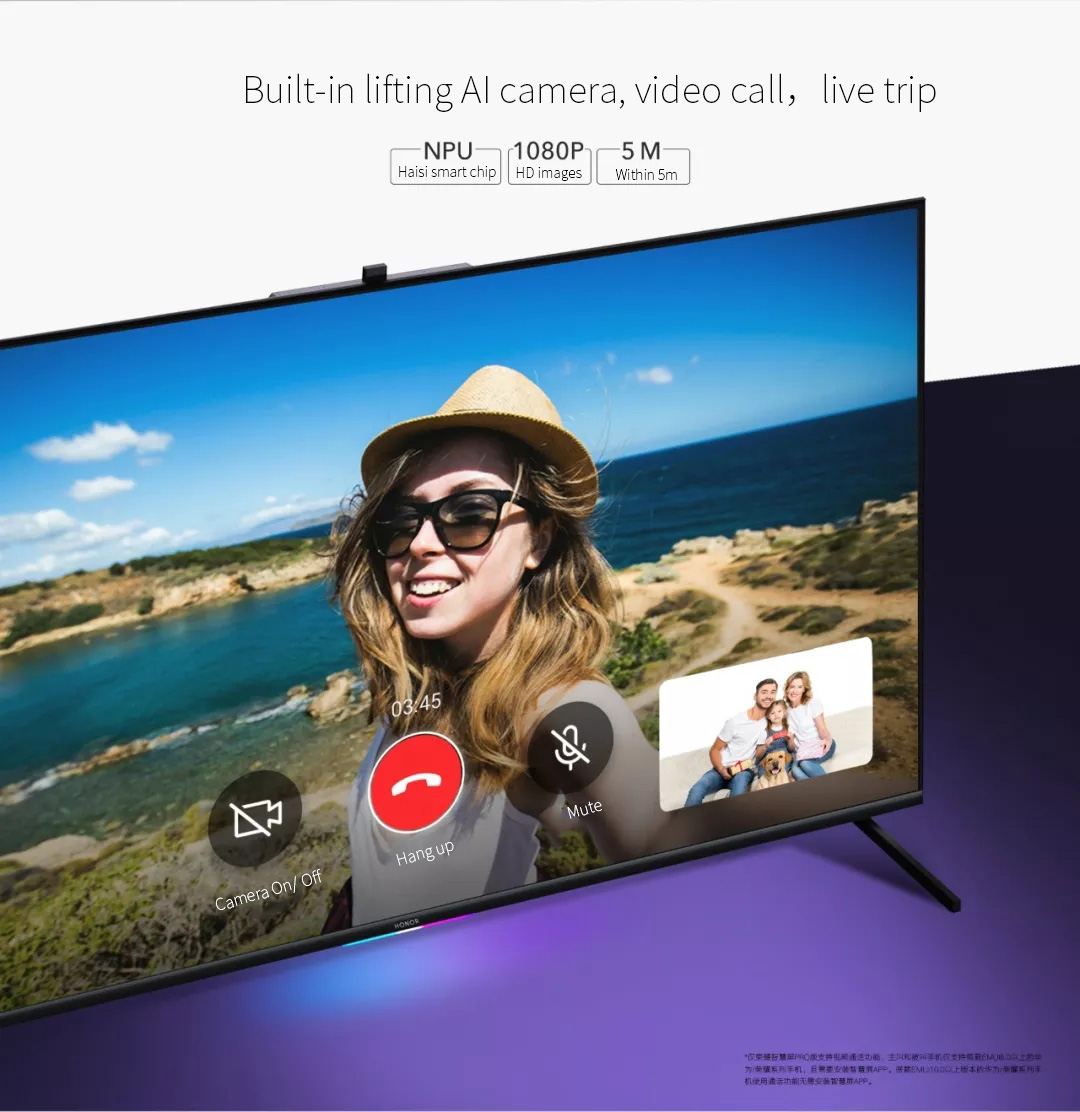 Screen linkage between Huawei mobile phone and smart screen which are much different in screen size presents to us a new "screen" and "vision"
The audiovisual experience of different scenes has become the mainstream leisure entertainment,whether a short video for fragmented occasions or a long video for rich prospective. As the first product integrating Huawei's smart screen strategy and Harmony OS, Honor smart screen creates a new interactive way between mobile phone and big screen: Magic-link technology of magic control screen, and other technologies combine products of different functions and scenes in the family to establish a connection between the big screen and the small screen including the mobile phone, which allows Huawei users to enjoy the wonderful "vision" anywhere and anytime.
In the home scene, users make the smart screen as the center to achieve multi-screen operation and multi-device interconnection. Magic-Link function, for example, can put content on smart screen to get an instant live interaction without downloading the APP or connecting to WLAN; meanwhile, breakpoint resume function, based on pretty simple operation, is to put episodes you are watching on the mobile phone on the Honor Smart Screen seamlessly, thereby improving the viewing experience of the users across scenes and terminals.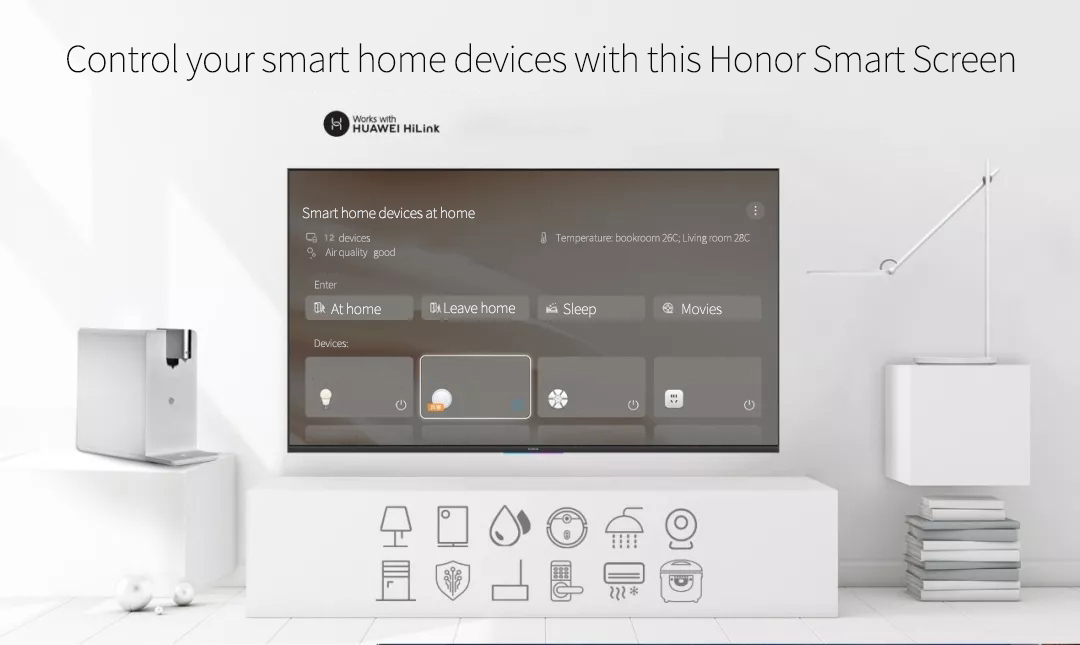 Voice interaction supported by the honor smart screen will also help the users fully upgrade their smart life experience: to free their both hands and achieve true smart interactive experience, concerning media playback, switch, backout etc, or other smart home devices on utterly inconvenient occasions like doing housework, home workout, and so on.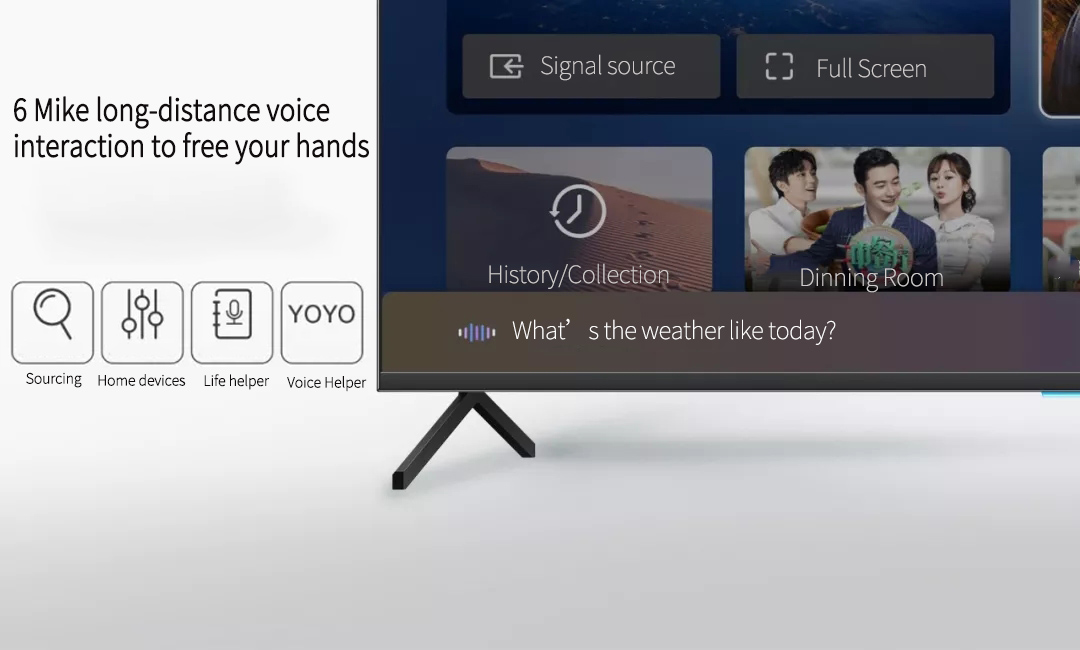 Besides the powerful hardware configuration, the included terminal cloud services are also quite outstanding. In terms of video services, Honor Smart Screen exclusively brings together the high-quality content of four platforms, namely, Huawei Video, Cool, Mango TV and Tencent Aurora TV, giving users a one-stop video source with wonderful quality of HD 4K, HDR, which will greatly enhance the user's audio-visual experience in home entertainment.
Here comes the welfare to enjoy the whole "vision" only if you have an ordinary TV
Fortunately, greater part of wonderful new audio-visual experience in living room supported by Honor Smart Screen can, without changing your former TV, be achieved by a miracast dongle named iPazzPortcast. That is, by one click after connecting your smart Phone with your ordinary TV, everything you want is at hand, including HD 4K, numerous wonderful videos, live content, controlling the TV display by phone, voice interaction, etc.
Based on the principle "Simplicity is a state of mind" , UnisenTech is committed to giving users best experience. For example, instant screen-castin display by Scanning code is quite easy to operate, and the large-screen audio-visual experience bring back all of your home members to the living room.
(Please click the picture to check the miracast cagegory)
If you don't have a free budget, iPazzPortcast is a good alternative for you to experience a smart life in full scenario at lowest cost. Based on the advantages of interactive technology, Unisen aims at building an intelligent life for the home users by continuously expanding scene-based services, upgrading smart interaction of a full scenario, and exploring a better digital life according to users' feedback.
Thanks for reading.