3 tools from Tencent for new retail ecology
iPazzPort
Tencent joins hands with BBK, Walmart and other ecology-oriented partners to forge a smart new retail. During 2 years, the whole country has been dotted with 321 smart brick-and-mortar stores, and BBK has built the ecology system of smart retail characteristic of panoramic style and full channels. This system provides the users with an at-hand smart retail scene anywhere and anytime, which Meets the diversified shopping needs and achieves a comprehensive upgrade from traditional retail to smart retail
.

The purchasing program Better independently developed by BBK combines not only the functions of scanning code purchase, WeChat payment, membership code + payment code, but also of receiving the coupon deductible and parking payment. Customers can complete payment in 5-8 seconds through purchasing code, WeChat payment and other smart cashier scenarios, which greatly shortens the waiting time and brings customers a better purchasing experience.
1. The new retail strategy is based on small programs.
For Tencent, the small program actually carries the core strategy of its industrial internet and smart retail instead of an open platform as it seems to be.
As the successor of the third-party application of WeChat public account, the small program adopts unique application standards to standardize the creation, release and operation of third-party applications, based on the concept of decentralization, so that developers can build lightweight applications based on WeChat applets, and the users can use the small program (no nee of download and installation)
to find what you want-WYSIWYG.
Till the end of 2018, the population of WeChat users has reached 1.098 billion and Wechat has become a national-level super app, spillover effect of WeChat traffic being obvious and small programs being overflow channels. As for Tencent, small programs can not only deepen the value of WeChat, but also become the pivot of the industrial internet strategy. Tencent launched seven "toolkit": public account, small program, WeChat payment, Tencent advertising, enterprise WeChat, big data, security capabilities, indicating that small programs are important infrastructure in the industry Internet. It should be noted that smart retail is the first track of WeChat in the industrial internet- essentially Tencent's new retail strategy- and its full fulfillment is also based on small programs.
When the combination degree between the small programs and new retail get higher and higher, it will strongly attract business to the corresponding ecology and achieve digital transformation. Tencent applet is a productized solution to "guide" the merchant, and help the sellers to get & retain customers, conduct marketing, based on decentralized traffic, services and rules.
Tencent who owns small programs, is making great efforts to develop a smart retail strategy, and small programs are becoming the standards for long-tailed merchants and digital infrastructure. Small and medium-sized sellers can hardly either independently digitalize themselves or find a consulting company to do a full set of design. Therefore, a more effective approach may be needed to, based on small programs, build a customer and transaction management system, first to partly digitalize online & offline goods and users & transactions, then to fully digitalize them by integrating the whole business system. A point of view from Taoyong Sun, a man at Wechat alliance, is that "6 online" is required when it comes to digital transformation solutions of enterprises: commodity online, store online, business online, customer online, management online and marketing online. These "6 online" can also be satisfied by the small programs, which indicates that the small program is the best way for merchants to embrace new retail.
2. Third-party payment method provides a digital transformation toolkit for traditional retail
Mobile payment, a development trend of time, has unique advantages and inevitably becomes that necessary in the layout of smart new retail. The layout of third-party payment companies in terms of business, medical, and airport, etc, is to hold a broader market and win a wider audience from a more macro payment scenario.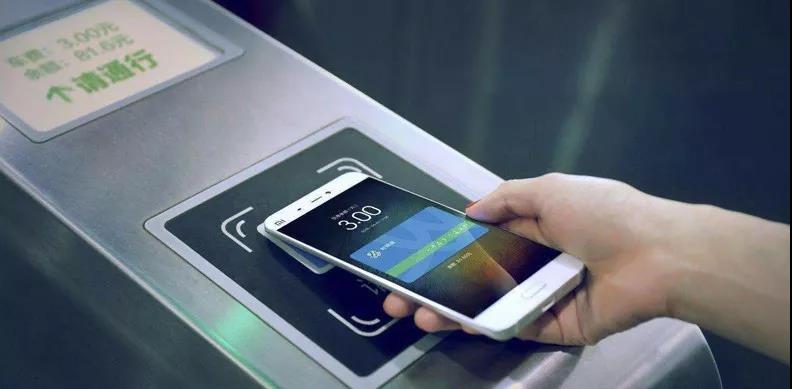 Since 2017, the concept of new retail formats such as "new retail" and "smart retail" has come out frequently. As the channels accumulated, offline retailing is gradually rising. The two giants, Alibaba and Tencent, have successively placed much budget on offline retail layout to seize future new retail outlets.
In the beginning of 2018, these giants have already made all efforts in the new retail sector. And even some time ago, here comes an alternative competition, what is so-called "this-or-that selection" between "WeChat" and "Alipay" in offline new retail.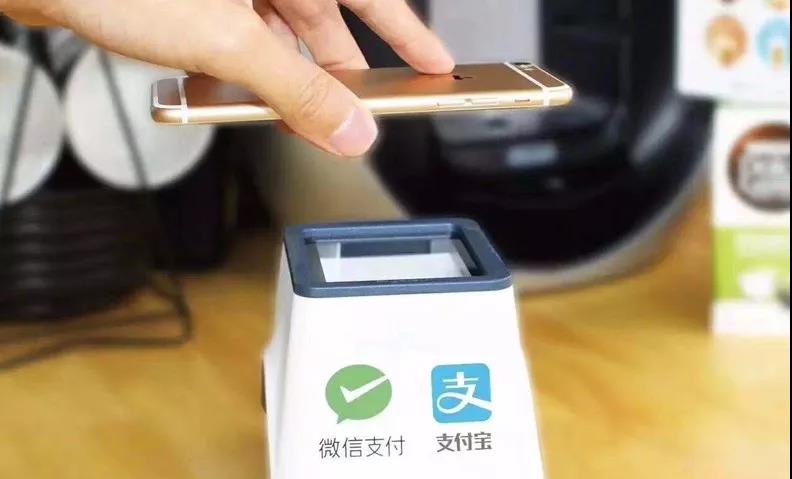 ( Wechat payment or Alipay)
From 2017, Alipay has increased the layout of online mobile payment. That is, Alipay will be frequently used, whether it is for tens of millions of small-size merchants offline, or for small-sized and high-frequency scenes such as their favorite bus trip, convenient market.
Tencent conducts quickly, accurately and hard. Wechat payment, for instance, is to constantly speed up the layout in the area of merchants and bus travel; recently, WeChat launched a new features-"pay and you a member"- to facilitate the merchants to manage their members online; WeChat payment also cooperates with partners to release three secret products-opening confidential interface, providing data support and sub-account settlement- to make marketing payments to merchants by combining small programs, single items, members and advertisements.
Since January of this year, in just three months, Tencent has invested up to 20 billion in Carrefour, Wanda Commercial and Haishu Home. Counted the daily investment in the past year, the US group reviews, Yonghui supermarket, super species, Vipshop, Tencent may have invested more than 50 billion in the new retail sector.
Furthermore in the retail field, to enable consumers to purchase in the supermarket without a wallet or mobile phone, Uto, a face-recognition technology, has subverted the traditional consumption habits in the smart stores where Tencent and BBK cooperate. The face recognition member and the face payment are relied on Uto, with which consumers can complete payment within 2 seconds, doubling the store's cashier efficiency and saving more than 30% of the labor cost.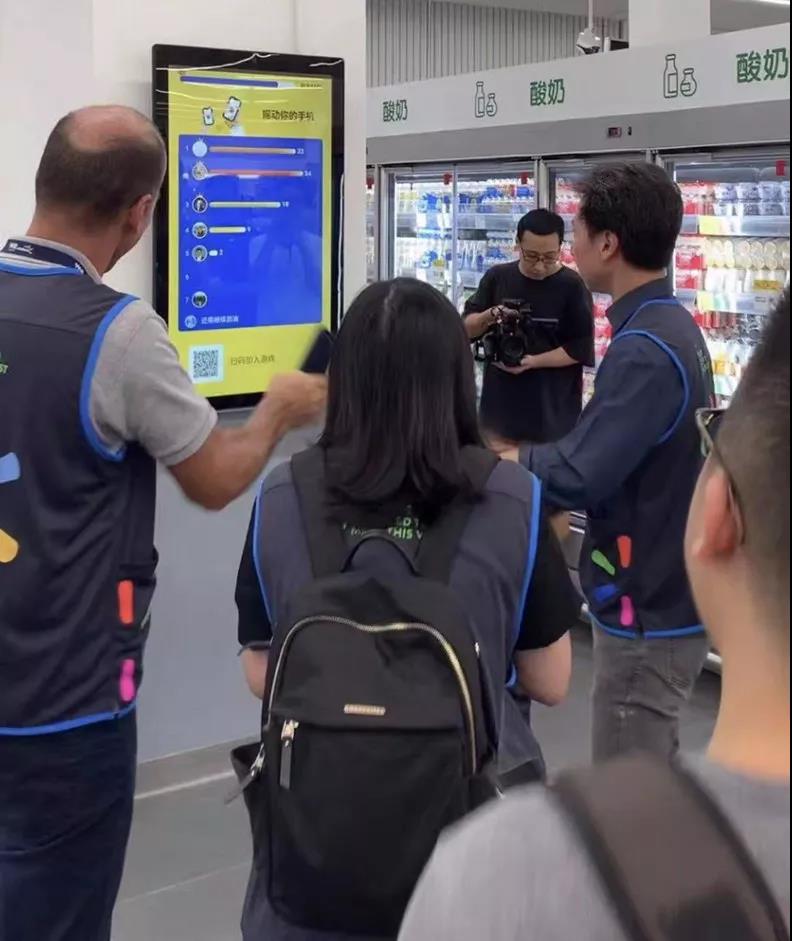 ( Uto provides personalized recommendations)
Relying on cutting-edge technology research, Tencent U-Vision AI has stepped out of the laboratory to accelerate the industrial digital upgrade. It is reported by Feiyue Huang, director of Tencent Uto Lab, that Tencent YouMall Smart Retail System is a smart store product based on Tencent's computer vision and Tencent's analysis capabilities of big data, and committed to the digital transformation of offline stores.
At present, Tencent YouMall continues to explore and evolve the scene and improve the commercial efficiency after digital transformation.
3. Smart interactive screen is combined with digital marketing and scene positioning
With the deepening of the new retail in different consumer scenarios, the smart interactive screen has become a tool of a digital upgrade of the store, experience reshape, omni-channel realization, multi-brand purpose, which achieves the perfect integration between digital marketing and bric-and-mortal store.
On the one hand, smart interactive screens that rely on big data, face recognition, etc., can recommend suitable brand owners for customers and realize registration account by portrait recognition to provide consumers with "content" beyond expectation; on the other hand, smart screen, by combing iBeacon's LBS orientation technology, can accurately display relevant coupons to help merchants optimize platform drainage and conversion.
At the same time, with the unified management and centralized display features of the smart interactive screen, the retail store can also make the customer's shopping process faster and smoother. An important reason why online shopping is favored by consumers is "fast", which retail stores can also realize in the help of the intelligent interactive screen. And top of that, through smart interactive screens, the advantages of real store shopping experience can be maximized, and the long-term development interests of physical stores are maintained at a high level.
3.1 Smart interactive screens help to carry out new retail scenes
Tencent's smart screen for new retail is a high-definition large-screen device that is arranged in the middle of the market and shopping malls, combining face recognition, big data personal portrait, LBS location service, and artificial intelligence advertising. With common size of 21 inches to 43 inches, smart screen mainly consists of Android OS, embedded motherboard, HD camera (optional), LCD screen, capacitive touch (optional).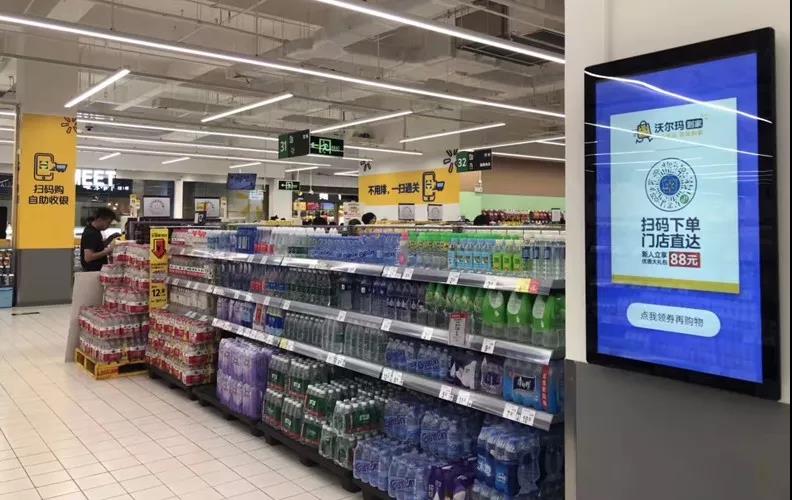 (Smart screen for purchasing guidance)
It is reported that the intelligent interactive screen will initially focus on shopping malls and marketing scenes such as the shopping floor guidance of the mall , brand stores to achieve personalized advertising recommendations by building user portraits based on Tencent big data. It is placed in the center of the mall lobby, and when consumers go to the front of the screen, recommended coupons that favor them will be put on the screen through face recognition. At the same time, consumers can subscribe to the public account, participate in the game to get coupons of their favorite brand. In addition, interactive screens are also installed in the supermarket entrance and checkout area of mall where the brand advertisement are recommended individually, new customer registrations through face recognition are available, precision ticketing for old customer are admitted-the smart screen combines scenes and digitization to realize the drainage and transformation of the merchant.
3.2 Interactive technologies help smart screens to upgrade new retail
The rise of smart interactive screens is undoubtedly a big business opportunity for companies that focus on interactive technology. With the advent of the Internet of Things and the era of intelligence, the way of human-computer interaction has become more and more important. Unisengroup has long been involved in interactive technology and accumulated rich experience and developed intelligent systems and platforms to revolutionize the communication between people and screens, screens and screens, and greatly enhance the experience of scene interaction. Now, Unisen company has once again exerted its strength to position the direction of the new retail development, continue to increase investment in research and development of embedded technology and portrait recognition technology, and further highlight its advantages in projection screen protocols, interactive protocols and technologies. Eventually, potential products, also called "black horse" from Unisen will win the first opportunity in the new era of retail.
About Unisen
Unisen Group (Dongguan KangMao Electronics Co., Ltd.) was founded in 1996, focusing on electronic interactive technology products, platforms and systems. In 2009, the production and manufacturing of the traditional OEM/ODM was transformed. Today, the company has developed into a high-tech enterprise that is committed to the user experience research and experience service, focusing on the self- brand,e-Commerce, internet data application and the channel.
Headquartered in HongKong, the company has R&D and production bases in the mainland and marketing around the world. It was awarded "Hong Kong science and technology innovation fund" and listed as a high-tech enterprise in 2016.
Technology advantages:
The company once cooperated with Intel, IBM and other companies in the field of R&D and has accumulated wide ranges of cutting-edge technologies of wireless Bluetooth, Touch, WiFi, Motion Sensor , Voice, Mirror Screen, Real Sensor,Embedded Design and other core intelligent interaction ones. Its target is to dig into innovative interaction ways of gesture recognition, voice recognition, touch control, biological recognition and face recognition, some of which have been developed to upgrade the traditional hotel industry into smart ones.
More details about Unisen at https://www.ipazzport.com/about-us/our-company/