Interactive screen-casting technology leads to a subversive revolution in TV industry
iPazzPort
The ongoing Smart TV is a revolution and the combination Smart TV +AI" is to provide our home life with unprecedented experience in operation just as "mobile+AI" gives us so much convenience.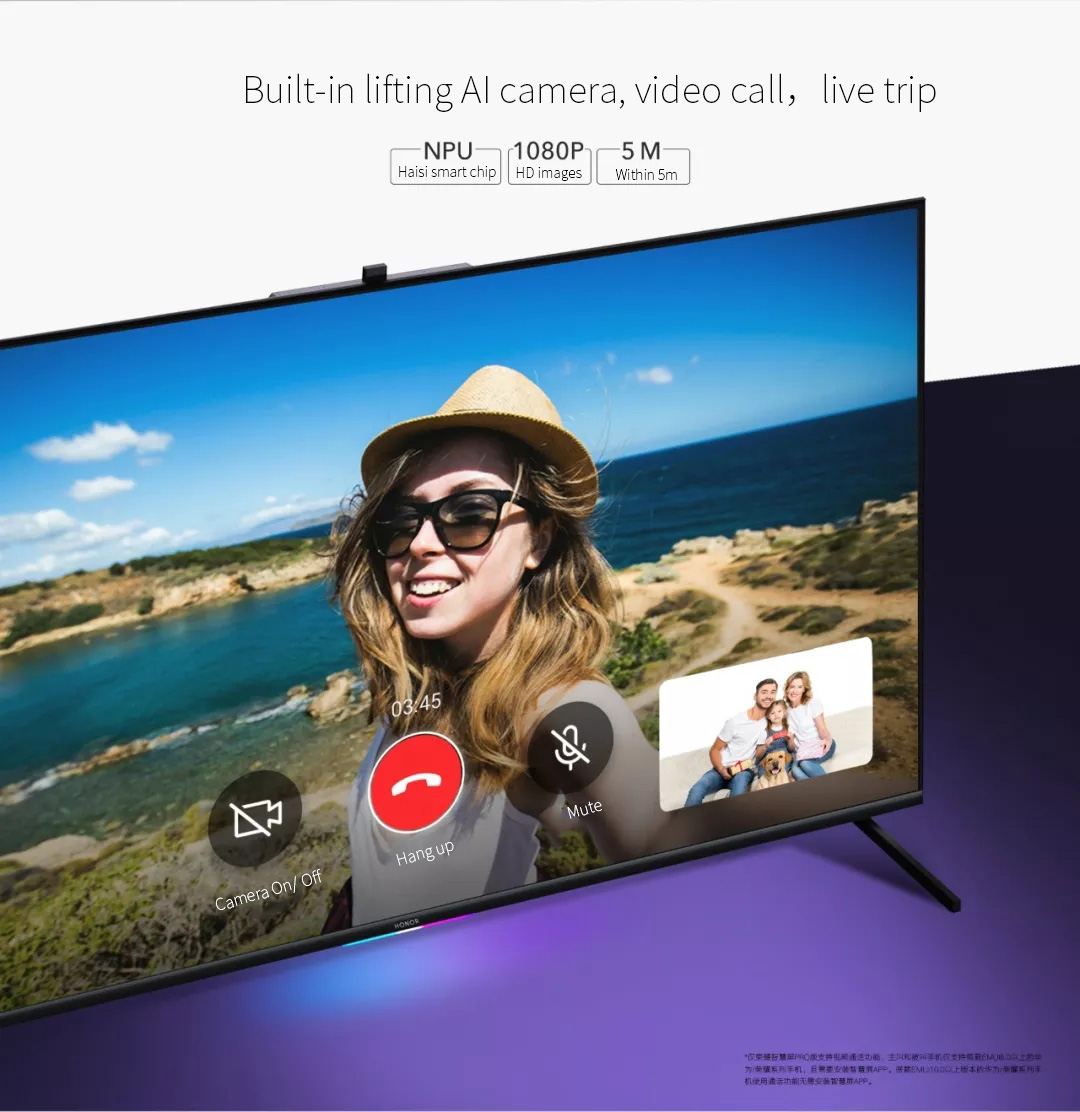 The evolution of China's television
China's TV underwent several revolutionary phases, starting form the projects on digital high-definition television in 1992 when the Chinese government began to organize relevant scientific and technological research, which indicated the transition from analog TV to digital TV is an inevitable trend in technology development.
LeTV, a Super TV released in 2013, set off the first-round cross-border revolution in the TV industry, leading to the so-called "Internet TV" that completely overturns content and distribution channels we have ever seen on TV for so many years: before that, we watched TV programs arranged by TV station on TV through wireless broadcast or cable network; after that, we watched Internet video programs on TV through Internet TV, OTT boxes or IPTV boxes.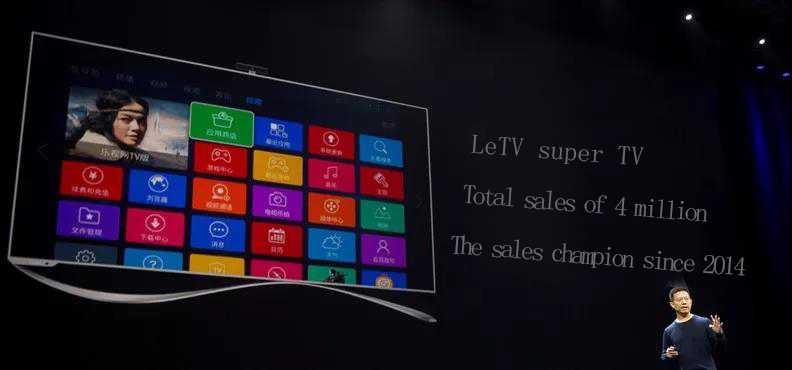 While, the Letv himself didn't become the should-be winner in the cross-borer revolution. It is Xiaomi, the following participant and outsider, that took most of the credits and becomes the sales champion of the Chinese market in the first half of this year, benefiting from the comprehensive access to the content of iQiyi, Tencent, Youku and Mango, from the better UI and higher cost performance.
Today, a new cross-border revolution smart TV is around the corner. To become the winner, manufacturers have to endeavor to realize the full smart-home connection, digitization and intelligence, for content that accesses to several major video websites are far from enough. Based on this vision, the new winners are required to not only have a strong AI capability, but also to build an ecosystem from the underlying operating system to the middle-level data center and to the upper-level applications.
The era of smart TV is at hand
In the era of Internet TV, TV is mostly equipped with Android systems. The users bought a TV Box, according to their feedback, only to upgrade the TV itself rather than to experience the subversive breakthrough. Therefore, the right-time Huawei Smart Screen perhaps indicates that a subversive revolution is coming.
As the first product of the new category, the Honor Smart Screen series not only adopts Huawei Hongmeng, Huawei's newly distributed operating system, but also carries three Huawei self-developed chips, such as the Hongjun 818 smart chip with synergistic intelligence, built-in lifting-style AI camera with the initiative system-level video-call function. It support a new way of interaction between large screen and mobile phone for magic flash cast, magic control screen and other functions; it can also jointly control smart home devices to create "my home space", through the whole-controlled monitor of the smart TV. These innovative technologies make the experience of Honor Smart Screens so advantageous over that of traditional TVs.
On August 19th, Hisense released the S7 series "social TV" equipped with a camera, which can realize six-way simultaneous video chat (the standard version supports three-way), and support watching-chatting way and sharing auditorium.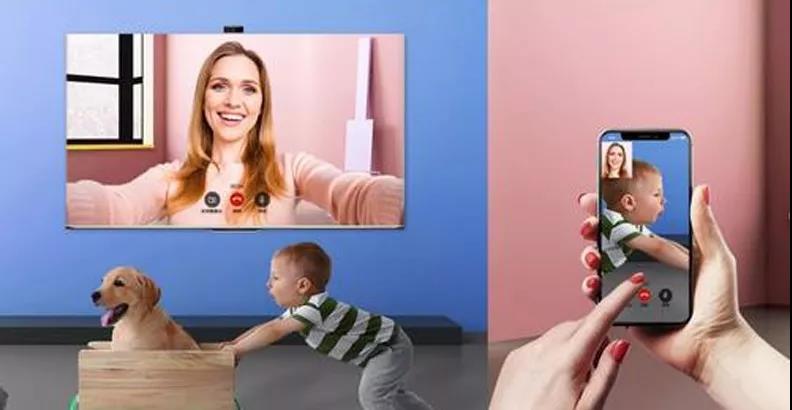 On August 28th, Skyworth released the true panoramic sound smart TV Q60 series, which is also equipped with AI lifting camera. Through cooperation with Keep, users can realize dual-screen interaction, real-time correction and scoring during fitness.
On August 29th, Redmi released its first TV, Redmi TV 70, with a 70-inch large screen and a selling price as low as 3,799 yuan. Xiao Wei, vice president of Xiaomi, said that he hoped to make Redmi TV the first rank in China.
In the following September, we will also see Huawei TV, OnePlus TV, and perhaps OPPO TV, Jingdong TV…
With the further development of the Internet of Things and Smart home, the future TV will no longer be just a big screen for watching TV programs only, but it may become the intelligent interaction center of the family. It is apparent that the screen-casting interactive technology is a revolutionary breakthrough in smart screens that will truly promote the development of television.
Interactive screen-casting technology is a revolutionary breakthrough in Smart Screen
These new TVs released in August show a possibility of future TV that users can put content on mobile phone on TV screenand enjoy, that users can make a long-distance video call to their friends by using its supplied video software and pop-up camera, ant that they can check the weather forecast, video message, etc displayed on TV screen even in standby time.
Though these functions mentioned above are among that of the mobile phone, they, in the family scene, are not so natural, intimate and affection as on the TV screen. For example, is it more interesting to watch content with the whole family members on the 55-inch TV screen than we sit around a 6-inch-screen mobile phone and enjoy the snapshot in Disneyland a few days ago. In addition, there will be more fun when the whole family play games and experience AR together on this big TV screen.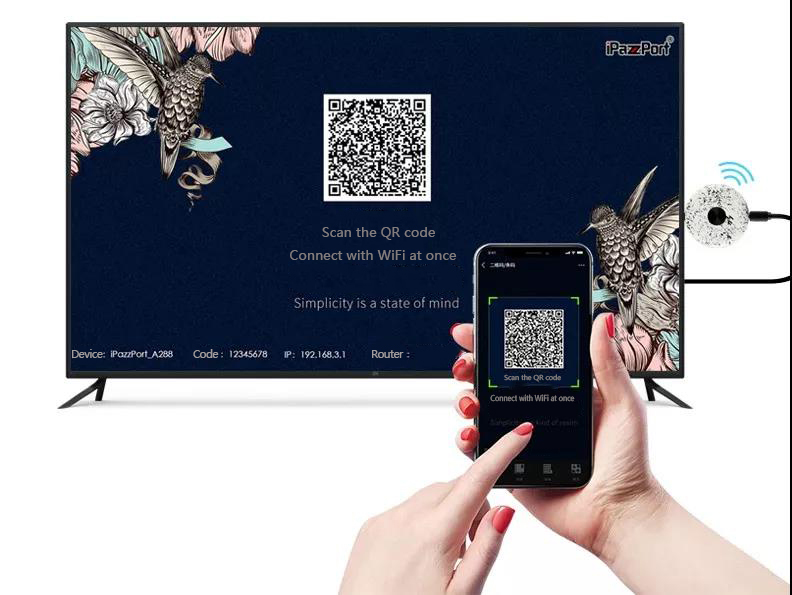 About iPazzPortcast
The screen-casting interactive technology of the Smart Screen improves user's experience greatly. Similarly, iPazzPortcast form Unisen has already realized the interaction between mobile phones and TV screens, based on years of accumulation of interactive technology research and development. Just scan the QR code on screen to cast the content, all the best experience is one-click away – the family's full-scenario smart experience is so close at hand. Unisen will continue to expand the scenario-based extension of service, to upgrade the full-scenario smart interaction for a better digital life of users and to build idealized wisdom for home life.
(Click the picture to iPazzPortcast in miracast category)
About UnisenTech: (Click for more deails)
Unisen Group (Dongguan KangMao Electronics Co., Ltd.) was founded in 1996, focusing on electronic interactive technology products, platforms and systems. In 2009, the production and manufacturing of the traditional OEM/ODM was transformed. Today, the company has developed into a high-tech enterprise that is committed to the user experience research and experience service, focusing on the Self- brand,e-Commerce, internet data application and the channel.
Headquartered in HongKong, the company has R&D and production bases in the mainland and marketing around the world. It was awarded "Hong Kong science and technology innovation fund" and listed as a high-tech enterprise in 2016.