Top 5 wireless keyboards for Smart TV and Streaming media player 2018
iPazzPort
Preview:
This article is to list 5 suitable and also best mini keyboard for TV, TV box, Pi, on market by balancing its size, ergo design, wireless connection, function, cursor track of touchpad, wireless connection and cost efficiency.
Why you need a mini keyboard?
Most smart TVs, streaming media player or the combination (TV plus TV box) do much more than just displaying the channels. These installed Apps, features and network function are predisposed to giving the users more surprise and wonderful experience than the supplied basic remote controls, for their fairly primitive interfaces, makes typing significantly and cursor track a headache.
Now let's get started the list and then our 6 standards:
Top 5 mini keyboard for TV and TV box:

Top 5: Logitech K480 Mini Keyboard
As the successor of K360, the Logitech K480 use Bluetooth technology and features 3 noticeable changes, namely the integrated cradle hold smartphone or tablet, free switch between Android/Chrome and ios/Mac OS, bluetooth switch with one click. We should have ranked it top 1 or top 2 but for the fact that this keyboard lacks trackpad, mainly emphasizes typing experiences and focuses on tablet, smartphone instead of TV or TV box.
Top 4 iClever IC-BK05
The iClever IC-BK05 is roughly 1/3 the size of a traditional keyboard and features 3-color backlit use in dim room. It is portable enough go with you any where in your bag. With traditional and media-friendly buttons, it can be used to input password and letters to register or search for favorite programs. At the same time, this keyboard boasts a long standby of 80 hours of regular service time.
Cons: It lacks trackpad and have a big price tag. And it is not comfortable in hand and a bit ineffective when it comes to controlling TV or TV box.
While, if you are a heavy typist or go on a business trip, we will recommend you this version instead.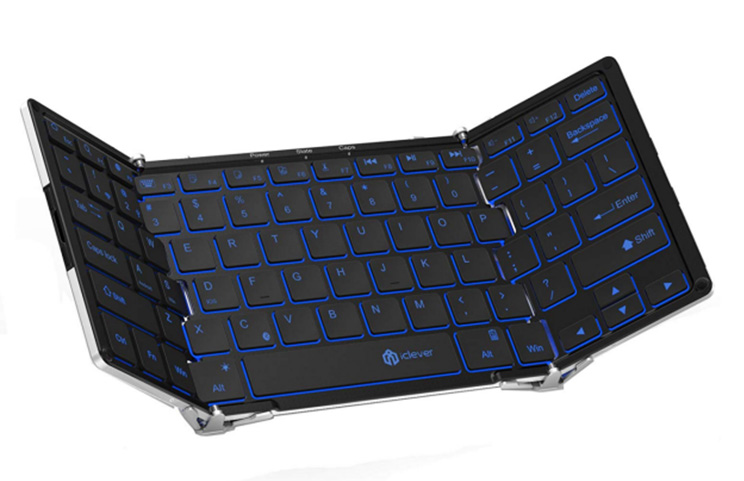 Top 3 Logitech keyboard KP400
With built-in trackpad, traditional keyboard layout and media-friendly buttons, this Logitech keyboard KP400 make it a great option if you want to save space and move cursor precisely by not using a mouse when enjoying effortless control of your TV-connected computer.
Cons: It is neither a full sized keyboard nor a mini / handy one, which makes it a bit awkward in typing out lines or controlling the TV/ TV box on sofa.
It is a quite good alternative, but there is some room in improvement. Considering its portability and mobility in controling  TV and TV box for a couch patato, we rank it top 3.

Top 2 iPazzPort KP-810-30BR
Keywords of this keyboard remote: Bluetooth, backlit, infrared learning buttons, QWERTY layout, handy, remote case, work for Amazon firestick and fire tv series, Li-battery for long standby.  Or see details on our offical site.
Cons:No touchpad and key is little than others.
Brand history: a well known brand in mini keyboard category and interactive electronics range created in 2006 year.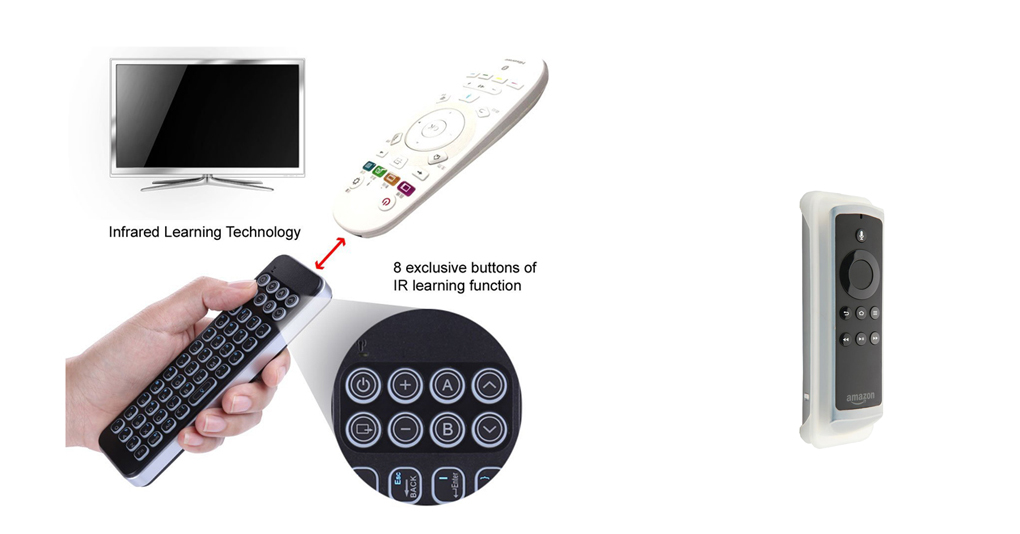 (Firestick remote is not included)
This handy bluetooth keyboard of backlit version aims at advancing firestick remote in data inputting, maintaining its voice search feature, and even better helps the consumers out of juggling multiple remotes by presenting 8 infrared buttons of learning functions which can be programmed to control all the TV functions you need such as adjusting the voice, switching channels, turning on/off TV and more. It is really a game changer to make hunt-and-peck letters on an on-screen keyboard a history.
Our recommendation: If you are tired of using one remote to control your Fire TV and another to control your TV. Try this one. It will give you a surprise. Buyone on Amazon Updated 2018 Version with Infrared Learning Universal Remote Control, iPazzPort Mini Bluetooth…: $24.99
Top 1 iPazzPort KP-810-61
This is an exclusive keyboard remote with touchpad and infrared learning buttons of USB version.( Click for details on official site).
Keyword description: USB receiver (plug and play), touchpad and scrollbar, 8 Infrared learning buttons, Ergonomic design, RGB backlit, media playback, considerate layout, QWERTY layout.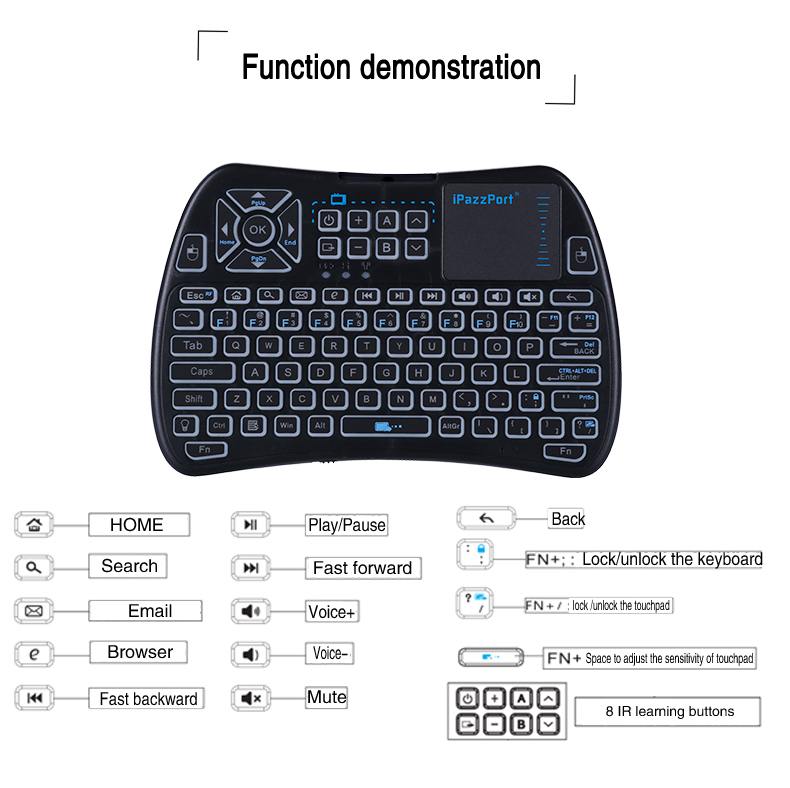 With infrared learning buttons and backlit, ergo design and USB RF version, its touchpad providing a free and precise cursor track, this keyboard aims at making best of your Smart TV and TV box in App, features and network, replacing other infrared TV remotes so that you can control their TV box and TV with a single remote,
Our recommendation:
If you want to make best performance of your TV & TV box or to remove the hassle of controlling your TV with your TV remote and controlling your TV box with another one, this keyboard will the very one you need. Please note: this is an RF version with standard USB receiver. if you need a bluetooth version, try top 2 KP-810-30BR instead.
Note: There are so many third-party keyboard remote on market to improve your experience in enjoying TV and TV box. We pick out five ranked them by weighing the specific demands and set standards of small size, ergo design, wireless connection, multi-function, touchpad and cost efficiency. We have to say, there may be no the best but the most suitable one.
What are our concerns when choosing mini keyboard for TV and TV box?
——————————————————————————-
Six factors are critical before we decide which is the best mini keyboard.
Keyword 1: Small and portable
As a host or driver, the small size is the dominant need.
As a monitor or projector screen, the large size is the over-wheeling preference.
This is the reason why Pi, TV box and Xbox are made so little that they can go anywhere with you in your pocket or travel bag. With a small host at hand, the users will have their personal-defined claims in their work or games any time and any where. It is ridiculous that an ID-card-sized Pi or TV box will go with a cumbersome full-sized keyboard rather than a small and portable keyboard.
Keyword 2: Ergo design
When it comes to ergo design, it is meant to be comfortable in hand and effective in layout design. It is obvious that there are most diverse shapes and curves in mini keyboard category like foldable keyboard, keyboard with stand, palm-fit shape, skin-friendly material, cross-platform buttons, and so on. These buttons on the mini keyboard, for its limitation of small size, are a bit small and packed, which makes typing volumes of characters with mini keyboard embarrassing and frustrating, but its over-wheeling advantages in media playback, long-distance operation, operating flexibility will far outweigh any negatives if only you are not a heavy typist.
Keyword 3: wireless connection
Which is better, RF or Bluetooth? That depends. Commonly, a keyboard with a USB receiver should be your priority if your home appliances are almost USB enabled and have enough USB port. As for a Bluetooth enabled devices with USB port, a Bluetooth keyboard will also be recommended to free up a USB port that could be used for something else. Compared with wired connection, wireless connection have so many advantages in taking up less space, removing hassle of a cord strapping, great mobility and cross multiple devices.
Keyword 4: Multi-function
The mini keyboard, we should say, is to live for multiple functions, media playback and cross-platform. Conversely, the traditional full-sized keyboard is strong in data inputting but weak in above-mentioned highlights of mini keyboard. Therefore, the users have to have a clear target on mind and weigh the pros and cons between them before make a buying decision.
Keyword 5: Touchpad
The touchpad is a most important unit to replace an actual wired/wireless mouse, which keeps you from the annoyance of large footprint on the table or cluttered mouse fully packed your bag on a trip. A keyboard with touchpad provide a flexible and freely cursor positioning and gesture recognition. Therefore, a mini media keyboard without a touchpad will not be recommended here unless it really has some exclusive and impressive functions.
Keyword 6: Cost-effective
The price tag is something, function is something and its cost-efficiency is everything. And commonly, to purchase a updated or latest one in its promotion occasion will be a right choice.
Bottom line:
It is, when decide on a right keyboard for your purpose, tremendously important to find a perfect balance among merits of portable and ergo design, right wireless connection, multiple functions, sensitive touchpad, industry trends and price tag. These 5 listed keyboards above are our picks on the market mainly for TV and TV box according to 6 standards, which are worth you a try.
Do you have any other suggestions? Please drop a line in the comment or email us.
Thanks for reading.
Related articles:
How to control your TCL roku TV without TV remote?
How to fix a mini IR touchpad keyboard with TV box and TV?
Best mini Infrared touchpad keyboard to free users from juggling multiple remotes
Best mini ergo media touchpad keyboard to ease your hands and operation
9 tips to selecting the right keyboard remote for your TV or TV box
Which is the better keyboard remote for Raspberry Pi, small keybaord, full-size keyboard or App?