Money-saving ways and keyboard remotes to boost your TV
iPazzPort
This article involving the TV trend, is to show you my personal idea about advancing your TV without emptying your purse, based on your certain demands and your awareness of the differences of models and settings in ordinary TV, internet TV and Smart TV.
Please read the content below before you throw away your old-fashion TV or plan to seek a new smart TV, which may save your money and energy.
I wouldn't recommend you to buy a new but expensive TV if you can upgrade it to meet your target by turning to one or two assistant add-ons.
1 Ordinary TV
Generally, ordinary TV is single-function and only used to watch TV through a set-top box. It is also a good choice for its cheap price, if you just call for watch-TV-only demand.
Solution:
(1) The quickest and most economical compromise is to insert the gaming card and seek a QWERTY  mini wireless keyboard with touchpad to input password and play the basic games.
(2)Turn to a wireless display to cast content from your phone to the TV screen so that you can enjoy wonderful internet and local content on your phone like pictures, video, file, etc. In this way your ordinary TV may becomes a internet TV with unlimited content. A multimedia handled wireless keyboard is needed to develop its full function.
(3) You can also make an ordinary TV a sub-smart TV (no built-in OS) by connecting it with a TV box like Fire TV box, or fire stick. This is a really wonderful experience worth you a try (some function may be limited due to the os, content patent, compatibility, etc). A dedicated and qualified keyboard like the following really matters. More details for backlit bluetooth keyboard with back case for firestick
2 Internet TV
Internet TV is a hot product before the advent of smart TVs, used as display terminals for TVs, personal computers and handled devices to enjoy digital television and interactive television, by way of computer, broadband networks, or set-top boxes.
That means, besides connecting with the set-top box, Internet TV can be connected with computer or internet to order TV content. However, the users yet can't enjoy all the favorite content due to content limitation and decreasing film source.
Solution:
As the internet TV itself has more advantages over ordinary TV in configurations, media content and ways of entertainment, interaction. An ordinary TV remote (supplied by the dealer) with limited function and improvement room will inevitably compromise its function performance. This is a keyboard worth you a shot.  More details for Android TV box equipped with USB media keyboard with IR function.
3 Smart TV
Smart TV, equaling a smart phone, has its own operating system and access to internet surfing by way of installing/ uninstalling third-party programs such as software and games, through a network cable or a wireless network. With extremely good resolution (3D, 4K) and social interaction function, it is also the mainstream television because of its powerful function.
The best way to boost it is to select the right programs and external terminals like the TV box, TV stick, remote, games, etc. With the increasing development of hardware, software and smart external terminal, there is still a lot room for wonderful function promotion of the Smart TV, which accordingly requires a multiple function and media keyboard to peform somatosensory Game, input letter smooth, and control multiple devices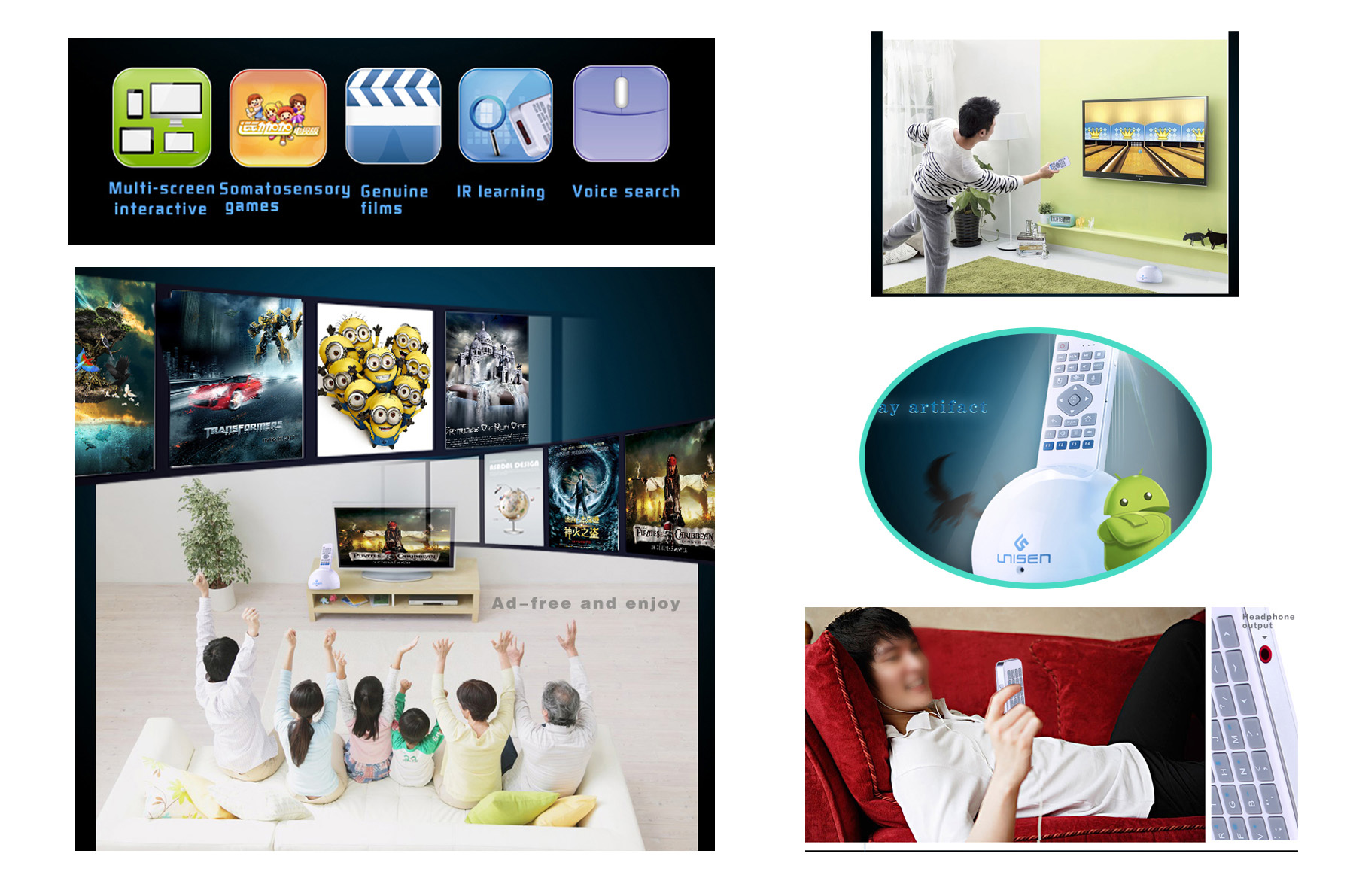 4 Some other wonderful experiences on TV
3D experience
Many people have a 3D experience at the theater. While, what if I want to watch 3D on my LED TV (incapable of 3D) at home instead of turning to a new Smart TV?
Basic conditions:
1) Download 3D film source online.
2) 3 D glasses
3) external playback equipment, such as 3D Blu-ray machine, U disk or mobile hard disk
The details:
1 )If you have a Blu-ray disc player, you can connect it to the TV to play 3D disc, and wear the3D glasses to watch.
2 )Copy 3D films to your U disk, mobile hard disk, and insert the disk into the TV USB port and play; the image may be divided into two section (vertical or horizontal) ; select the right one according to your 3D source format; the picture will be combined, and ghosting; wear 3D glasses to watch the 3D movie.
VR plus smart TV
Nowadays, you have access to virtual reality on Smart TV through VR glasses.In a nutshell, it is a three-dimensional virtual world that provides users with visual, auditory, tactile and other sensory simulations that allow users to observe three-dimensional spaces in real time without any restriction Things, which is similar to 3D to some extent.
Voice control over Smart TV
Amazon Echo /Alexa stands out among the voice control categories with built-in virtual voice assistant Alexa , is becoming a good helper at home a good partner to work in the office. It can control your TV through voice control.
Last but not least:
To make the best of the TV and add to multimedia function, the included remote might probably compromise the performance. You will have to select some dedicated keyboard remote to meet your specific demands according to the TV setting, TV box/ TV stick, wireless display, and other external terminals you choose.
I will end this article with two useful tips here:
Tip 1:
The current smart TVs are generally Bluetooth-enabled. As for your old-fashioned TVs, there are two ways to check if they are with built-in Bluetooth:
1) Read the TV parameters on the user manual to see if the TV has Bluetooth capabilities.
2) 【Settings】 – 【Network and Connection】 to find out whether it owns the Bluetooth function:
Tip 2:
If you want to select a keyboard remote to control your TV in living, in large room , or in another room without losing your patience, or you want to know something about wireless connection like IR, RF and Bluetooth, please Read another upcoming article about selecting the right keyboard remote between IR, RF and Bluetooth .
Thanks for reading and hope it helps you a bit.