best mini ergo media touchpad keyboard to ease your hands and operation
iPazzPort
Aforesaid:
There is no accounting for preferences. What attracts you most may be an option for others. While the following statement comes from an agreement based on some feedbacks from our firm customers: in real ergo design, ipazzport mini keyboard kp-810-61 is the outstanding one that dodges disadvantages of its predecessors and similarities, and even better advances in both ergo and effective ways
Why this keyboard comes in?
Let's input mini keyboard with touchpad on Google or Amazon and take a look at the recommended product pictures. Carbon-typed similar, right?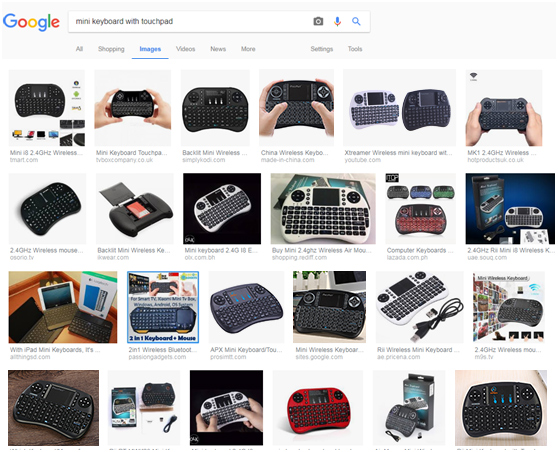 These keyboard can only be defined as ergo keyboard remotes to some extent and in some way. As a media keyboard with touchpad, the main complaint about its design is: the users have to hold the controller with two hands when operating it even for simple tasks like sliding to move the cursor or playing media content, due to the facts that the shape curve of the keyboard is a bit flat, the touchpad in the upper middle is not easy for your thumbs to reach and move freely, the media keyboard is scattered and consequently confusing.
Thus comes this ipazzport ergo mini wireless keyboard with touchpad, an exclusive and new arrival.
It is an ultimate solution to easing your hands and operating simple task just with one hand except letter inputting.
Let's get to the design details of this ipazzport mini keyboard and how its design and advantages explain for solutions to what mentioned above.
1 Shape curve: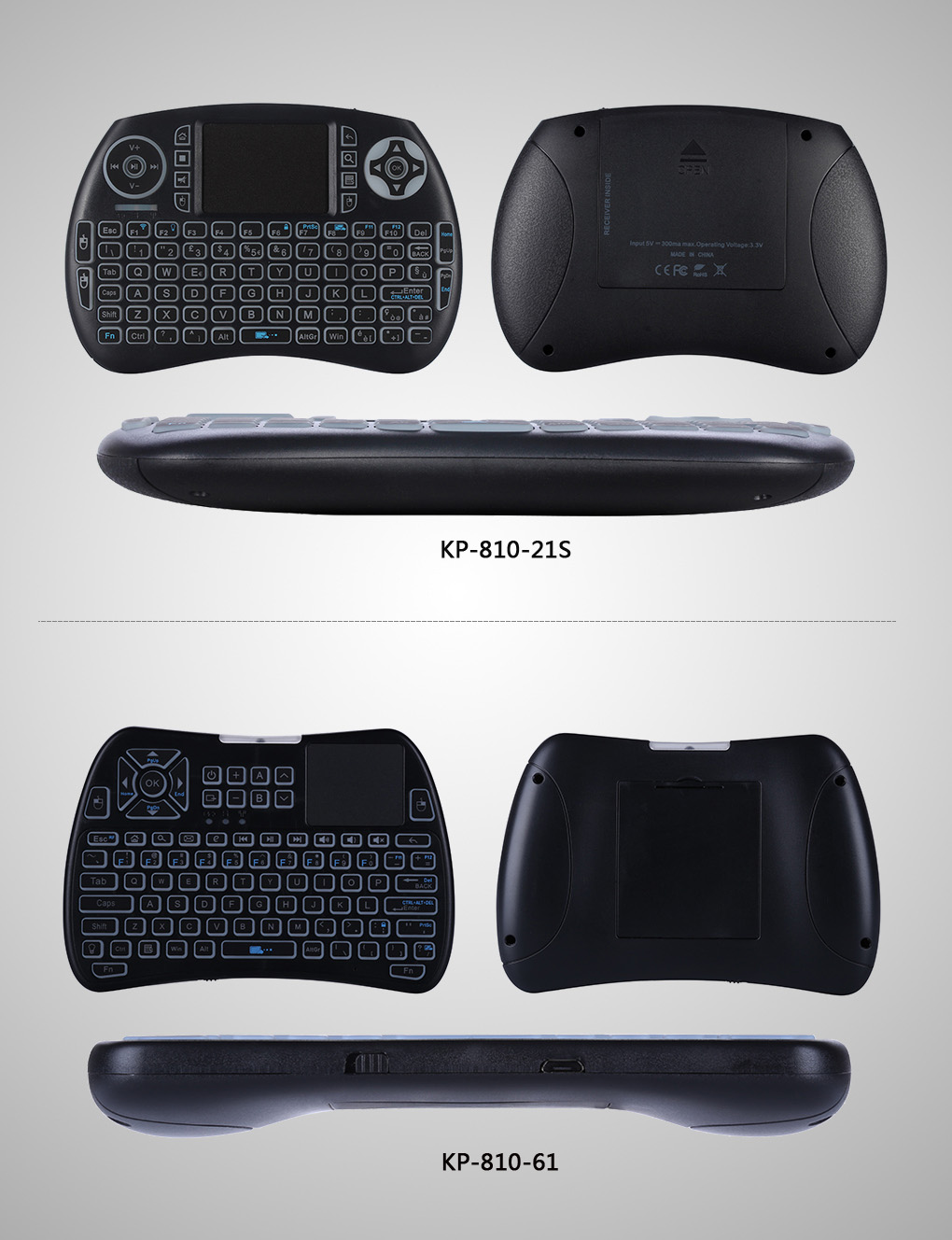 The skin-friendly material and anti-slip texture are apparent, which give you comfortable feeling for your hands. More of that, what will touch you most are the heart-shaped curve and two palm-fit lump in the back as palm cushions which enables you hold this keyboard with one hand so easily and operate on it so freely that you even hate to let it go of your hand.
Compared with other similarities, this keyboard is even better in touch feeling and removing the hassle of operating with both hands. Operating with one hand means more elegant and free.
2 Touchpad location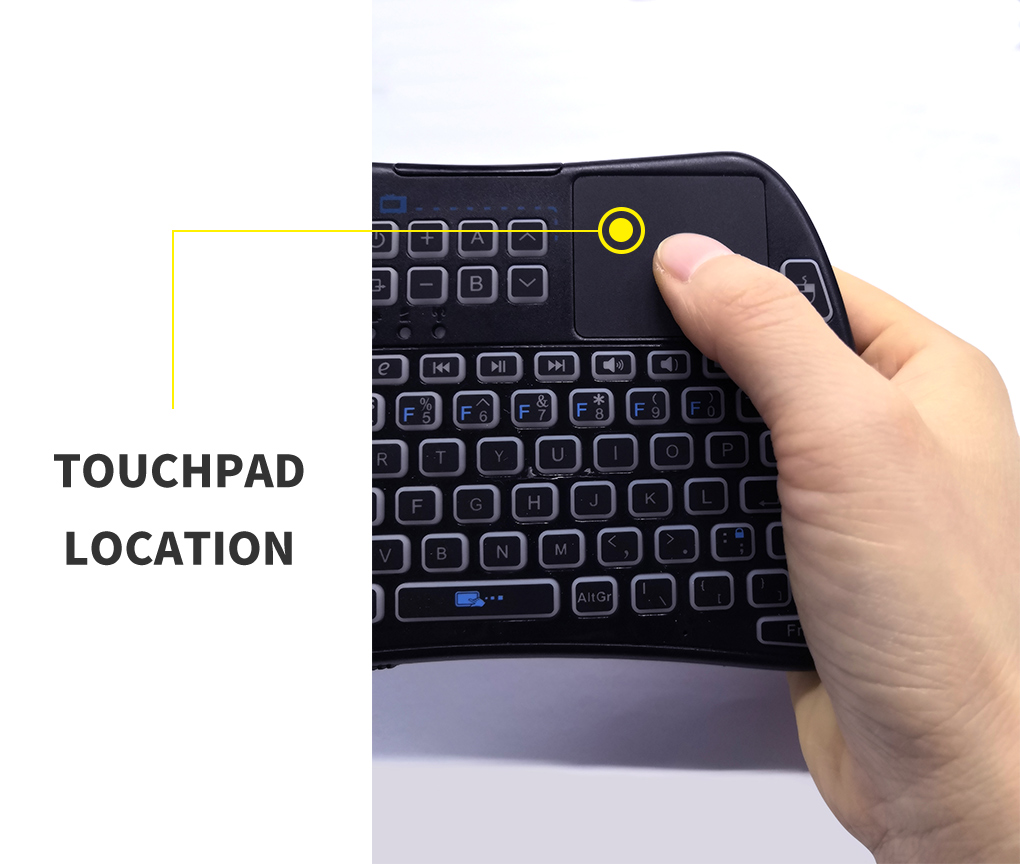 The built-in touchpad is an effective and crucial unit to free you from the hassle of crisscrossed wired mouse and additional actual mouse on a trip. To make best of and maximize its function, we position the touchpad at the upper right side instead of in the middle, on which your right thumb can easily reach to slide and brows pages or to move and position your cursor accurately and effectively. This is a quite different layout and also an effective one.
Even better, these operation on trackpad can be easily obtained with your right hand, which means you can do some other things with your left hand like making a call, putting away your desk. Emancipating your left hand equals more effective life.
The reason we set up the touchpad under control of your right thumb is that the touchpad is absolutely the most applied unit and that should be operated by the most elegant and skillful finger- your right thumb.
3 The navigation keys: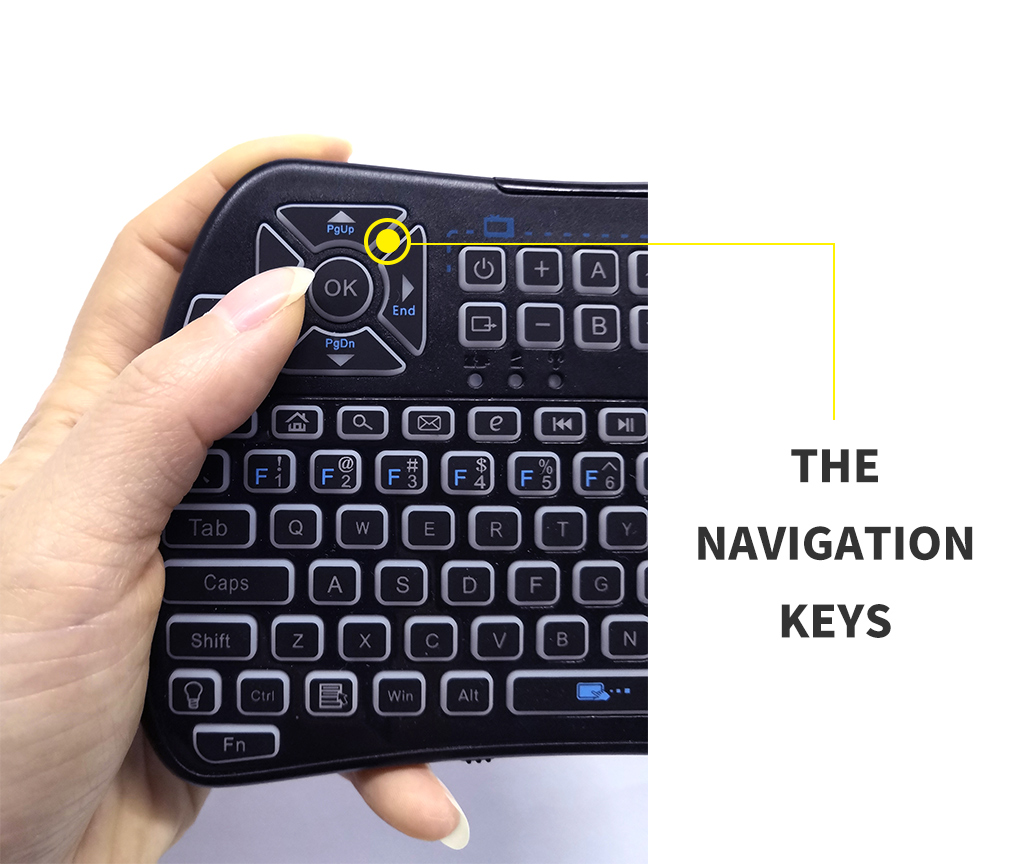 Traditionally, the navigation buttons are located in the lower right side of the keyboard, which you have to hold the keyboard with two hands and tap on with your right thumb, due to the fact that your right hand fails to hold it tightly and tap them with your right thumb freely.
Now that your left hand can, thanks to the 2 lumps in the back, hold the keyboard steadily and naturally, which makes it a probability of elegantly operating these direction buttons just with your left thumb.
The reason we set up the navigation buttons under the control of your left thumb is that the navigation buttons is absolutely the second-most applied unit that should be operated, since your right thumb focuses on touchpad, by another most elegant and skillful finger- your left thumb.
4 Media solution

When it comes to the media-friendly function, 10 basic media buttons are deployed in a line. 6 of them, are right within your right thumb' s reach for convenient media playing, including play/pause, previous/next, Voice+/-/mute; 4 of them, are within your left thumb's reach for quick interface shift among browser, home, Email, search, etc. That is to say, you can easily perform playback by your left thumb and switch interfaces by your right thumb.
5 QWERTY layout
We are not ready to go into more details of the QWERTY layout, for it is much similar with others except that the left mouse button and right mouse buttons is skillfully located at the place your corresponding thumb can reach with ease.
Bottom line
As we define this mini keyboard as an ergo media one with a touchpad to throw off the mouse. To truly make this keyboard ergonomic and effective, we made quite a few changes in the shape curve, button layout especially the place of the touchpad. These changes were positively recognized by 5-star reviews from online users on amazon and offline customers.
We have to restate that this keyboard is the outstanding heart-shaped one on market that inherits advantages from its predecessors and competitors, and make a big improvement in ergo design and effective operation.
Many readers may notice that there are 8 IR learning buttons in between the navigation buttons and the touchpad. These IR buttons are another sparking spot that attracts the users most- help the uses out of juggling multiple remote, which we will emphasize in another article.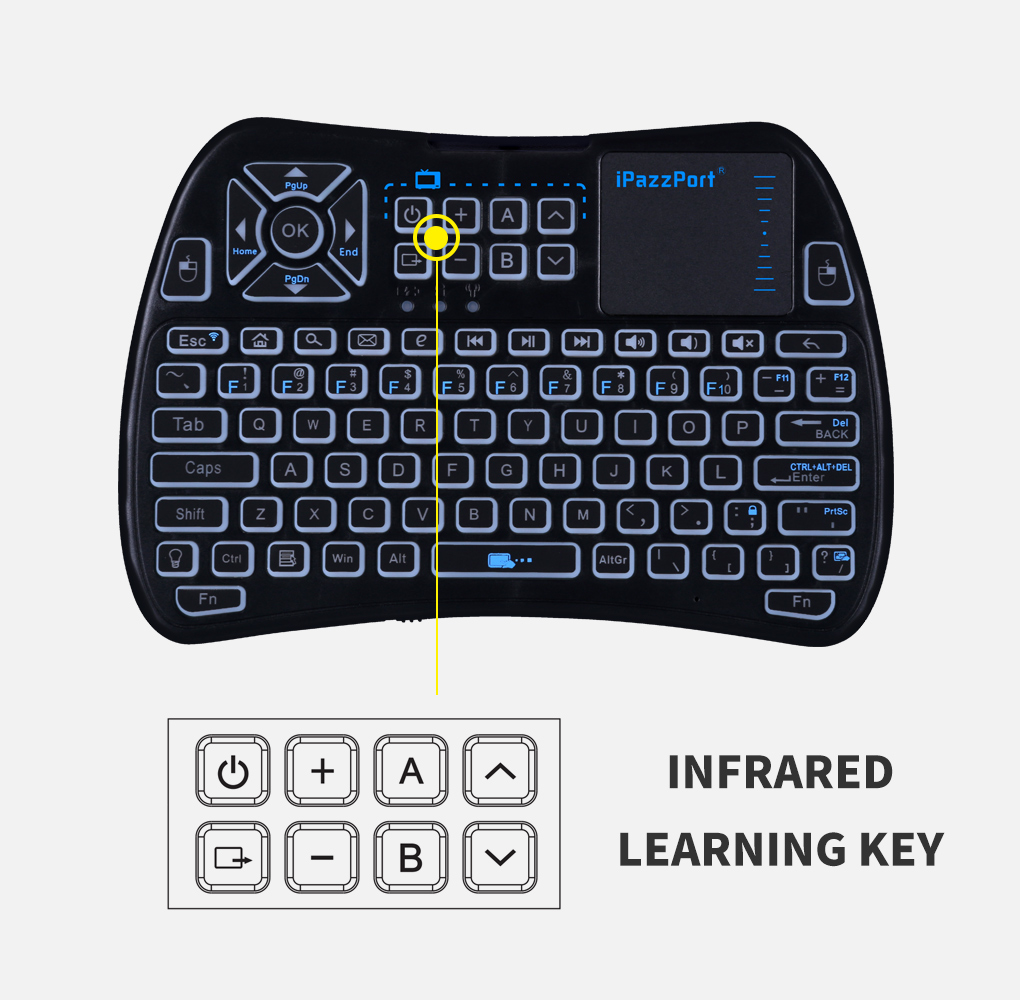 Kind reminder
This article is a promotion one, that is to say it may be the right time (refer to the published date) for you to "click here" to buy one on amazon or on this business site. The right price always goes with the right time, you know.
Of course, you will be informed of the bargain or coupons in the next promotion if you subscribe our site now.
Thanks for your patience and hope it meets your demands.
Related articles: (To be continued)
Best mini Infrared touchpad keyboard to free users from juggling multiple remotes