How to fix a mini IR touchpad keyboard with TV box and TV
iPazzPort
Preview:
This article is to demonstrate the details of fixing upgraded iPazzPort miniI infrared touchpad keyboard with your TV box and TV so that you can control your TV box and TV effectively with this single unit, including establishing wireless connection, programming Infrared buttons and making best of touchpad, media-friendly buttons and more.

The background and reason why you need a mini touchpad keyboard like this?

It is a trend and enquire that host or controller become smaller enough to go with the users in their pockets. For example, PC , mobile phone, integration box, stick, or Window adapter is becoming reasonably smaller to fits in bag or in pockets. So does its supplied remote.
Over these years, the TV box was introduced to free of the limitation of internet, TV content and to install unlimited app. The TV box and TV , we have to say, are really great match for each other.
While the embarrassment is there is few keyboard remote to control both the TV box and TV.
Though the TV box and TV each has a included remote, the user are commonly tired of collecting multiple remotes and juggling among them frequently, regardless of messing their desk.
What the users need is a mini single unit integrating functions of quickly positioning the target, inputting data in search of favorite program, remotely and flexibly controlling the TV box and operating the TV within a moderate distance away without leaving sofa.
Admittedly, there are many keyboard remotes on present marketing that meet two, three demands or five ones but to some extent.
Thus, I have to say, the following keyboard remote named KP-810-61 is the very thing you would like to try which is a qualified backlit version as below.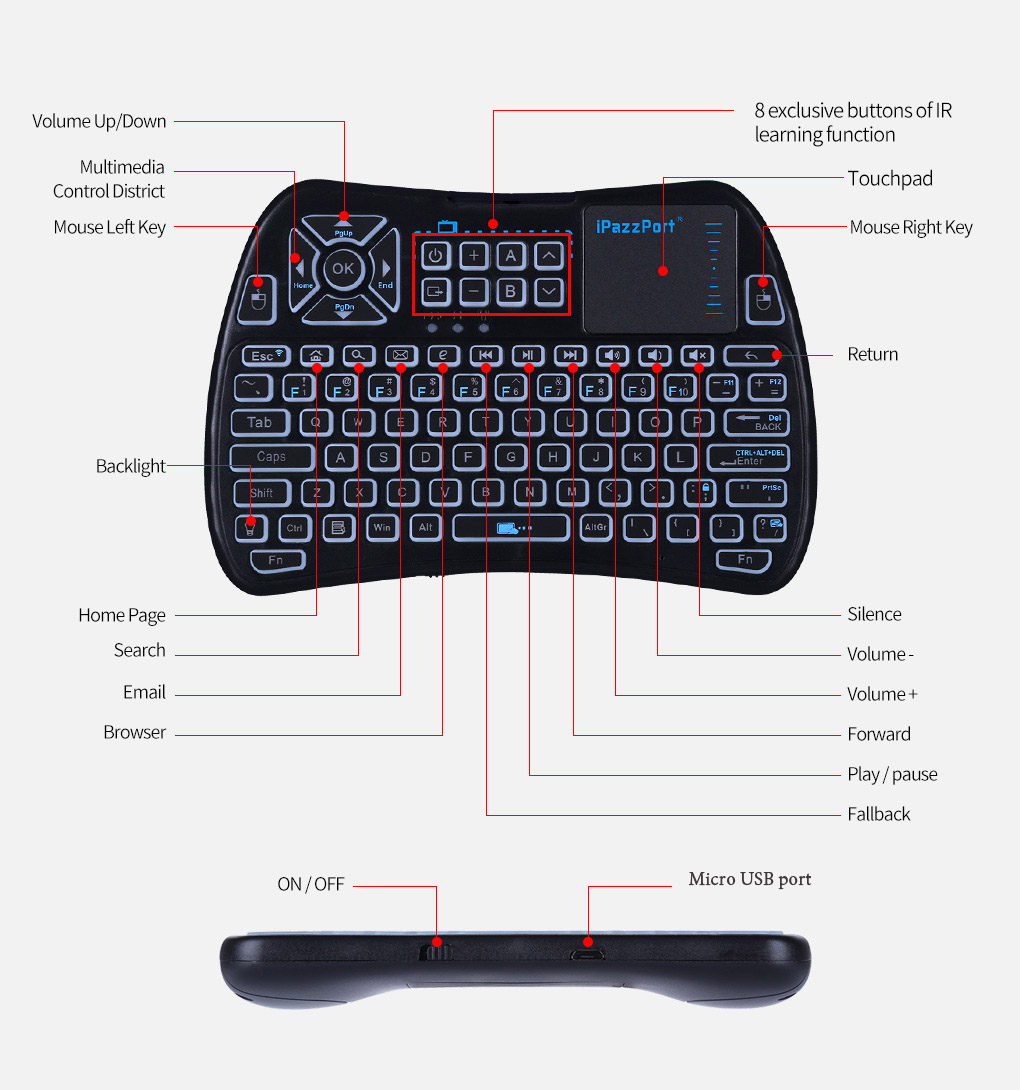 Bullet features of KP-810-61
1)142.5X97X19.8mm in dimension, this keyboard is small enough to carry with you in pocket and to be comfortable in hand and in operation.
2)In ergo design: With palm-fit and effective button layout,  it is comfort in hand and in use.
3)With direction keys, shortcut buttons and sensitive touchpad mouse combo, this keyboard is not only keep you away from crisscrossed mouse but enable you freely and accurately position the cursor and spot the target.
4)With traditional QWERTY layout, this keyboard enables you input data smoothly for quick search for internet content.
5)Plugged the included USB receiver into the USB port of TV box, this keyboard remote can control your TV basically.
6)There are 8 IR learning buttons in the upper middle which can be programmed to learn code value from and replace your TV remote in terms of powering on/off your TV, adjusting voice, changing channels.
7)As a bonus, its backlit facilitates your operation in dim room
8)An extra great tip is one or two IR buttons can be spared skillfully to power on/off your other TV box or TV.
Has this keyboard remote caught your attention?
And have a great mood to try it on your TV box and TV and free you from juggling multiple remotes?
Let's get started it.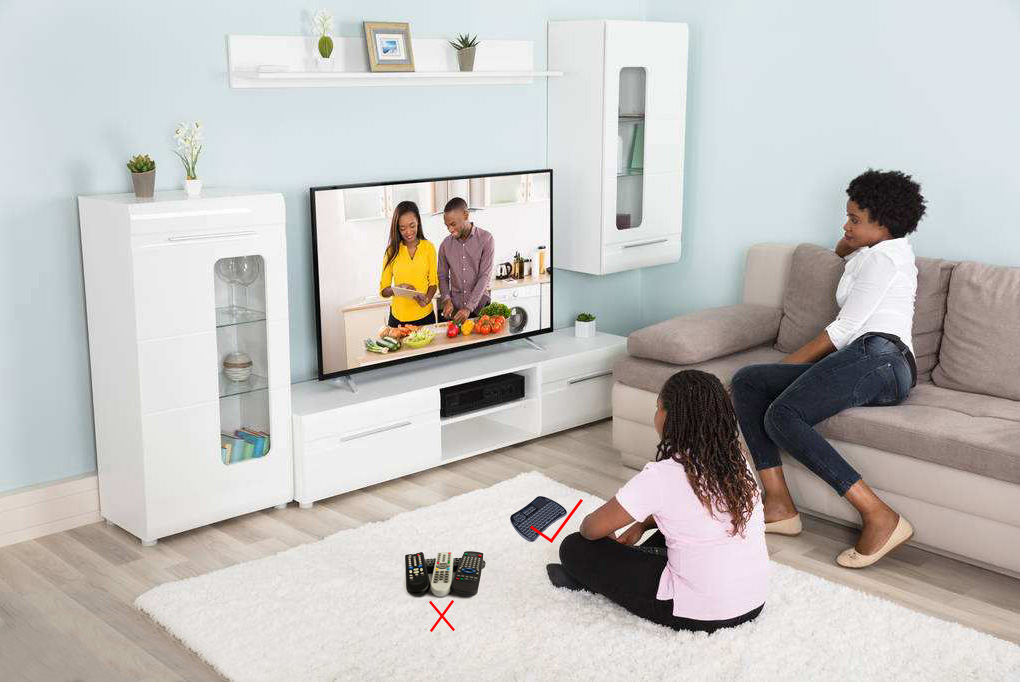 How to fix this iPazzPort mini IR touchpad keyboard with your TV box and TV.
1 How to start:
1)Unbox it
Unbox the package and you will see a user manual, a charging cable (one standard USB end to connect with USB end of PC or  power source through USB adapter , the micro end to connect with keyboard.
2)Charge the keyboard first
Push the power on/off button to tun on the keyboard remote, this keyboard will blink for a few times and then goes off. Please charge it with the supplied USB cable if the red indicator is extremely weak or reluctant to go off.
3)Insert USB receiver
Uncover the back lid of this keyboard, you can see a USB receiver at the back case. Just take it out and plug it into the USB port of the TV box. It is a plug and play version, so what you need do is wait for a few seconds before the keyboard connects with the tv box through USB receiver.
Slide your finger on the touchpad and you will see the cursor on your TV moving accordingly. This means this keyboard can control the TV box now.
2 How to control your TV box
1)Operate the touchpad
The sensitive touchpad makes the cursor tracking smooth and effective enough. I feel few embarrassment in moving the cursor in all directions. I occasionally find the cursor display weirdly, for example , the whole page may move up and down when I swipe up and down randomly on the touchpad just means to move the cursor. It likes a breeze when It dawns on me that I should move on the scrollbar to move the page and the rest space to move the cursor.
I like the built-in touchpad for its gesture recognition (instead of scrollbar) as described below:
One finger:
(1)Slide to move the cursor;
(2)Keep pressing " FN" and slide freely to scroll up/down the screen (to change the entire touchpad to a scrollbar);
(3)Single click to act as the left mouse;
(4)Double click to open a file or application;
(5)Two quick clicks on the touchpad, and don't let your finger go on the second click and slide to move the file or picture.
(6) Hold down the left mouse button and slide your finger on touchpad to select the target.
Two finger: Click to act as right mouse.
Scroll Bar Function: Swiping with your finger on the scroll bar is equivalent to sliding the scroll bar on the right side of the screen.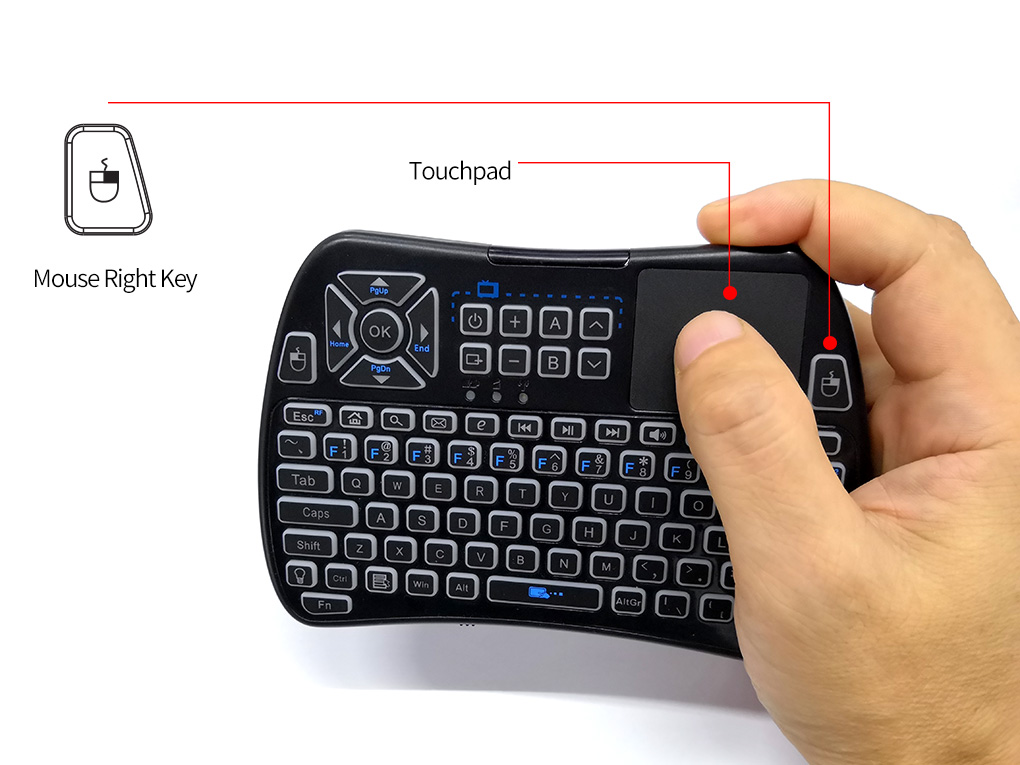 What exceeds your expectation is the perfect location of its touchpad. It is located in the upper right side, with a right mouse button to the right. This design means that, much advantageous over other similarities with trackpad in the upper middle, you can hold this keyboard just with your right hand (no need of both hands) and your right thumb can easily reach the touchpad and perform gesture like slide or tap. How about gesture of two fingers? That is pretty easy. Just slide on the scrollbar to browse up/down and one click on the right mouse beside the touchpad.
Some person, however, find the distance traveled when scrolling is too little, and you will find yourself doing a lot of repeat actions. Never mind, you can use the up/ down arrows, Page Up and Page Down, and Home and End for quick shift instead.
In a nutshell, some mistake may exist but it's good enough to meet or exceed your basic demands.
2)Navigation buttons:
The direction buttons are located in the upper left side where your left thumb can perform conveniently and freely. It is intuitive enough. With this buttons, I can freely move the cursor to select the very program or app on TV screen to enjoy.
I usually click these buttons to move the cursor a little. If I want to move a big distance or to next/previous page, I prefer the touchpad, scrollbar, shortcut keys like (hold Fn and press) page up/down,Home and End.
3)QWERTY layout
Personally, I hate the on-screen-inputting style for the pick-and-peck process is really bored to me. This is the reason I used a QWERTY keyboard remote instead.
Typing on this keyboard is a bit hard at first for the buttons are a bit little and packed, but it doesn't take me much time to get familiar to it and edit some lines of characters for its layout is basically similar to that of the standard traditional keyboard.
4)media-friendly buttons and shortcut keys
10 basic media-friendly buttons are deployed in a line. 6 of them are within your right thumb' s reach for media playing, including play/pause, previous/next,Voice+/-, mute; 4 of them are within your left thumb's reach for quick interface shift among browser home, Email, search, etc.
3 How to control your TV through programmed IR buttons
Please note that any or some of these 8 IR buttons must learn code value from that of your original TV remote before it or they works with your tv.
Now lets go into detailed process of IR learning.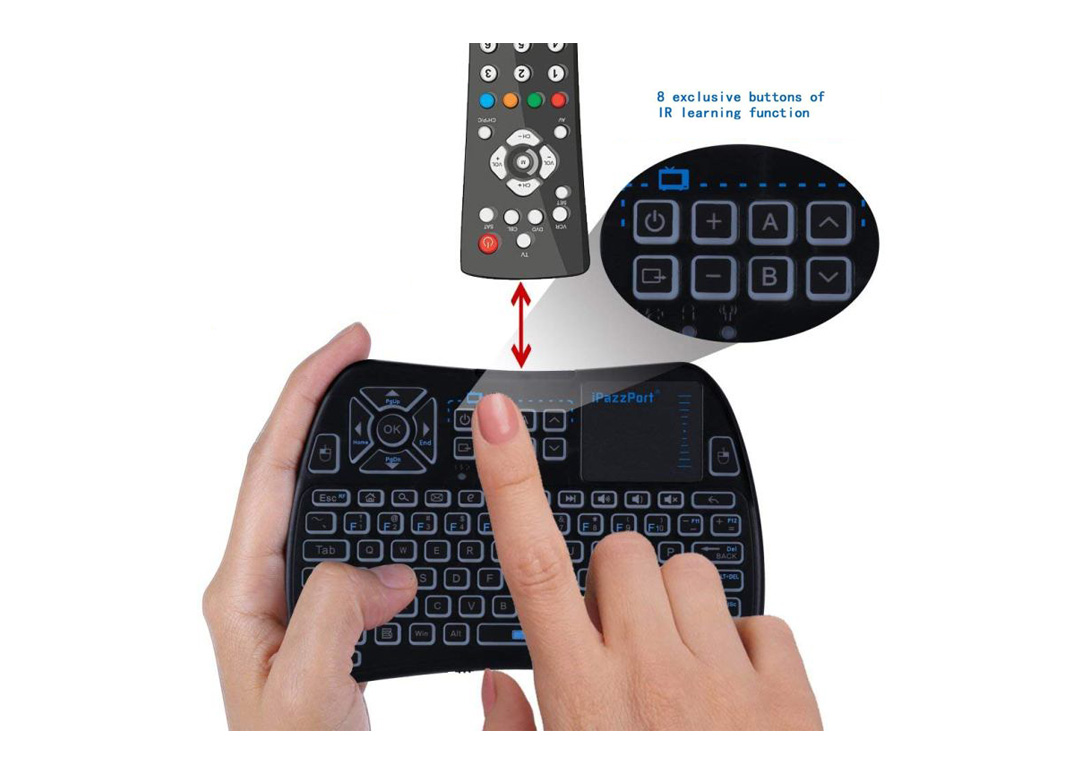 Step 1: Hold on the button"  " on the first row (before the button+) till the LED indicator blinks and then lights solid.
Step 2: Click the button you want to program (" +" , for example) of these 8 IR-enabled buttons, the indicator will blink one time and then be steady on.
Step 3: Power on your original TV remote and put together their IR heads about 1 inch apart and click the target button "V+" on your TV remote. The LED indicator will blink 3 times quickly, then steady on for the following IR learning process of another IR button.
Step 4: While LED is steady on (wait for 3 seconds), you can repeat step 2 and step 3 to program other buttons.
Step 5: Just wait for about 10 seconds to save the setting automatically (the LED will go off), or click the button"  " for a quick saving.
For example, you can program at least 5 of them to fulfil the specific function like powering on/off your TV, adjusting the volume and switching the channels, and to make the other 3 button separately to control your other TVs.
Note: The detailed programming steps are printed on the back case for your convenient reference.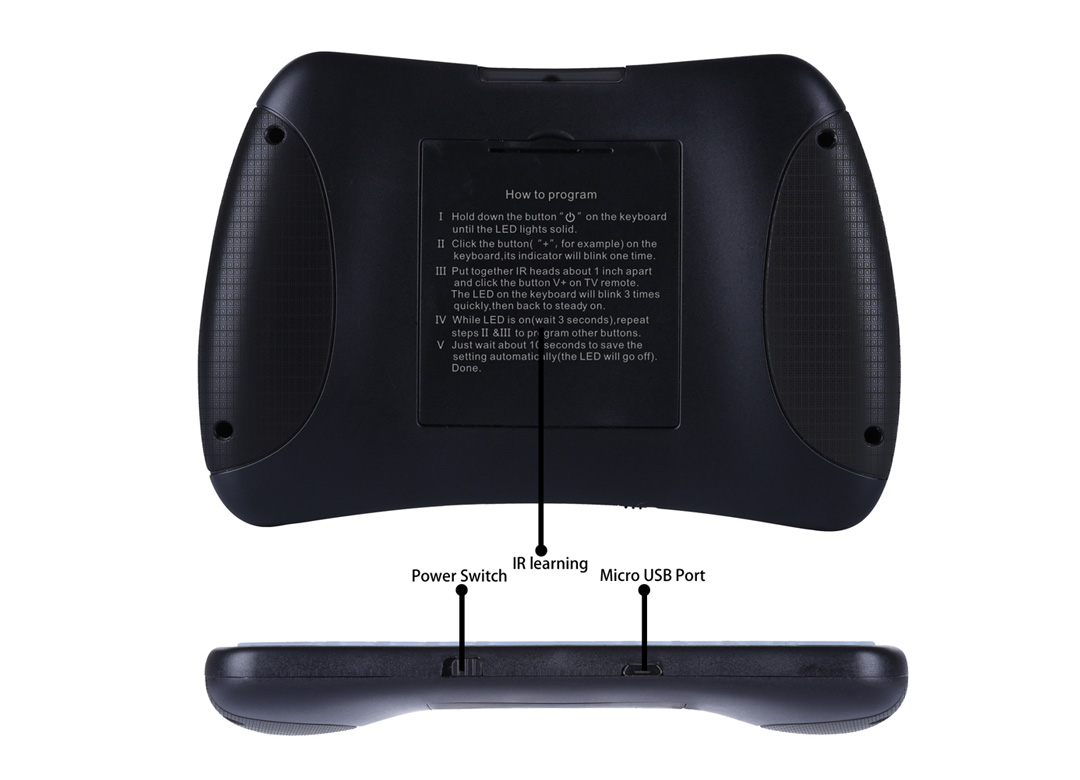 After the setting is saved,you can put away your original TV remote and control your tv with this IR touchpad keyboard remote instead.
Bottom line:
This keyboard is an upgrade version of KP-810-21S with some pretty improvements in shape, layout and function. For example, the palm-fit shape, touchpad location, extra IR buttons and RGB backlit are much practical enough.
Considering its competitive price tag of &21.99, especially its excellent performance in controlling TV box, TV or other USB enabled devices, this keyboard really worth you a look.
Kind reminder: buy one from Amazon before its price bounces up or buy one from our shopping store for  $1 off.
Thanks for reading and hope it helps a bit.
Related articles:
Best mini ergo media touchpad keyboard to ease your hands and operation
Best mini Infrared touchpad keyboard to free users from juggling multiple remotes
Which is the better keyboard remote for Raspberry Pi, small keybaord, full-size keyboard or App?