How to control your TCL roku TV without TV remote?
iPazzPort
Preview:This article will show you how to control your tcl tv without tv remote, such as power on/off, volume up and down, website search and passcode input.
Compare remote with ipazzport mini keyboard,show you a better choice for tcl roku tv.
Why you need a mini multi-function keboard remote?
TCL smart TV is pretty popular in TV category these years. As a smart TV, its setup, interface, App, and content are much considerate than ordinary TV, which calls for an even powerful and effective TV remote to make best of its full function, though its supplied TV remote is really intuitive and practical.
What a mini IR touchpad provides you?
The following mini infrared touchpad keyboard KP-810-61 (click for more details) emphasizes four aspects: a built-in touchpad for free cursor positioning besides included direction buttons, a QWERTY keyboard for smooth data or password input, shortcut and useful buttons for basic TV game playing, and even better 8 IR learning buttons to learn code value of your original remote and control your TV.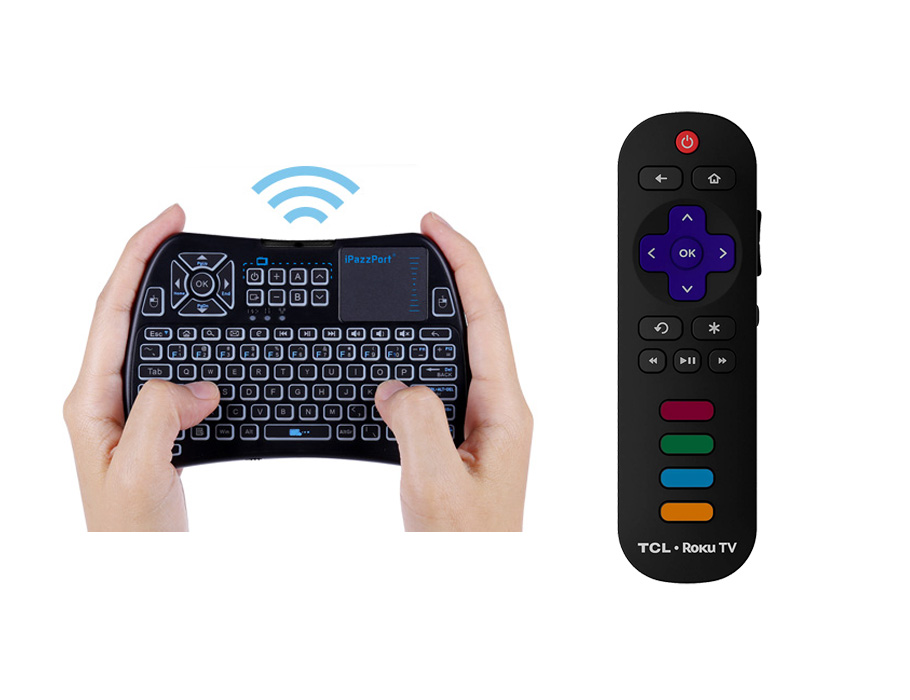 How does this mini IR touchpad keyboard control your TV?
1 Program 8 dedicated IR buttons to replace your original TV remote
Before the whole process, let's check the fact that the mini touchpad keyboard is effective enough, but not perfect for the users have to rely on their TV remote in powering on/off their TV, changing the channels and adjusting the voice. Is there any room for improvement in controlling their TV with just one remote instead of frequently juggling two remotes- original TV remote and keyboard remote?
The answer is yes.
1)Useful tips to program them
There are 8 learning buttons between the direction buttons and the touchpad, each of which can learn code value from the original TV remote. You can group and program them, for example, the first group to power on/off TV and the other to act as "Source" separately, the second group to adjust the voice, and the last group to change the channels. And the spared third group can be programmed for other user-defined function.
Thanks for these 8 IR buttons. You can keep away your TV remote and enjoy wonderful time without any compromise in experiencing content, App and etc on your TCL TV.
2) Now let's start the details of IR learning process.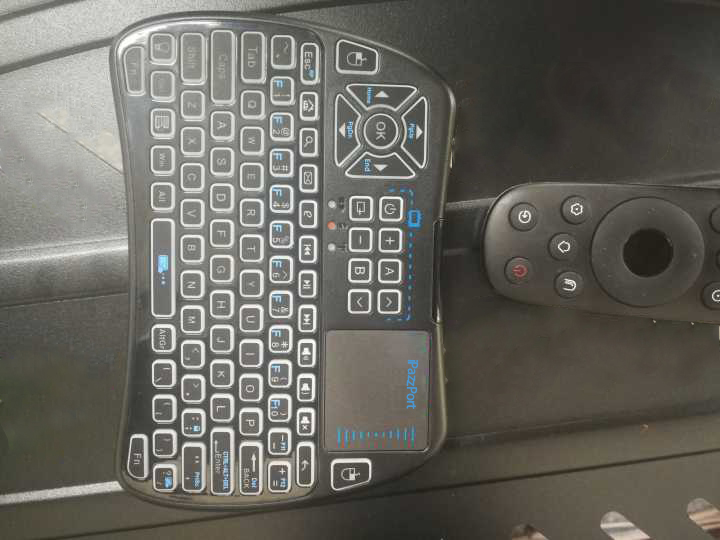 Step 1: Hold on the first button before the button"+" till the LED indicator blinks and then lights solid.
Step 2: Click the button you want to program (" +" , for example), the indicator will blink one time and then be steady on.
Step 3: Power on your original TV remote and put together their IR heads about 1 inch apart and click the target button "V+" on your TV remote. The LED will blink 3 times quickly, then steady on for the next IR learning process .
Step 4: While LED is steady on, you can repeat step 2 and step 3 to program other buttons.
Step 5: Just wait for about 10 seconds to save the setting automatically.
Step 6: Done.
Programmed , these buttons will replace those of your TV remote to control the TCL TV.
Note:
The steps to program are available in user manual and even printed on the back lid of the keyboard for your convenient reference.
2 Then let's follow other useful operations with this mini touchpad keyboard
Unbox the packae, you may find this keyboard is really an ergo one with palm-fit shape and effective layout, quite different from other similarities in appearance and additional infrared buttons.
1)How to establish Wireless connection
Step 1 Charge the keyboard
To make sure the keyboard is not in low power capacity, please charge the keyboard with the supplied charging cable.
Step 2 Plug in the USB receiver:
Please power on your TV and unbox the mini box, then uncover the back lid and take out the
USB receiver inside. Check and make sure the dongle is in good shape and appearance (no stain or abrupt edge ). And then plug the dongle into the USB port in the back of the TV.
Step 3 Automatic connection:
Push the power switch to position "On" to turn on this keyboard remote and slide your finger on the touchpad, you will see the red cursor moving accordingly on the TV screen. This means your keyboard and TV are well connected and ready to use.
2)Control your TV through sensitive touchpad
After the wireless connection is established, you can control the cursor on the screen to spot the target and open it, including TV setting, operating App and more. The free cursor track is a big improvement in flexibly and accurately moving the on-screen cursor and activating the target to go further, compared with its original navigation buttons characterized by item-to-item spotting style. For example, about 6 clicks is required before the tab "movie store" is activated, which may take 4 seconds or so and be shortened to 1 second when performing that on the touchpad.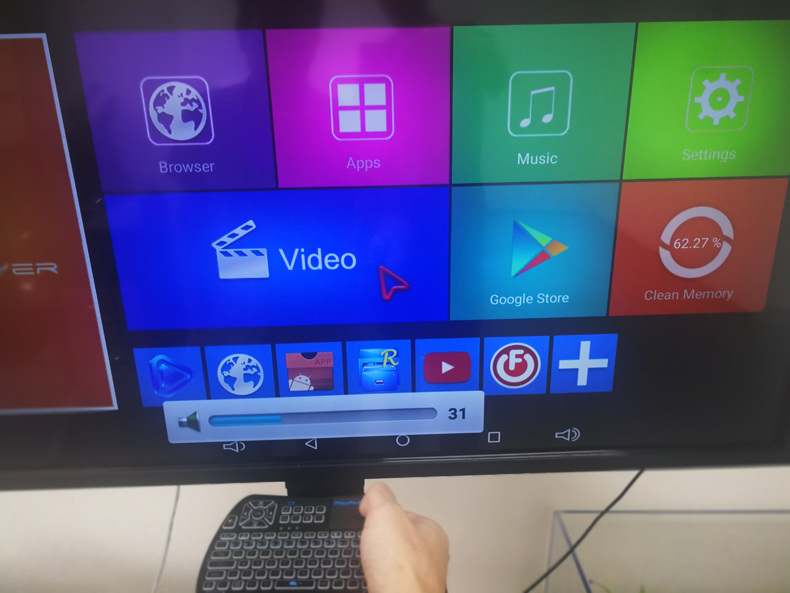 As for short-distance cursor track for target selecting in content display and document/password editing, you can keep pressing the direction button on the keyboard just as you operate that on your original TV remote.
That is to say, this touchpad keyboard provides a probability of an elegant cursor track at will besides its basic navigation style, which speaks for itself and make a hit with the users.
3)Control your TV through media-friendly and shortcut buttons
As for a smart TV, a multi-function TV remote is extremely needed to make best of its unlimited content and App and to benefit from its interactive cross-platform action. This is what a mini touchpad keyboard recommends itself to the users -the media playing and cross-platform function- characteristic of some media-friendly buttons and shortcut buttons in a row which help operate those included App such as Hulu, YouTube, jump to the target interface such as Email, browser.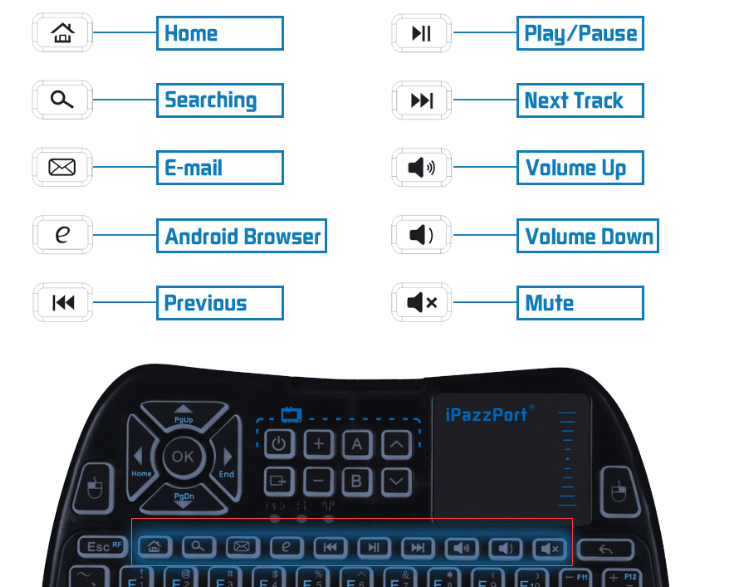 4)Smooth data input for content search, document editing and login
With QWERTY layout, this keyboard will help input password for quick login and content search. When inputting password to login YouTube account, the users have to struggle through the onscreen pick-and-peck input style with their original, which is time-and-energy consuming . fortunately, this keyboard remote makes that a history.
Function of copy and paste is not available for its original remote. It is easy to operate by keeping pressing the left mouse button and simultaneously slide on the touchpad, which is just like you operate an actual wired/wireless mouse.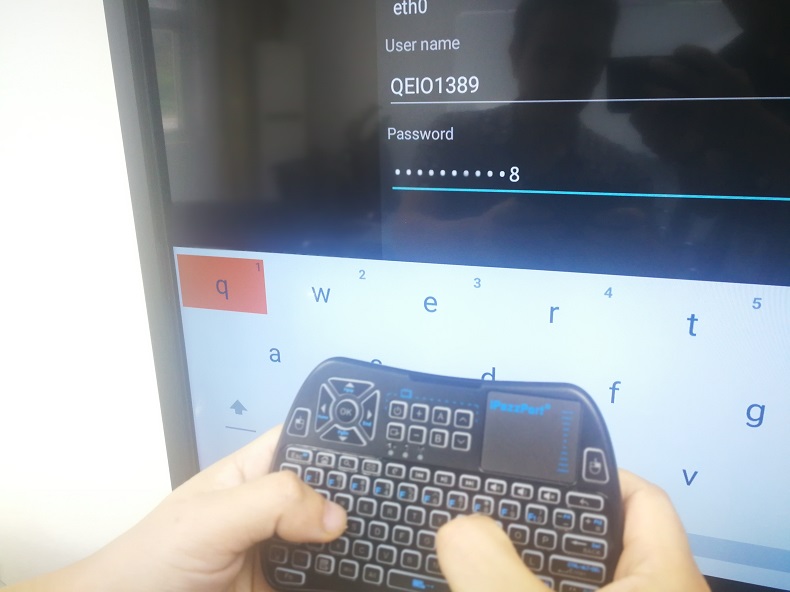 5)Lock your keyboard remote in case of unexpected touch on the keyboard
The keyboard lock is useful indeed based on some feedback from verified users that their children like playing with the TV remote and often mess the TV program. This situation is rare after they buy a mini keyboard like this and lock the whole keyboard by clicking Fn and the button (with an icon lock) simultaneously, which is a little function but really helps a lot.
6)RGB backlit , a useful bonus for you
Last but not least, the keyboard is a RGB backlit version for your convenient operation in a dim room. Just press the button with an icon bulb on it, one click for Red backlit, another for green, the third for blue and the fourth for default version. To save power and prolong standby, the backlit will go off in inactivity of about 10 seconds and you can wake it up by clicking any button (instead of sliding on the touchpad) for previous backlit setting. Of course, you can click the button with bulb icon to turn it off.
Bottom line:
As a Smart TV, TCL rokuTV , is powerful and will be ever effective when it goes with a mini Indfrared touchpad keyboard like iPazzPort KP-810-61, dedicated to design to advance TV experience and help the users out of juggling multiple remotes. It is really worth you a try considering its exclusive function and a moderate price tag of $18.99 on official site.
Thanks for your reading and hope it helps a bit. If you have some other suggestion or question about the article or the mini touchpad keyboard , please drop a line. Your comments would be much appreciated here.
Related articles:
Best mini Infrared touchpad keyboard to free users from juggling multiple remotes
Best mini ergo media touchpad keyboard to ease your hands and operation
How to fix a mini IR touchpad keyboard with TV box and TV
Which is the better keyboard remote for Raspberry Pi, small keybaord, full-size keyboard or App?