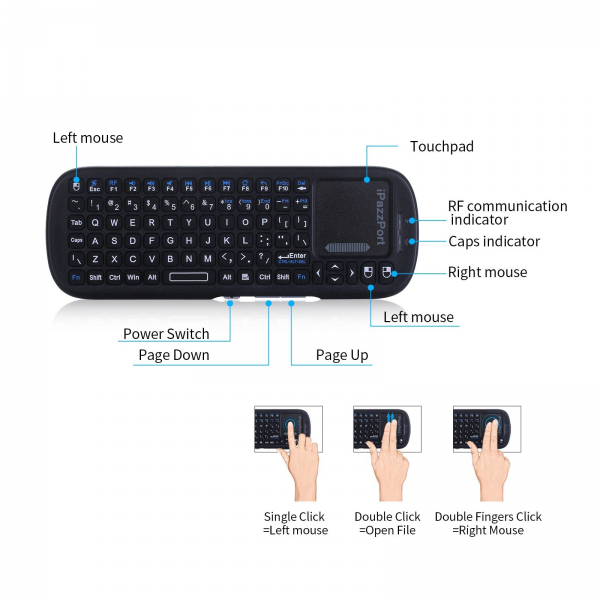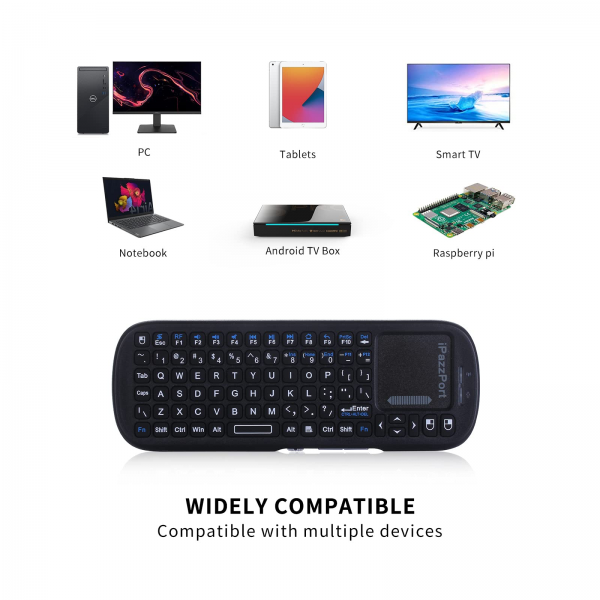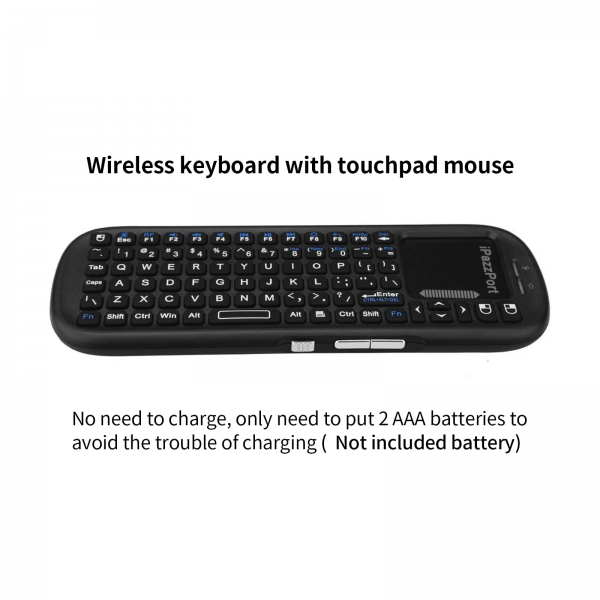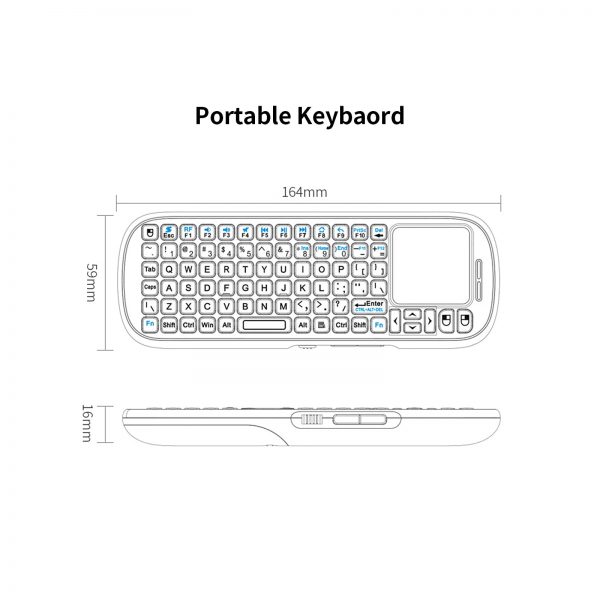 iPazzPort 2.4G Mini Wireless Keyboard with Touchpad Mouse Combo, Lightweight Portable Keyboard Controller, Compatible with Android TV Box/PC/Tablets/PS4/Raspberry Pi 3/HTPC KP-810-19S
With touchpad combo and QWERTY layout, this mini handled 2.4Ghz USB mulitimedia keyboard is  used as a universal keyboard remote to operate USB enabled devices like Raspberry pi ,PC, XBMC ,PS4 ,Android /Google TV Box etc in browsing web, watching movies, playing games, enjoying home entertainment, performing training, education ,meeting and presentation.
$26.98
描述
About this item
Compatible with Android TV Box, Raspberry Pi, HTPC, XBMC, PC, laptop. No need to keep a full sized keyboard and mouse connected

Advanced RF 2.4G wireless technology that delivers anti-interference and reliable connection.with USB receiver plug and play. enjoy up to 30Ft operating distance

Support AAA battery,easy to install and change(battery not provided in package)

Use it to easily input text, browse the internet and play games with a unified keyboard and remote. You never have to leave the couch

Sold and serviced by iPazzPort, the leading manufacturer of low cost, high quality wireless handheld keyboards with One Year Warranty
---
Product Description
iPazzPort Handheld Mini Wireless 2.4GHz Keyboard with Mouse Touchpad Remote Control, Black
Quick view:
This is a 2.4GHz Mini Wireless QWERTY keyboard with TouchPad combo,USB interface available for operate PC wireless.
Slide mouse cursor and write on screen ,emphasize words and objects just by using this wireless mini keyboard and mouse with touchpad.
Available for Raspberry pi 3,Android tv box,Smart TV,HTPC etc.
Specification:
Operating Range: 25 Ft.
Color: Black.
Battery Type: AAA battery(Not included in package).
Package including:
1 x Wireless keyboard
1 x Wireless receiver
1 x User manual
Please Note:
1,Windows 7 OS will take several minutes upon first use to install the driver (included on USB receiver)
2,This version does not include a laser pointer or a backlight keyboard
3,Not compatible with Samsung Smart TV
Specification:
Working voltage: 3.3V
Power supply: DC 3V(1.5V AAA
battery X 2)
Operation radius: 30Feet
Portable size: 164.4x59x16.2mm
Weight: 62g
System requirement:
1 * Wireless keyboard
1 * Wireless receiver
1 *  USB connection extender
1 * User manual
Package list:
1 * Wireless keyboard
1 * Wireless receiver
1 *  USB connector extender
1 * User manual
FAQ:
1 Will this work with my Android smart tv?
Answer:
Sure. As a matter of fact ,this device works well for almost all the devices with USB port.
2 I got the charging cable but it doesn't have a slot to charge it, any idea?
Answer:
That is a USB connector extender. It's battery operated.
3 Does it work for ios
Answer:
This mini wireless keyboard can support
-Windows/ ios
-Linux/Mac OS
-Android/Google/Smart TV OS
4 Is there a Blutooth version?
Answer:
This product is USB version. The following is the link to a Blutooth one:
http://www.amazon.com/iPazzPort-Wireless-Bluetooth-Raspberry-KP-810-19BT/dp/B01CE8F7YO/
https://www.amazon.com/iPazzPort-Wireless-Bluetooth-Raspberry-KP-810-19BT/dp/B01CE8F7O
5 Will it work with a DVD player?
Answer:
As long as it support standard USB port.
6 Can we speed up the scroll speed? So slow!
Answer:
hi, press Fn+space key to adjust the speed.
7 How to set the track pad in vertical, like a remote ?
Answer:
Press FN+Esc" for free switches between vertical trackpad mode and horizontal mode.
8 How to browse up /down the page with this keyboard?
Slide in the middle of the touchpad to move the cursor
Slide on the scrollbar to browse up/down
Press the key page up/down to browse the previous/next page.