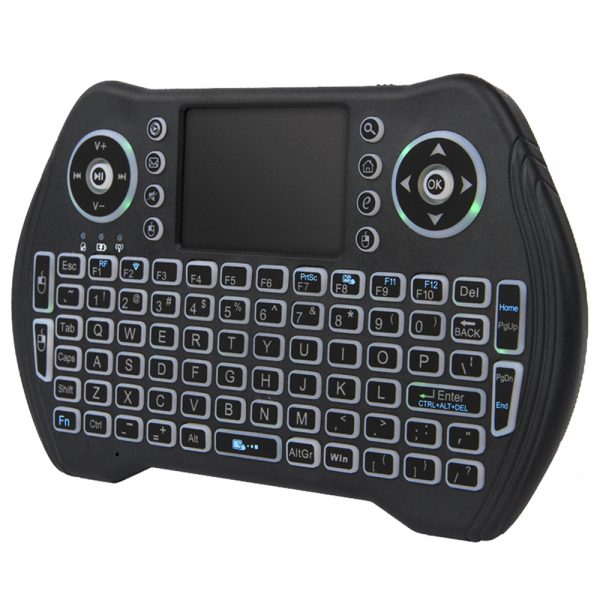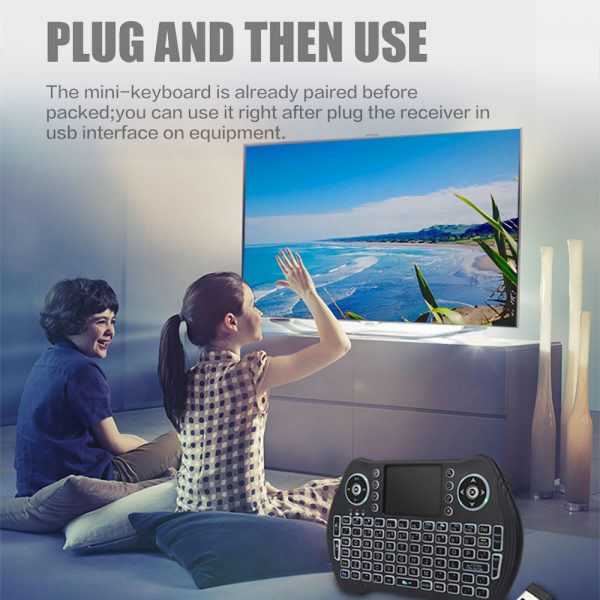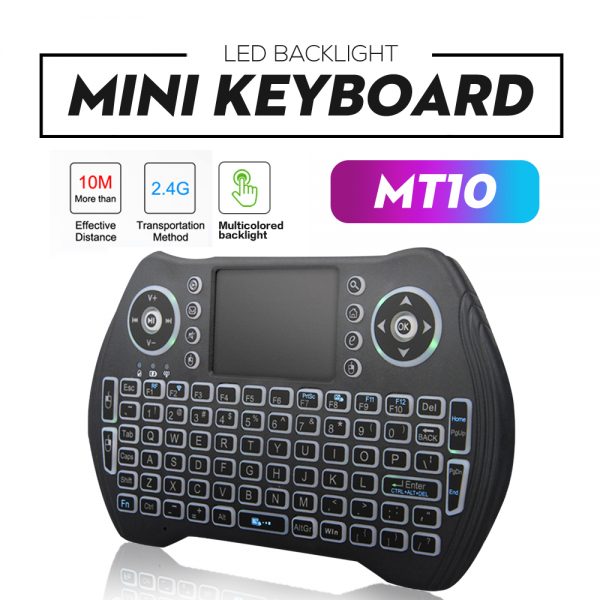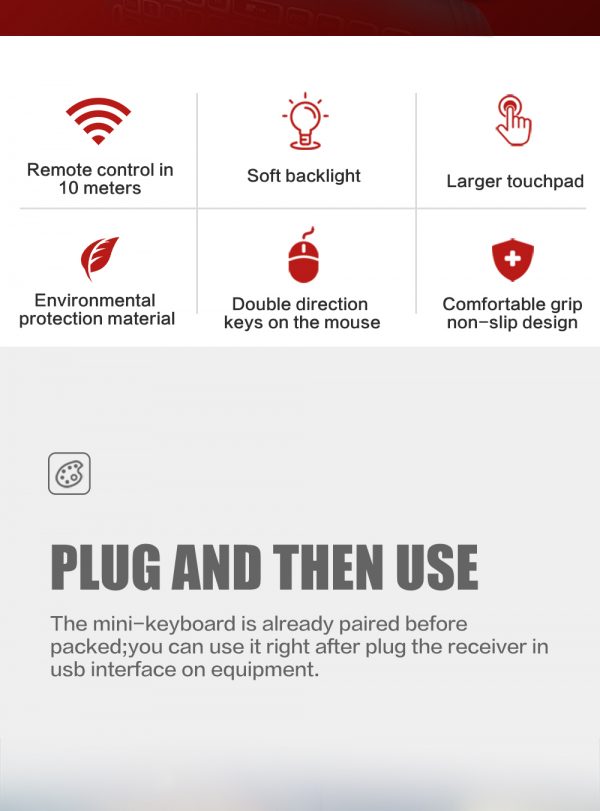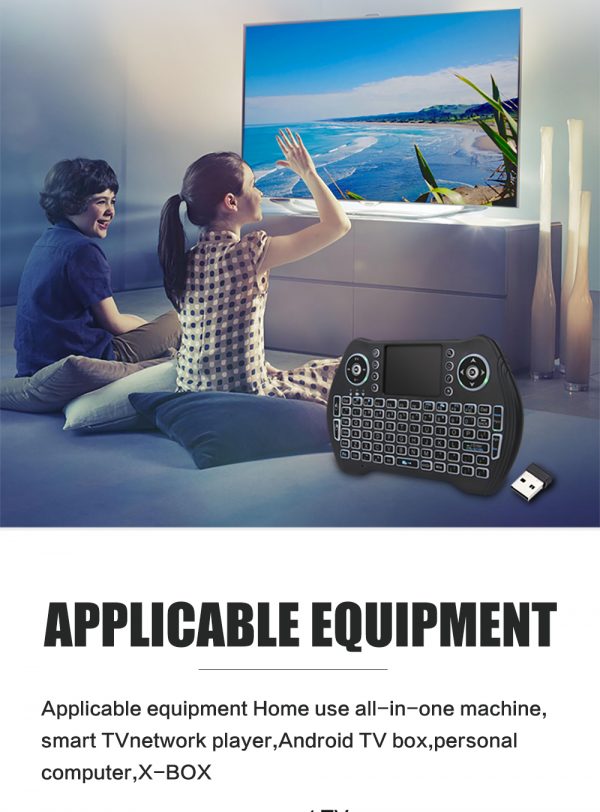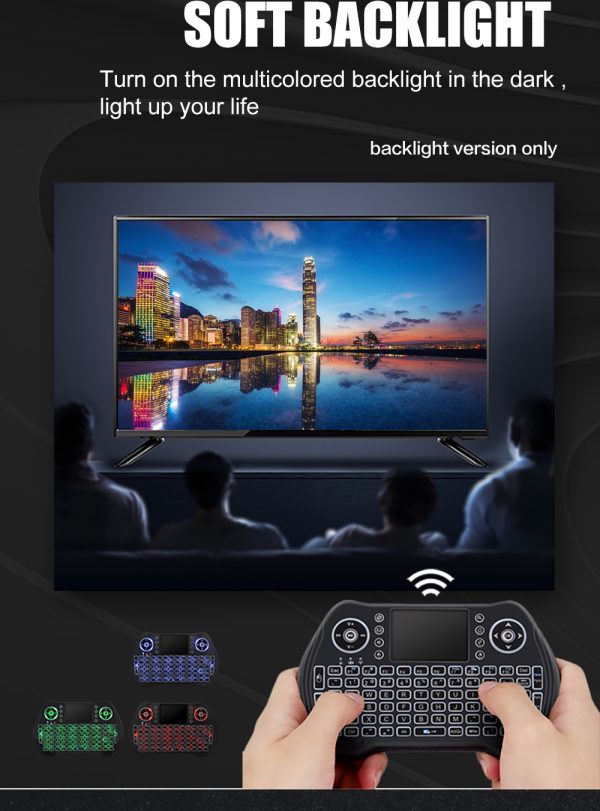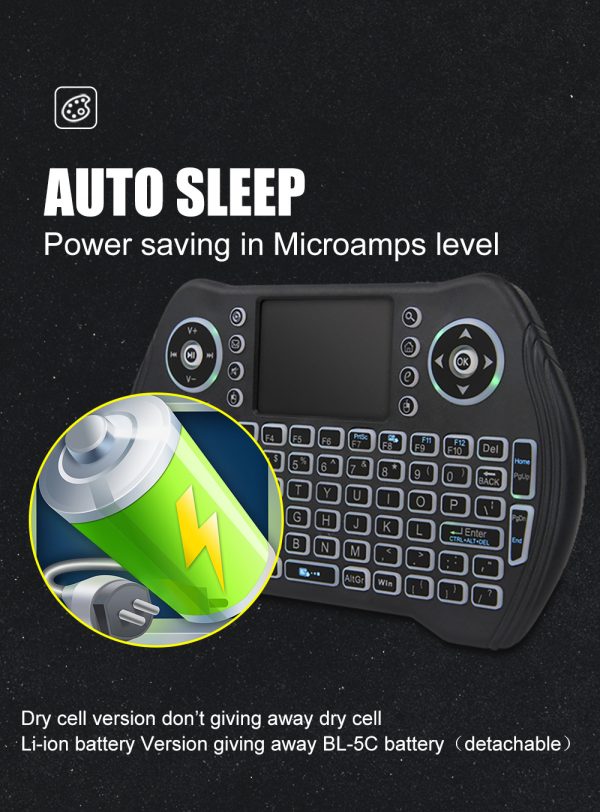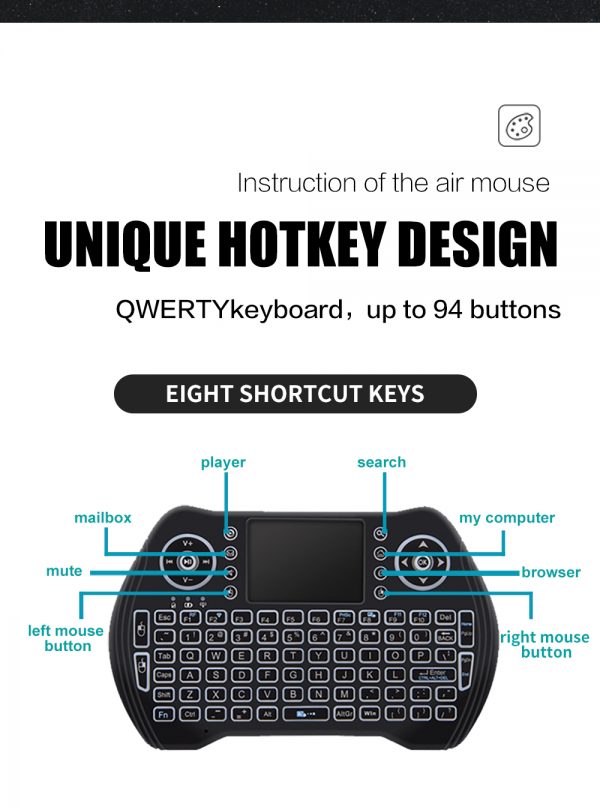 Backlit 2.4GHz Mini Wireless Keyboard Handheld Remote Control with Touchpad Mouse Combo with USB Dongle Rechargeable Li-ion Battery for Android TV Box/Fire TV STICK/Smart TV/HTPC/IPTV/PC/X-Box
【Mini Wireless Keyboard Remote】The 2.4GHz mini wireless keyboard is connected by USB dongle(included), easy to use. Built-in sensitive touchpad and mouse. Perfect for browsing the web, playing games or watching tv
【Touchpad and Hotkeys】Mini wireless QWERTY keyboard with multi-finger touchpad and short-cut key: there are 8 multimedia function keys such as on/off switch, mail box, mute, mouse left, searching, open My computer, browser home page and Mouse right, which can save your time and improve your working efficiency
【3 Colors Backlit and Rechargeable Li-ion Battery】The 2.4G mini wireless handheld keyboard has 3 colors of backlit mode. Easy to use even in the dark. Built-in a Li-ion rechargeable battery. With auto sleep and wake-up function, it can remain a long working time
【Wireless RF Remote and Mini Size】The backlit handheld mini keyboard remote can be easily connected to your devices by USB dongle(included). Easy to carry for compact mini size and ultra light weight
【Widely Compatible】It can be used as a keyboard remote control for android TV box, smart TV, amazon fire tv stick, PC, x-box, desktop, PS3 etc. Just plug and play, the transmission distance can up to 33ft
$25.98
Description
Backlit Mini Wireless Keyboard–Enjoy entertainment time with your family and friends
New Function:
-Changeable Back Light: Hold Fn + F2 on this mini keyboard to turn on/off the backlit and the same button to set the different backlit colors.
-Multi-Touch function: A single finger click as left mouse function, double finger drag as the rolling screen, three-finger click as the right mouse function.
-Short-cut Key: There are 8 multimedia function keys on this wirelss keyboard, such as on/off switch, mail box, mute, mouse left, searching,my computer, browser home page and mouse right, which can save your time and make your life much more easier.
Features:
– Auto sleep and auto wake mode
– Touchpad DPI adjustable functions(Fn+Space)
– 2.4GHz wireless keyboard connection, smart and portable size
– The Ergonomically handheld design is very easy to carry and operate
– The removable rechargeable Li-ion battery on this backlit keyboard that has longer standby time
– This mini keyboard has built-in intelligent power management software for power conservation
– Comparable to the real notebook touchpad Perfect for Windows/ Mac OS/ Android/ Linus system etc.
Specification:
Connection: RF 2.4G wireless connectivity
Operational range: 33ft(Max), without signal disturbance and no direction limit
Battery type: lithium battery
Amount of key: 94 keys
Transmit power: +5db Max
Operational voltage: 3.3V
Charging current: <330mA
Operating current: 50mA (on), 1mA(sleep mode)
Size: 6.60 x 3.80 x 1.00 inches
Material: plastic and silicone
Support System: Windows, Linux, Android/Google/Smart TV, Mac OS
Package Include:
1x Mini Wireless Backlit Keyboard
1x USB Charging Cable
1x Rechargeable Li-ion Battery
1x Wireless Receiver(under battery cover)
1x User Manual
---
Only logged in customers who have purchased this product may leave a review.