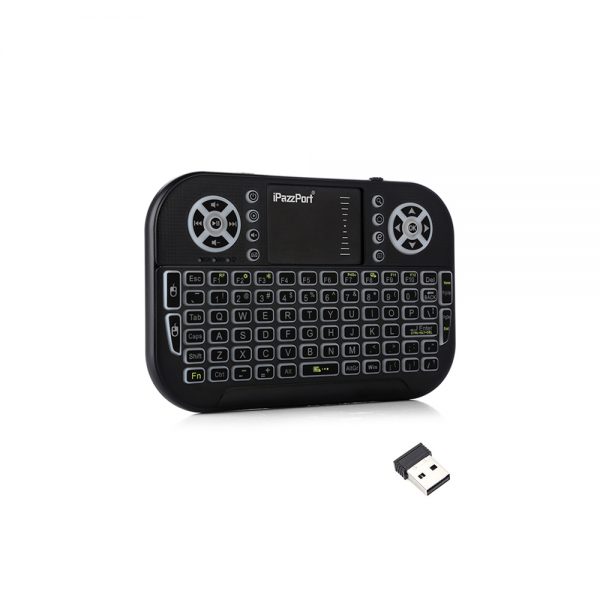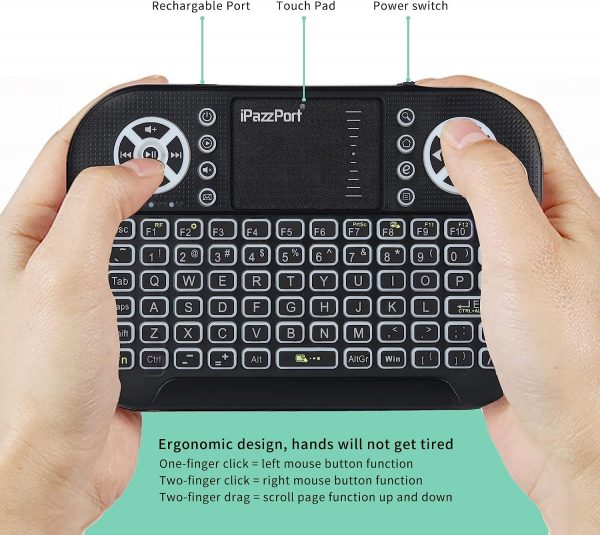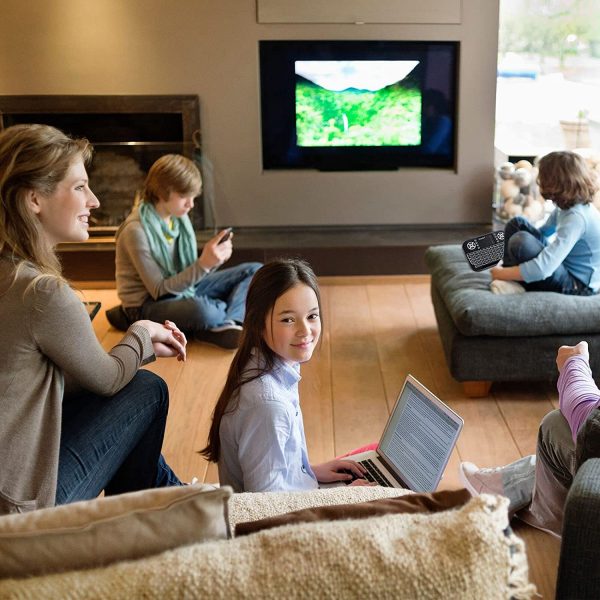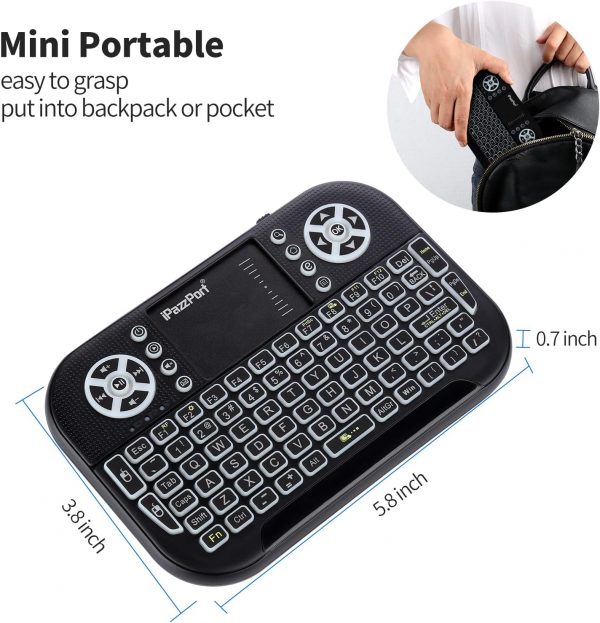 (Upgrade) iPazzPort Mini Bluetooth Keyboard with Touchpad Mouse Portable 2.4G Wireless Keyboard with Backlit for Fire TV Stick/PC/Smart TV/Windows/Laptop/Phone/Mac/Android TV Box
mini wireless keyboard with touchpad, support bluetooth & 2.4G connection
$27.98
描述
---
About this item
【Dual Mode and Widely Compatibility】Bluetooth keyboard and wireless mini keyboard, Plug and Play,Extremely easy to use and Connect ,Fn+F1 enter wireless Connection mode, Fn+F3 enter Bluetooth Connection mode,for Raspberry Pi HTPC Tablet Laptop desktop PS3 x-box Linux and more.

【Wireless keyboard with touchpad 】Ergonomic keyboard,Designed for Handheld,Preventing hand fatigue, Supports multi-touch function, one-finger click as the left mouse button, two-finger click as the right mouse button, and two-finger dragging as scroll the page up and down,Typewriter,copy/paste.

【Rechargeable Battery and Powerful Function】Built-in Long-lasting rechargeable battery ,Can work for 10 days,Working distance can reach 33ft/10M,Control your device on the couch or bed,Watching TV Playing games Visit the website (Note:cannot be used when charging).

【RGB Backlight More Energy Efficient】Three-color Backlight design allows you to clearly identify each key at night, with Accurate Input, you can Easily find it without Turning on the Light. Automatic sleep and wake-up function, Press any key to wake up, more Energy saving and power saving.

【Portable Mini Keyboard】Cordless,The compact design is very easy to grasp, can be Easily put into a backpack or pocket, Whether it is taking out for travel or working from home, it is very suitable, no longer endure the constraints of a wired keyboard.
---
Product Description
Mini 2.4g Wireless Keyboard With Touchpad and Bluetooth Keyboard Dual Mode Makes Life More Convenient
Are you looking for an easy-to-type keyboard and mouse combo remote for your smart TV? ipazzPort Multifunction Mini Keyboard, It can be directly plugged into the device connection through the USB dongle, or connected through Bluetooth.

The process of both connections is very fast, and it can quickly enter the working state. The keys made of high-end silicone material are very comfortable to the touch, and the ergonomically designed keyboard shape will not feel fatigued during typing.

The integrated design of mouse and keyboard allows you to enjoy the fun of using keyboard and mouse when you are away from the computer. However, its functions are not less.

NOTE :

The keyboard cannot be used while charging

USB dongle connection: Fn+F1(Make sure to insert the USB dongle into your device)

Bluetooth connection: Fn+F3

Backlight: Fn+F2
Extremely easy to use

Two connection methods are supported,Plug and Play (Bluetooth connection does not require a Bluetooth dongle)

Saving Mode

When not use for a long time, it will enter sleep mode, which is more power-saving, can be woken up by pressing any key.

silent keyboard

Using high-end silicone material, each key has a comfortable feel, not completely silent, but not noisy at all.
Wireless keyboard mouse combo

Touchpad mouse :Has the same power as a normal mouse.Qwerty layout keyboard, powerful input and search functions.

mini wireless keyboard backlit

Colorful three-color backlight, Fn+F2 can switch the backlight color arbitrarily can be clearly seen at night.

Efficient transmission and stable signal

Up to 10M working range, no signal delay, no longer troubled by distance.(note: in the absence of obstacles)