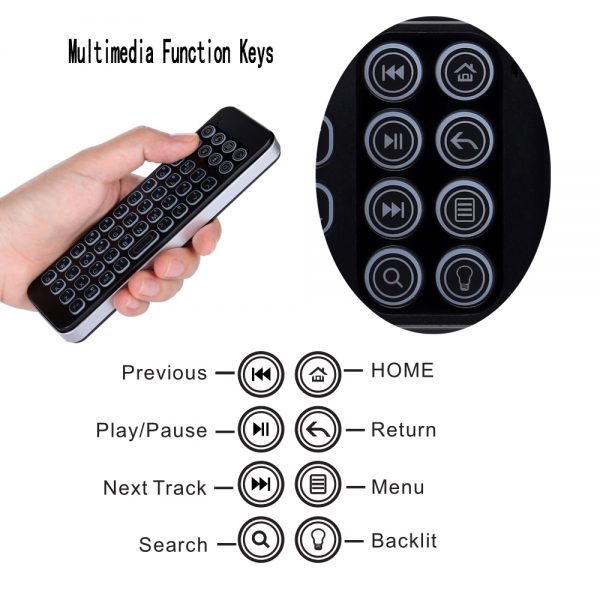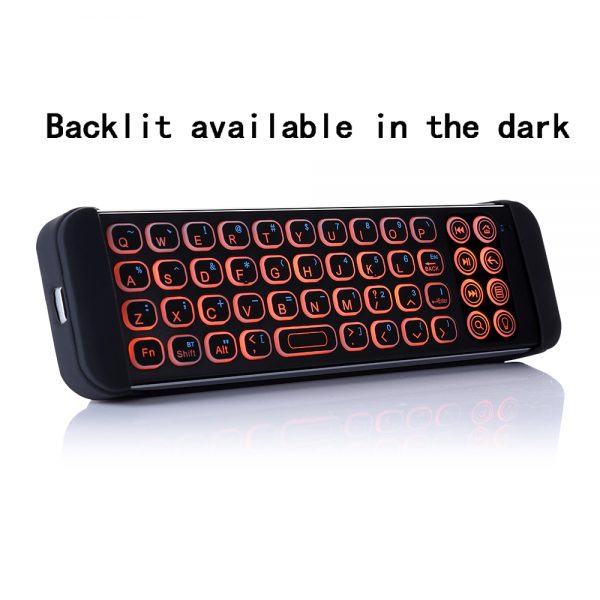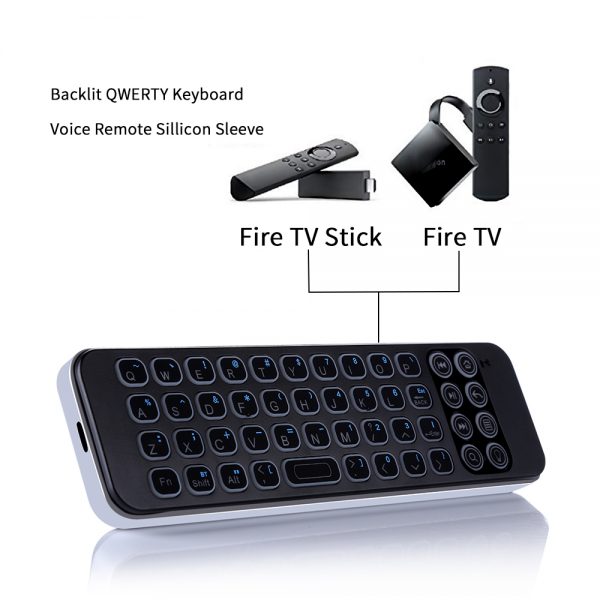 iPazzPort Mini Bluetooth Wireless Keyboard Remote with Backlit for Fire TV Stick 4k /Lite/Max, Fire Cube, Android Tv Box, Smart TV
This mini Bluetooth QWERTY keyboard of backlit version is to be used in conjunction with your firestick/ fire TV box remote to input letters smoothly even in a dim room, and top of that, to make best of your original voice remote. Of course these 8 media-friendly buttons will help a lot in media playback.
$31.98
描述
Improve your Firestick remote
And control firestick and Smart TV togerther
– Bluetooth mini keyboard for Fire Series
– 2019 version, new features
– QWERTY and Media-friendly buttons
– Backlit version
– With silicon sleeve for Voice Remote,
– handled,ergo design
UPC: 790704410341
Smart . Professional . Innovative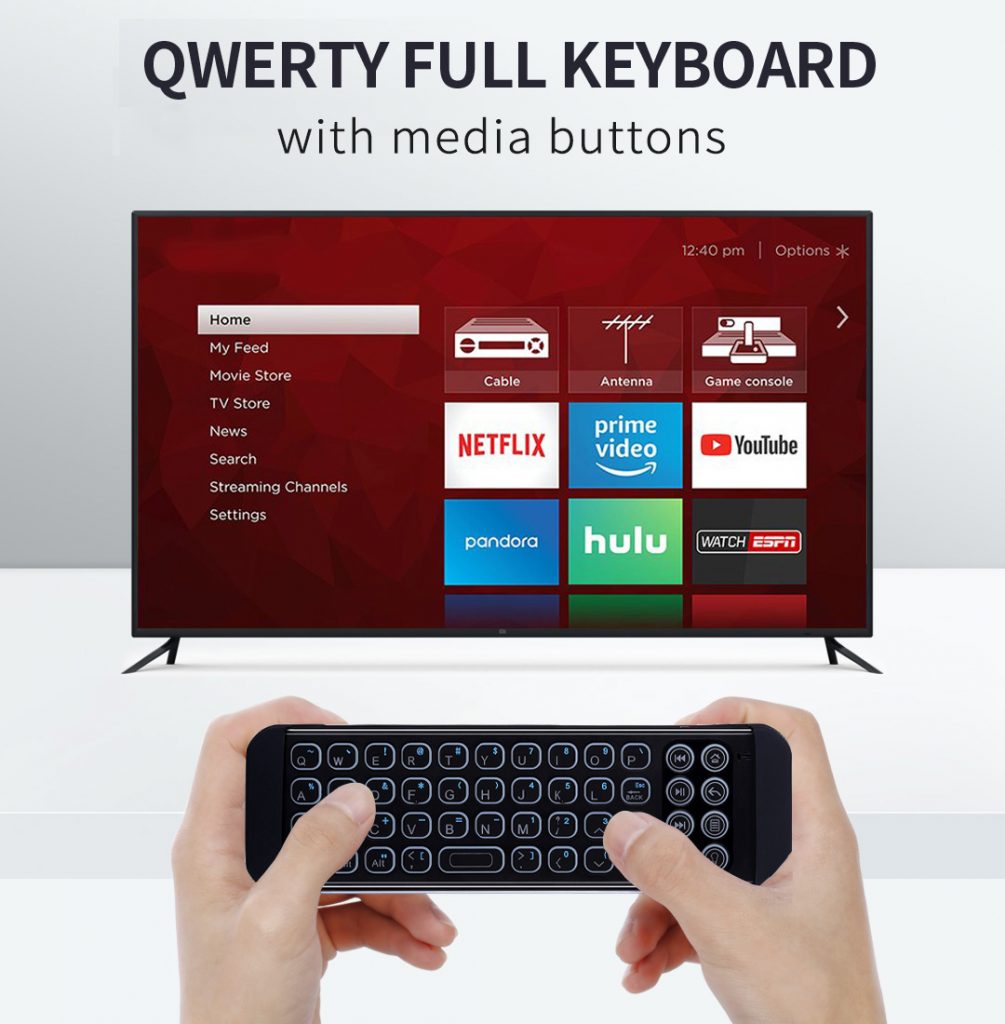 When the fire TV/fire stick came out three years ago, many users were shocked by its simplicity of the design and the following voice search mode.
They would have loved more its slim and effective design except for the hassles of time-consuming input experience, frequent missing of the slim remote, and of missing the original voice remote
Based on the suggestion and feedback from our firm customers, we develop and reveal this Fire-TV-stick-oriented keyboard remote of  2019 version generation to solve the problems they faced mentioned above, with unique advantages to hit the bull's eye.
Many thanks.
---
———————
Production description:
[Bluetooth mini keyboard]- Work for amazon fire tv stick/ fire tv stick 4k/ fire tv 4k/ fire tv cube/ fire tv, replace voice search to input content, make the search much quick. Note: FIRE STICK REMOTE NOT INCLUDED
[New Features with Multimedia Buttons and Keyboard lock]- Add Home/ Return/ Pause/ Search/ Menu button, much more convenient for multimedia navigation; Add the keyboard lock feature, when the keyboard is facing down,it will be locked, avoid pressing the keysin mistake when using the siri remote
[iPazzPort Backlit Keyboard]- Mini bluetooth keyboard with LED backlit for convenient operation in dark room, Just need to press "Light bulb key" to turn on/off
[Built-in Li-ion Battery]- Rechargable Li-ion Battery that with longer standby time long working hours, convenient USB charging and no need to open the lid to install battery now.
[With silicone sleeve for voice remote]- One silicone sleeve to maintain Alexa Voice Remote, don't lose the voice search feature, one side is siri remote, another side is bluetooth keyboard and IR remote, All-in-one connection by built-in bluetooth no need to fire stick HDMI extension cable.
Note:
1) Original firestick is not included.
2)Samsung TV does not support peripheral keyboard
---
Perfect partner of your Fire TV stick remote
The detachable silicon sleeves in the back are to hold your original fire TV stick remote seamlessly so that you will never miss it any more.
Top of that,Through Bluetooth connection, the QWERTY keyboard will help you out of time-consuming pick-and-peck data input issues on your original remote. You can input data smoothly with keyboard side and flip over to enjoy the wonderful experience of the existing Firestick remote.
————–
8 media buttons for playback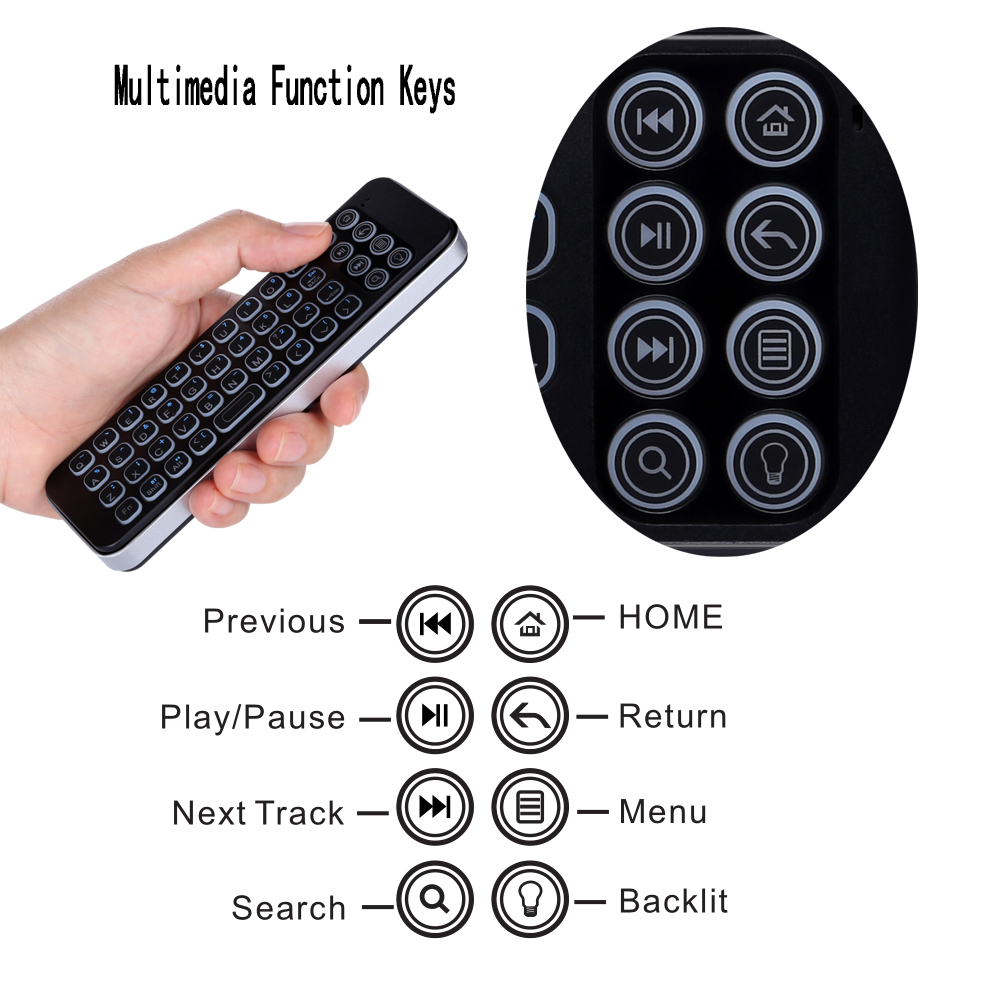 Backlit for convenience in dim room
The soft and ant-dazzling backlit is to enable you to input letters accurately and quickly to search the target programs without disturbing your roommates.
It is widely compatible (All in one). This keyboard is not only for fire TV stick but also for most other devices with built-in Bluetooth.in regular life like surfing, browsing page, watch TV, play TV game, home entertainment, PPT, etc.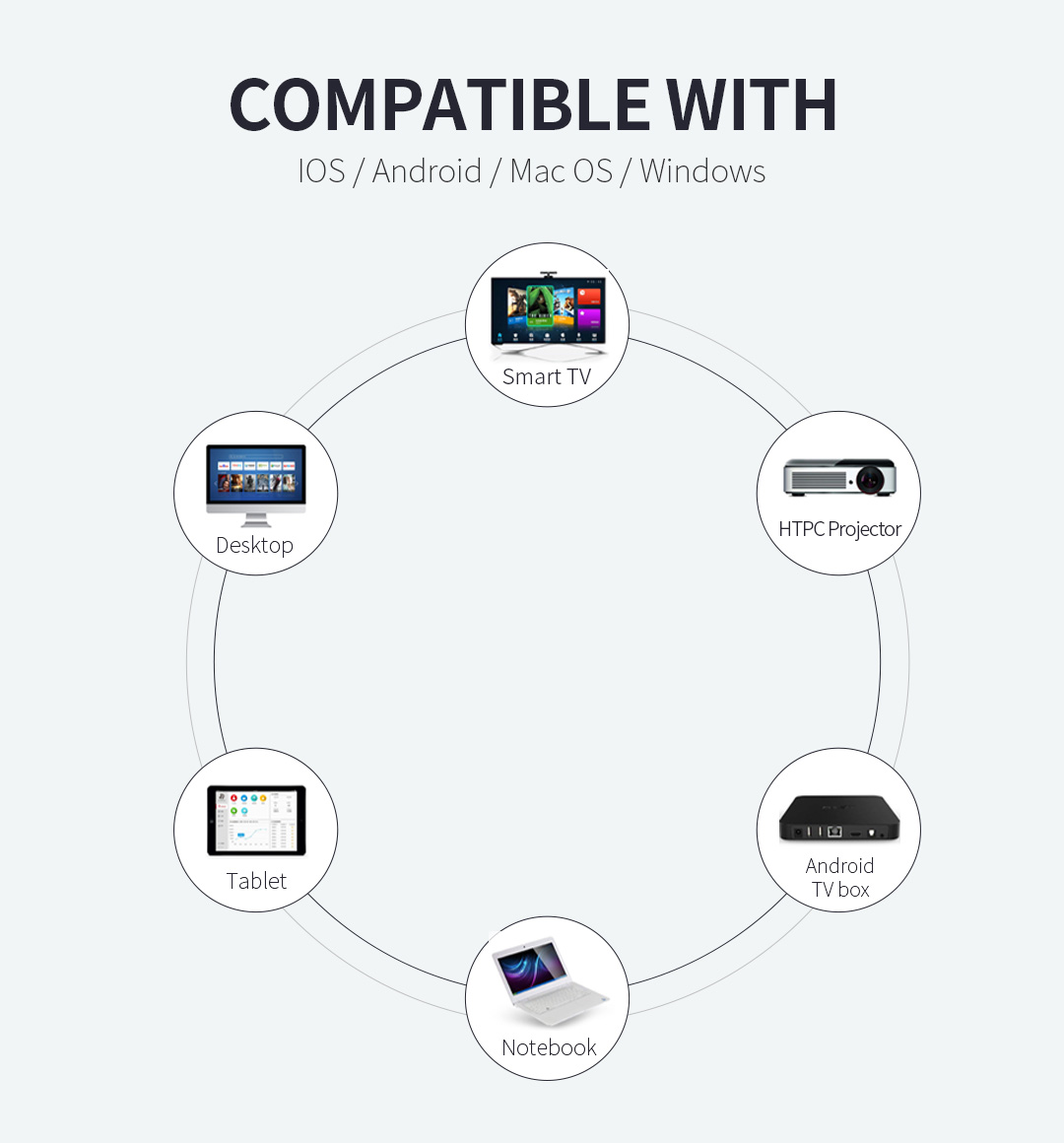 Specification:
-Battery: lithium battery,3.8V
-Working voltage: 3.3V
-Low voltage: 3.3V (blue light shining)
-Sleep current: 0.06Ma / 14 minutes
-Working current: 0.2mA ~ 3.2mA
-Backlight current: 50mA /(off in 1 minute)
-Size: 155X46X15mm
-Weight: 90 g
System requirement:
-Windows
-Mac OS
-Linux
-Fire TV stick/New fire TV box
Packing list:
-mini keyboard   1
-Silicon sleeve     1
-Charging cable  1
-User manual      1
FAQ;
1 Can it control single or multiple devices at a time?
Answer:
The Bluetooth part of the keyboard remote, besides the Fire TV stick, can connect with any other standard Bluetooth enabled devices ,while, it can only control one Bluetooth device at a time.
On the other hand, its media buttons will facilicate media playback.
2 Does this work with the Amazon Fire Stick?
Answer:
Yes it does. The Bluetooth version and the included silicon sleeves are specifically designed for the Amazon Fire TV stick.
3 Does this keyboard works with iPad/
Answer:
Yes, Yes. As a matter of fact , The Bluetooth part of this keyboard works well with almost any device with Built-in Bluetooth or an external standard USB port to input an Bluetooth adapter.
4 Can this keyboard totally replace the fire stick remote?
Answer:
Yes ,if your don't care about the Siri and touchpad and really hate its tiny size and peck-and pick input mode.
To make the best compromise among them , we provide you with two silicon sleeve. Then, the choice is yours.
5 How did this work with YouTube?
Answer:
On YouTube Search,YouTube onscreen keyboard only support Arrow keys and the Enter key function to navigate,not allowing inpu the Backspace key acts like a return key and takes to the previous page. The compatible issue remains unresolved today on the market.