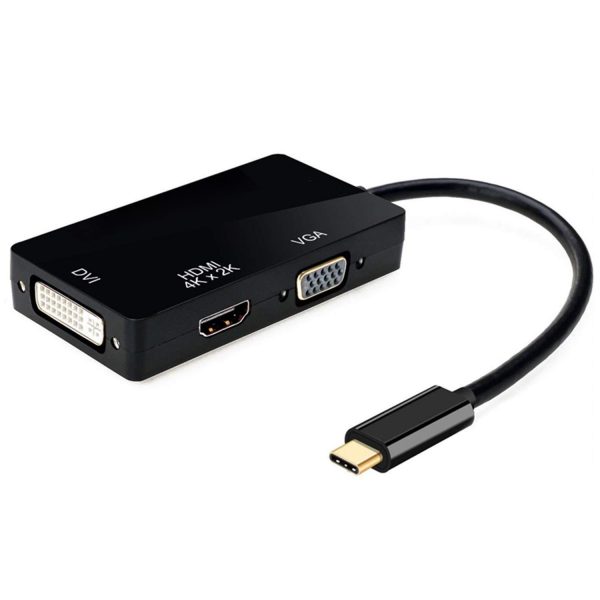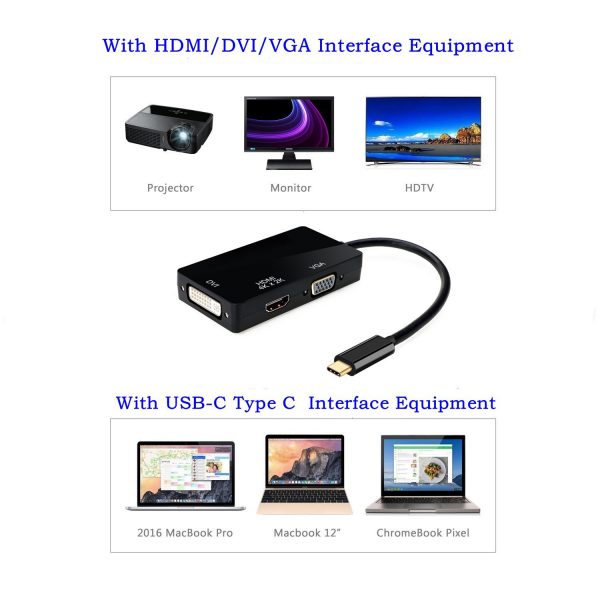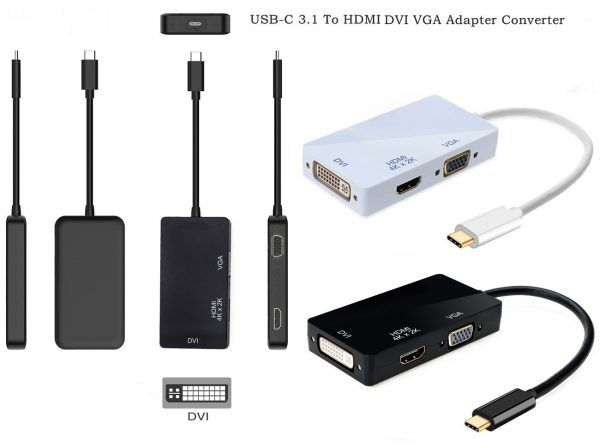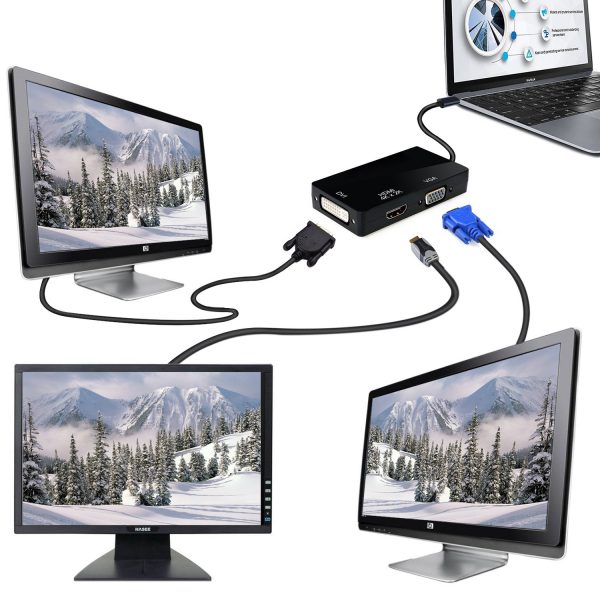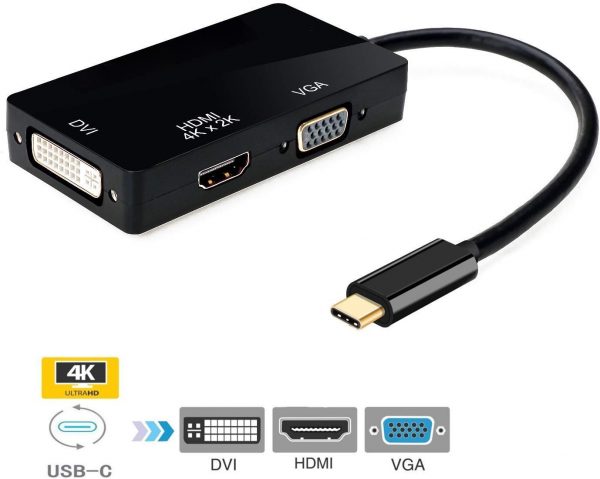 USB-C Multiport Adapter, USB-C Type C 3.1 (Thunderbolt 3 Compatible) to HDMI DVI VGA 4K Cable Adapter Converter for New MacBook
$39.98
描述
Description
Keep this USB-C adapter with your laptop while you're traveling to connect to virtually any monitor TV or projector
Multiport 3-in-1 USB C to VGA /DVI/HDMI Adapter Converter Cable, NOTE: This adapter can support to connect VGA and HDMI External
Displays to work at the same time,and it can also supports to connect VGA and DVI External Displays to work Simultaneously.If you connect
VGA and HDMI Screens at the same time,the Display Resolution will depends on VGA Port,so it can max support to 1080P.The HDMI and DVI can not display in a time,A separate HDMI/DVI/VGA cable is required, not included
Astonishing picture quality with support for UHD 4K,High Resolution Supported: Max. resolution of HDMI up to 3840×2160@30Hz, DVI or VGA up to 1920×1080@60Hz
Compatible with Mac or Windows computers PCs & laptops equipped with a USB 3.1 Type C port such as the new 2017 2016 MacBook Pro, Google Chromebook Pixel, Lenovo Miix 510, Dell XPS 13″ 9350, Dell XPS 15″ 9550, and ASUS Zen AiO PC ,Smartphone Samsung Galaxy S8,Lenovo Miix 510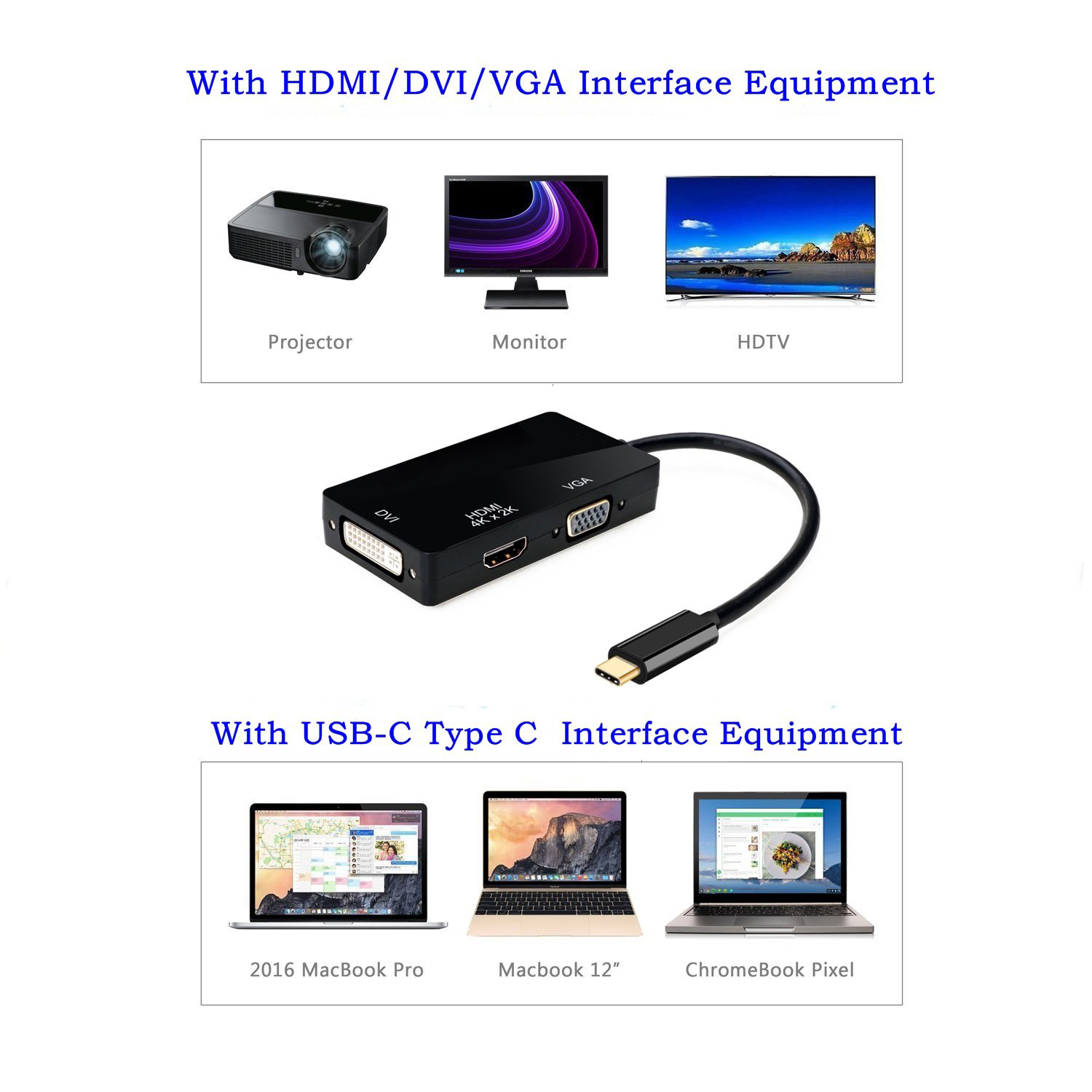 The Multiport USB Type C (Thunderbolt 3 Compatible) to HDMI 4K/DVI/VGA Multi Port Adapter Cable Converter provides you with more options,
you can choose available HDMI,DVI, VGA to connect your computer to an external monitor.
Input Computer Connector: USB3.1 Type-C Male
HDMI Output Display Connector: Support video resolutions 4K Ultra HD UHD 4Kx2K@30Hz (3840*2160), including 720p, 1080P (1920 x 1080 @ 60 Hz)
DVI or VGA Output Connector: Support video resolutions 1920 x 1080 @ 60 Hz
PLEASE NOTE:This adapter can support to connect VGA and HDMI or VGA and DVI External Displays to work at the same time, If you connect VGA and HDMI Screens at the same time,
the Display Resolution will depends on VGA Port,so it can max support to 1080P.But The HDMI and DVI can not display in a time.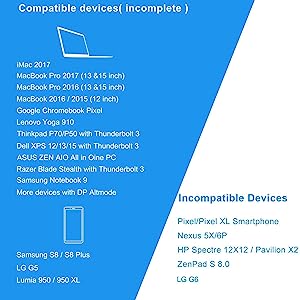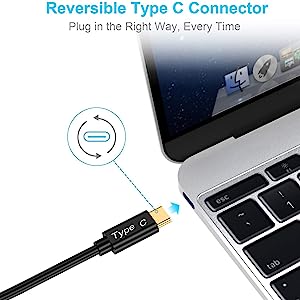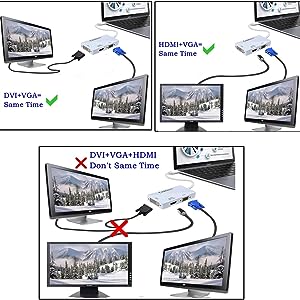 USB Type C Compatible Devices (Partial List)

-New 2017 2018 Macbook Pro(Two Thunderbolt 3 Ports)

– 2015/2016 MacBook 12″

– Dell XPS 12 (9250), Dell XPS 13 (9350/9550) XPS15

– HP Spectre 13, HP Elite x3, HP EliteBook Folio G1

-Smartphone Samsung Galaxy S8

-Lenovo Miix 510

Notes:

The adapter is not compatible with devices which do not support the protocol of DP Alt Mode.

This adapter is only designed for computer Support DP Alt Mode, not for tablets and smartphones(Except for Samsung Galaxy S8 ,Huawei Mate 10 and Lenovo Miix 510).

Notes:

If you would like to get 4K UHD Video,Please only connect HDMI Port Individually to External Monitor,Meanwhile,it requires you to have 4K Source,4K Cable and 4K Screens.

For certain monitors such as Philips 288P6(4K@30Hz), Dell P2715Q (4K@30Hz) may turn on and off every minute as connected with a long HDMI/VGA/DVI cable, for stable output,

we highly recommend using a short HDMI/VGA/DVI cable within 5.9ft to connect your display.