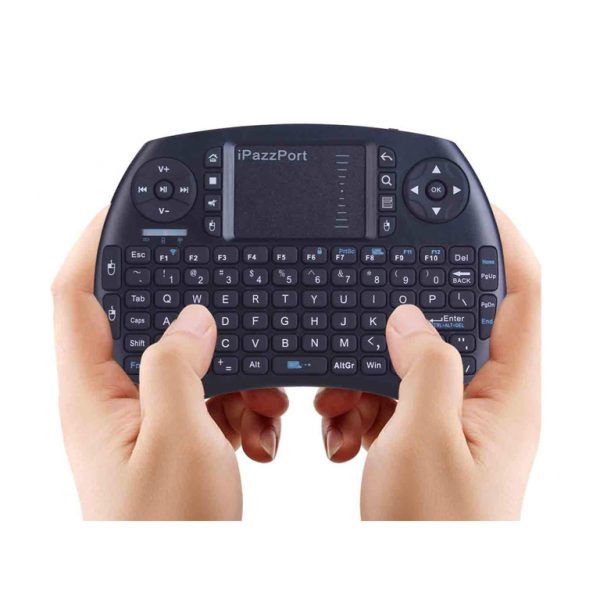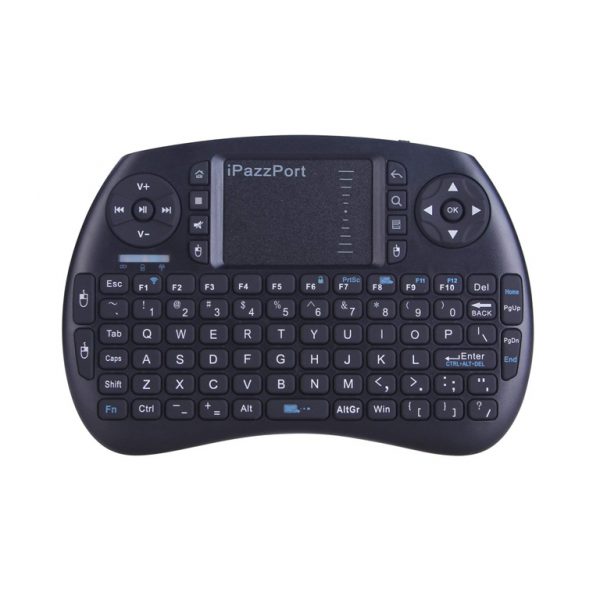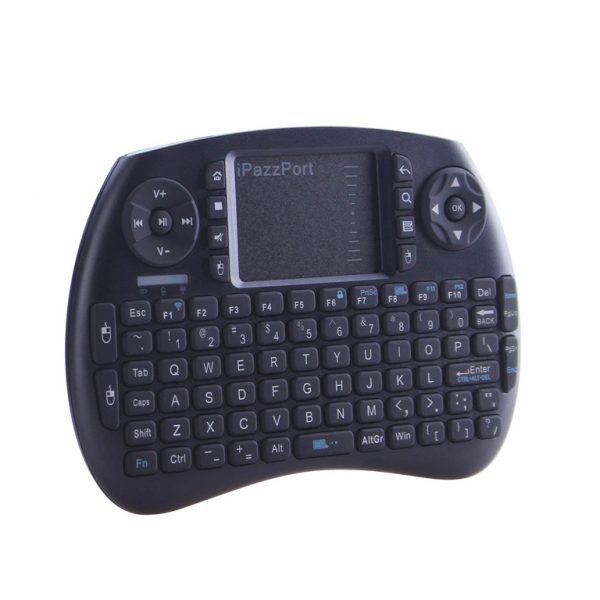 iPazzPort mini wireless Multimedia 2.4GHz USB keyboard with touchpad and scrollbar KP-810-21S
This is a 2.4GHz USB Mini Wireless QWERTY keyboard with TouchPad combo, plug and play. It is used as an universal multimedia keyboard remote for PC, Android TV Box, Raspberry Pi, Google TV Box, Xbox360, PS3, HTPC/IPTV set-top box, and others with standard USB port.
$15.99
无货
Buy at amazon
描述
Features:
– Mini, portable size
– USB, plug and play
– QWERTY layout
– multi-touch touchpad
– multi-media function
– scrollbar
– Ergonomic design
– long standby
Home entertainment, multi-media, Education, Training, Conference, presentation.
——–
PC, Pi,Android/ Google TV Box, Xbox,PS3, HTPC/IPTV and othes with standard USB port
——–
Windows, linux, Android/Google,
Mac OS.
——–
Used as a mini keyboard to input letters, as a TV remote to control your TV, a game control to enjoy
basic TV games, a multimedia/ multi-platform keyboard remote to perform convenient interaction, a substitute to replace the mouse,
——–
Hi-sensitive touchpad supports multi-touch function and gesture  recognition, on which you can slide, tap, drag, pinch to position and operate the cursor accurately, control the target quickly and conduct on-line interactions conveniently.  Slide with one finger to position and select the target, two fingers to scroll up/down the interface, and click with three fingers to activate the menu.
This keyboard is powered by reliable and rechargeable Li-ion battery. When the red indicator blinks even in inactivity, please  charge it with the included USB cable. Thanks to its auto sleep function ( you can click any key to wake it up ), the battery will last a pretty long time. And the standby will be even longer if you switch off the keyboard when you turn off your TV.
This version includes a range of variation of different colors and multiple languages.You can get the right one that meet your particular demands.
And you can also contact us to specifically define the keyboard to meet your own customers if you want to be a distributor to sell this model of iPazzPort brand
Product Specifications:
– RF2.4GHz wireless USB
– Power supply: DC:5V/300mA
– Battery: 3.7V,800mA
– re-chargeable li-ion battery
– Working Voltage: 3.3V
– Working Current: 6mA~14.5mA
– Charging Voltage:  3V-5.5V
– Standby Current:  <4.3mA
– Transmit power: +5db Max
– Interface:  Micro USB      1
– Wireless distance: 10m
– Size: 147X99.5X21.6mm
– Weight: 112g
Compatible with:
– Windows, linux,
– Android/Google,
–  Mac OS
Packing list:
Mini Keyboard
User Manual
USB cable
USB Receiver
1) Will this work with Raspberry Pi B+ model?
Answer:
Yes it works great with Raspberry Pi, plug and play. As a matter of fact, this keyboard almost works well with all the devices with standard USB port.
2) Does this work with PS4?
Answer:
It works well with the PS4.
3) Does the dpad work for navigation when browsing the internet?
Answer:
Yes. you can scroll to browse up and down just as you move the mouse.
4)What are the functions of the keys beside thetouchpad?
Answer:
These are used as a quick way to specific target interfaces , including an email button, a home button, a search button and a browser button alongside
the touchpad.
5) How can I input the blue characters on the right corner?
Answer:
Just keep pressing the button "Fn" and then click the button with target blue character Input.
6)  What if the keyboard fails to recognize the USB receiver after l plug the USB receiver in the PC USB port.
Answer: Please do re-pair procedure as follow:
(1) Charge battery for one hour and press" FN+F1" simultaneously till LED flash
(2) Plug the USB receiver into PC USB port and put the keyboard closer to the PC.
(3) LED off means re-pair procedure is completed successfully.