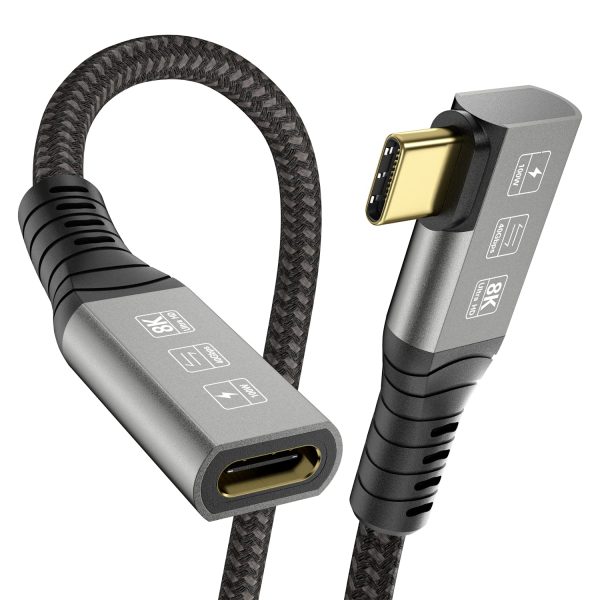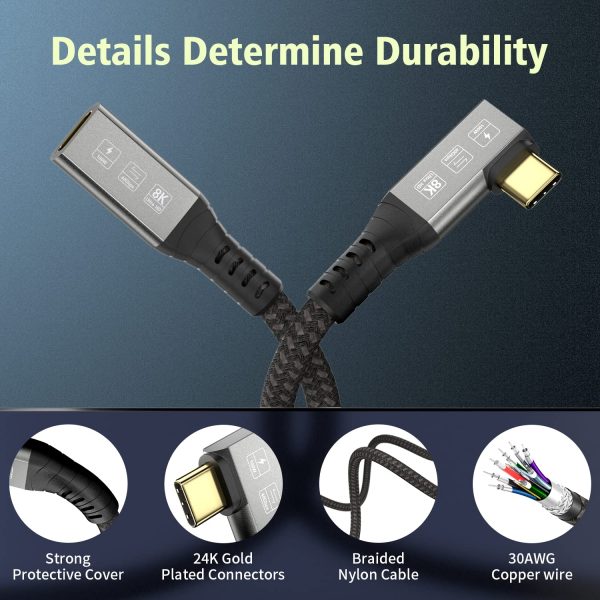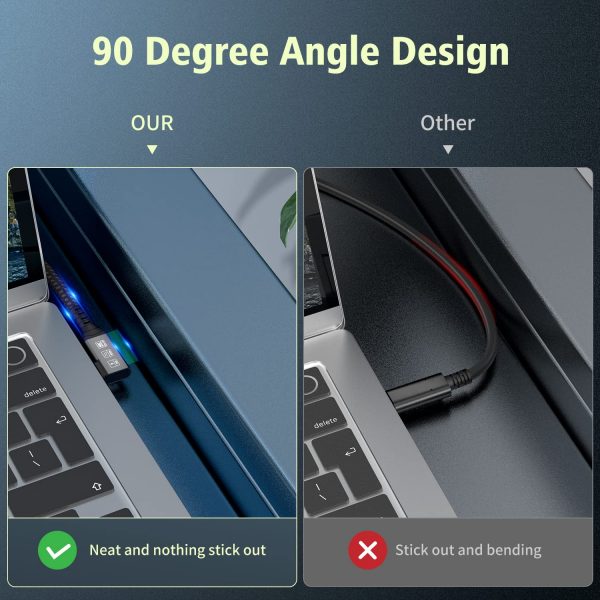 USB4 8K Cable 0.5M Type-c Male Bend to Female Extension CableData Transfer Compatible with External SSD eGPU
$39.98
描述
Description
USB4 Ultra 8K Video Extension Cable,This USB4 Male to Female Cable enable you to connect from your Laptops with USB-C Port(DP Alternate Mode for video supported)to your External Monitors with USB-C Port,you need to connect an external USB4 Male/Male cable for connection to your laptops or Displays,M/M USB-4 Cable is not included in our Package
USB4.0 Max 40Gbps Data Transfer Rate:This USB4 Cable can Reach Data Transfer Rate up to 40Gbps,the transmissions speed is twice as fast as Thunderbolt 3.When you are transmitting data, your data transmission equipment needs to support 40Gbps, and your own data can reach 40Gbps, otherwise the data transmission rate will not be reached
Practical 100W Power Delivery Charging:This CABLEDECONN's USB 4 Cable can support Max 100W 20V/5A Charging,It will supply power when your USB-C device is in use.In order to ensure faster power supply, please use the original adapter that matches your device
Easy and Conveient to use,durable Design:This USB 4 Cable with Gold-plated Connector,Sturdy Aluminum Shell,Braided Nylon,USB4 Male to Female Extension Cable solve the problem that some of your device's Male to Male Cable is too short,Barrier-free, No distance Connection and Transmission
Wide Compatibility:This USB4 Type-C Cable is widely compatible with Most of USB-C Devices(Mainly Laptops),Such as Macbook Pro 2021 2020,2019,2018,Dell XPS,Google Pixel, ChromeBook and other DP Alternated Mode Supported Devices,backward compatible with Thunderbolt 3, You can also connect with Hard Drivers/USB-C Hub/Docking/eGPU for Data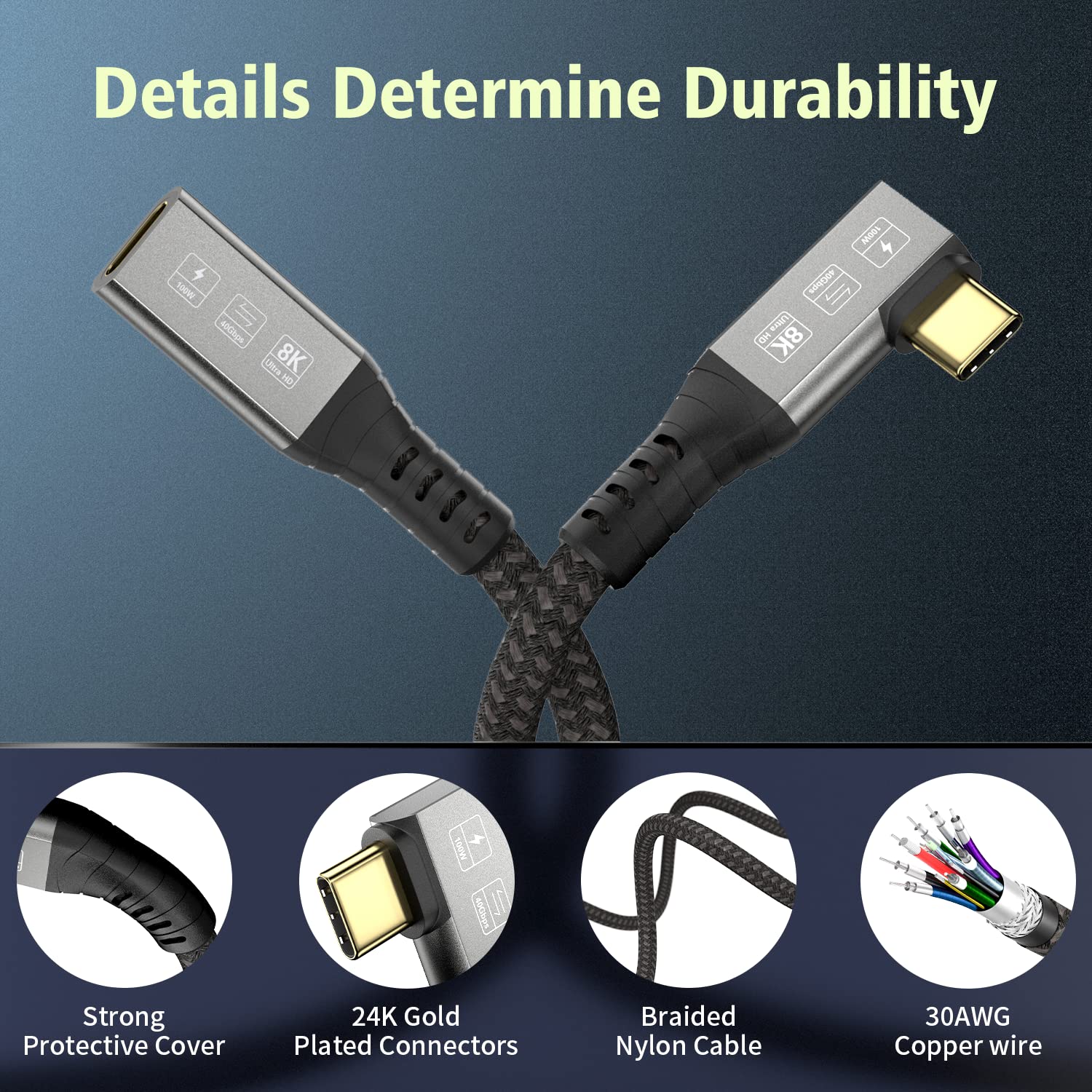 Product Description
USB4.0 Type-c M/F Cable,Outer Diameter5.0mm,Connector Gold plated,Guaranteed transmission rate,Pure Cooper cable with braided Nylon.USB-C Connector.
USB4 compatible with Thunderbolt 4 and Thunderbolt 3 ,Use function introduction:
1 Video Output:It allows to connect from your USB-C Devices to your Monitors with USB C Port,it can max support Ultra HD 8K@60Hz 5K@60Hz,4K@120Hz Video Resolution.An additional USB 4 Male to Male cable is needed,but not included in our Package.
2 40Gbps Data Transfer:You can connect with your Hard Driver Devices or other data storage device for data transfer,transfer rate can reach max to 40Gbps(USB3.1 is 10Gbps,¬TB2 is 20Gbps).
3 20V 5A Power Delivery:You can connect from power adapter to your USB-C Devices and charge your Laptops or other Type-c Devices.Supporting Max 20V/5A 100W Charging.
Important Notes While Using:
1:If you would like to output video via this USB 4 Type-c Cable,your source devices and your monitors' relatively port should all support dp alternate mode for video transmitting.
2:The transfer rate ultimately depends on your device and your own data.
What you will get:
1×0.8m USB4 M/F Cable