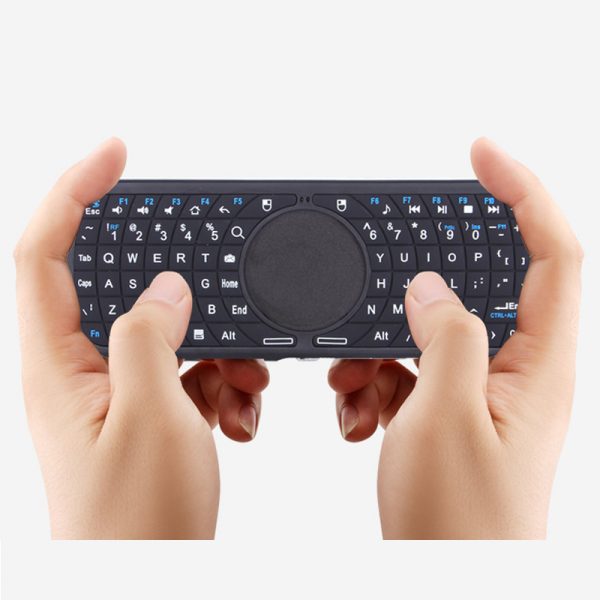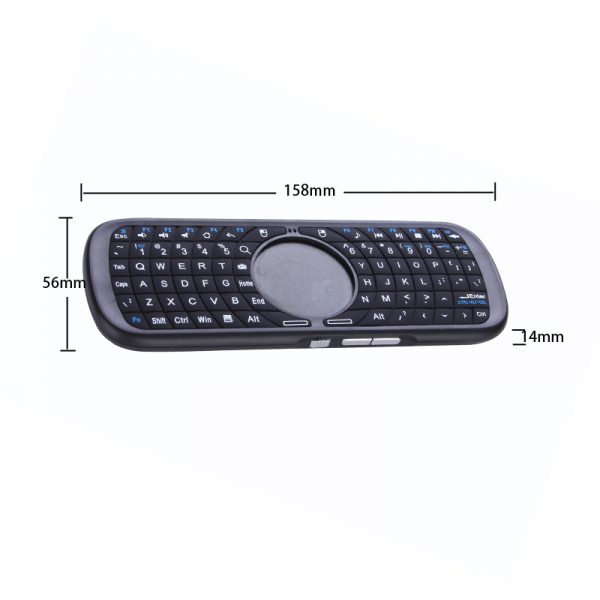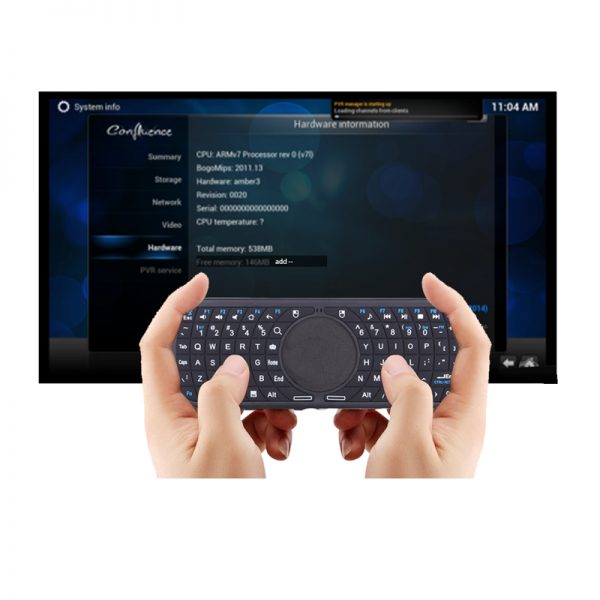 iPazzPort Wireless handled mini USB keyboard remote with Touchpad mouse for Pi, Android TV Box KP-810-09S
With circle touchpad in the middle, as well as multimedia keys, shortcut keys, browse-friendly and game-friendly buttons, this handled elegant mini USB keyboard is a must for home entertainments, multimedia interaction, common gaming play, HTPC/IPTV/smart TV(box) , acting as a mini universal l controller or convenient data input device.
$18.99
Description
FAQ
Reviews (0)
Description
Handled multimedia keyboard
with touchpad combo
– Handled and portable
– 2.4HZ USB dongle, plug and play
– Touchppad mouse combo in the middle
– With QWERTY layout for smooth input
– Long standy and auto sleep mode to save power
– Broad compatibility and steady signal.
Small and portable
158*56*14mm in size, elegant shape, portable to carry around, comfortable in and flexible in use.
QWERTY, multimedia
Traditional keyboard layout and media-friendly keys for smooth data input and media content
Hi-sensitive touchpad
No hassle of cable clutter. A good replacement of actual mouse for convenient operation on couch
Smooth browsing
Left/right mouse, navigation keys,trackpad, and also the page up/down keys are browse-friendly.
Steady sign up to 10m
Just navigate and input letters to search your favorite programs on your sofa.
Plug and play
Just paired this programmed USB dongle into the host and it is ready to use in a few seconds.
Broad applications
Small, simple, affordable for Pi,IPTV/HTPC,multimedia and interactive activities.
Multifunction
A good alternative to replace other remote, keyboard, game
controller or mouse.
This keyboard remote is used as an universal controller to remote and input data on your Pi, Smart TV , TV box, tablet , and other devices with standard USB port,  for home entertainment, multimedia Education, Training, Conference, presentation controlled with computer.
FAQ:
1) Can this work with an Android tablet?
Answer:
Yes!....but your tablet must have a USB port
2) Will this work with Samsung TV?
Answer:
Yes, it works great.
3)Can this work on an android phone?
Answer:
NO, It can't work with your android phone. It is USB version.
4) How to browse pages smoothly with keyboard.
Answer:
(1)Use the up/down direction keys beside the key" Enter"
(2)Use the page up/down keys besides the on/off switch
(3)Use the touchpad: one click with two fingertips simultaneous and move up/down a bit the up/down arrow to browse up/down the page automatically.
5) How to move the cursor on the touchpad?
Answer:
Just as you move your actual mouse on the mat.
6) What's about the auto sleep function?
To prolong standby, this keyboard will automatically go into sleep in a minute of inactivity. You can reactivate it by one click on any key. (instead of on the touchpad)
7) I can connect the keyboard with my PC, any idea?
Answer:
(1)Please make sure you keyboard is not in low power and the PC USB port fits the USB receiver well before the signal connection.
(2)Please press "Fn " and "Esc" to get the keyboard with USB receiver re-paired. When the indicator stop blinking, the reconnection is completed.
(3) Move your finger on the trackpad, you will see the cursor moving with your finger correspondingly.
8) The wireless connection is not steady, any idea?
This may result from these reasons below that you should check out:
(1) Please make sure the resource signal is strong enough and
both the devices are in good condition.
(2) Please make sure you keyboard is not in low power and the PC USB port fits the USB receiver well before the signal connection.
(3) Please reduce the unavoidable Frequency interference to the bottom by shutting off some
other unnecessary units around ,or putting the keyboard closer to the PC or TV box or turning to the included USB extender cable.
(4) Weak signal may result from some stuffs between the
keyboard and PC, so just put away the suspected stuffs
between each other.
(5) to make sure the keyboard is compatible with the PC by
referring to the system requirement of the keyboard
---
Only logged in customers who have purchased this product may leave a review.