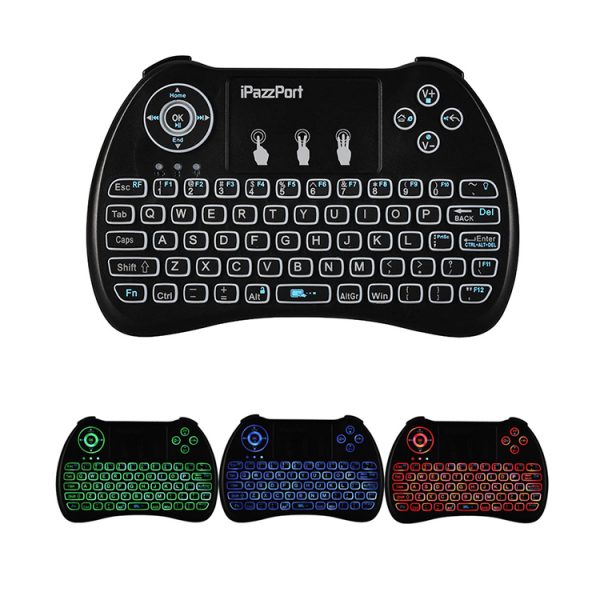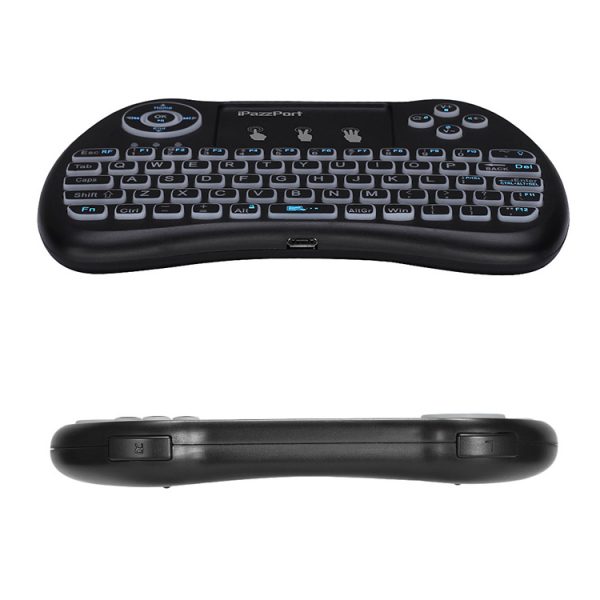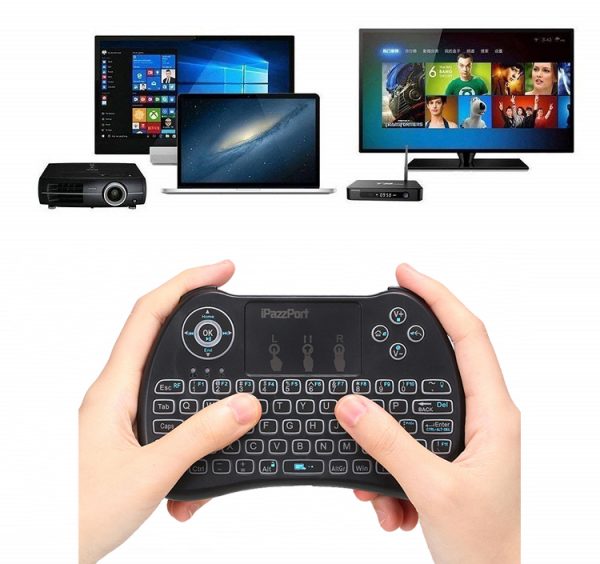 iPazzPort RGB 2.4G mini wireless slim and ergo keyboard with touchpad for Android TV box, TV, PC, Pi KP-810-21Q
This mini multi-functional keyboard with touchpad boasts 3 impressed features, namely the slim and ergo design, emphasizing media playback, and left and right mouse on the top your thumbs can reach easily. Of course, its skin-friendly surface and RGB backlit are bonuses for you. It is widely used with almost all USB-enabled devices of popular OSes in daily life.
Please contact us for OEM/ODM business
Keyword description
-Slim, ergo, Portable and handled design
-2.4G USB Receiver, plug and play
-QWERTY layout for smooth input
-Touchpad mouse with gesture recognition
-Clear buttons for soft RGB backlit,
-media playback buttons
-Multiple languages are available
-Lithium battery and auto sleep mode
-Left and right mouse button on the top (easy to reach)
Application:
-Home entertainment, multi-media, Education, Training, Conference, presentation controlled by computer.
-Perfect for Pad, Android TV Box, Google TV Box, Xbox360,PS3, Raspberry pi, HTPC/IPTV set-top box and others with standard USB port.
-Windows /Linux/ Mac OS/Android/Google/Smart TV OS

Specification:
-Wireless distance: 10m
-Battery: 3.8V, lithium-ion battery
-Working Voltage: 3.3V
-Working Current: 2.5mA~5.4mA~9.0mA
-Low Voltage:3.3V
-Dormant current: 0.1mA
-Backlit current: 54mA ( if no operation on the keyboard in 45 seconds)
-Wireless transmit power:2dBm
-Receiving sensitivity:-85dBm
-Dimensions:140*91*18mm
-Touch pad: 48.08×30.08mm
-Weight: 104g
-----------
-----------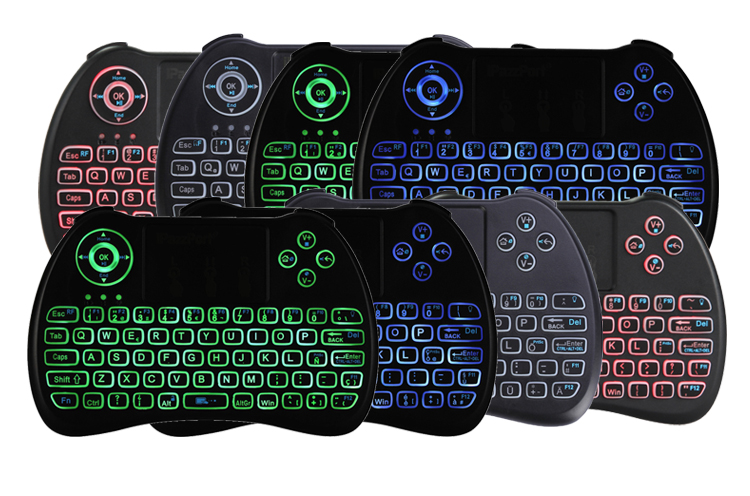 -----------
Multiple languages are available, including UK, German, French, Italian, Spanish, Japanese,Russian. Customized accept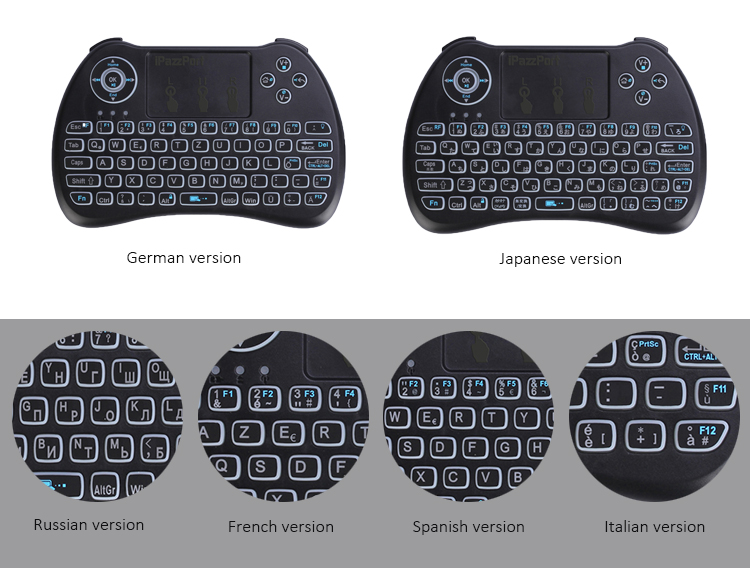 -----------
Some other similar products you may like. Customization accept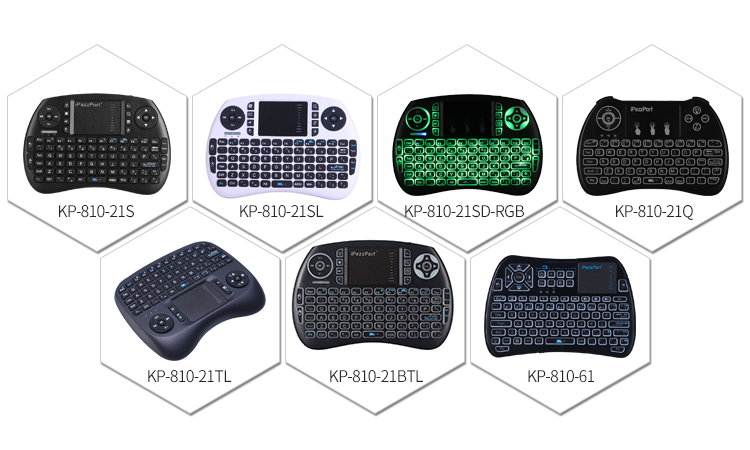 -----------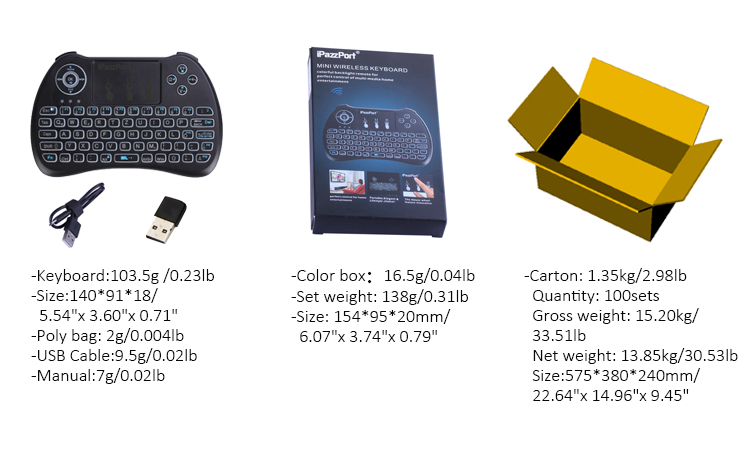 ---
Only logged in customers who have purchased this product may leave a review.