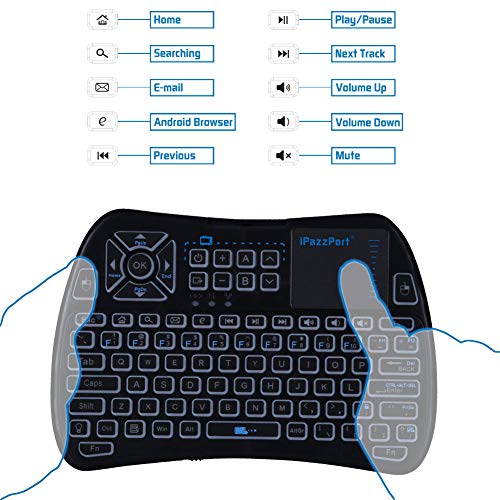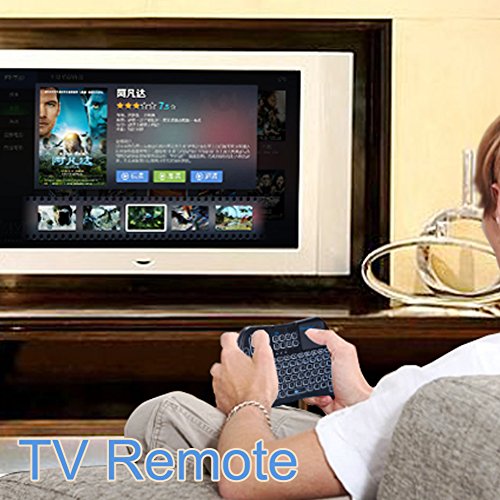 iPazzPort Bluetooth Mini Wireless Keyboard with Touchpad and RGB Backlit, IR Learning Function for for Android TV Box, Nvidia Shield TV, Smart TV, Raspberry Pi
With 8 IR-learning buttons., this bluetooth infrared touchpad with touchpad is the very alternative to help you out of juggling multiple remotes. With ergo design and effective button deployment, it is pretty effective in browsing page, surfing the website, playing games or videos, etc.
$18.99
Out of stock
Descriptions
FAQ
Reviews (0)

Keyword description
- Bluetooth version
- 8 learning function buttons
- High sensitive touchpad and scrollbar
- Media-friendly buttons
- Palm-fit, ergonomic design
- QWERTY keyboard layout
- RGB Backlit
Application:
-Home entertainment, multi-media, Education, Training, Conference, presentation
-Tablet, iPad, laptop, firestick, applet tv box, smart TV and others with built-in bluetooth
-Used to input letters, control your TV and TV box altogether, enjoy basic TV games, perform convenient interaction, as a substitute to replace the mouse,
Specification:
-Max distance:10m
-Power Supply: Lithium battery
-Battery voltage: 3.8V
-Working voltage: 3.3V
-low power:3.3V
-Working current: 4.5mA-10mA
-Current under IR mode: 42mA
-Standby current: 0.01Ma / 100″(Off)
-Backlit current:
-Green indicator: 47mA
-Red indicator: 96mA
-Blue indicator: 62mA
-Dimensions: -142.5*97*19.8mm
-Weight: 121g
-----------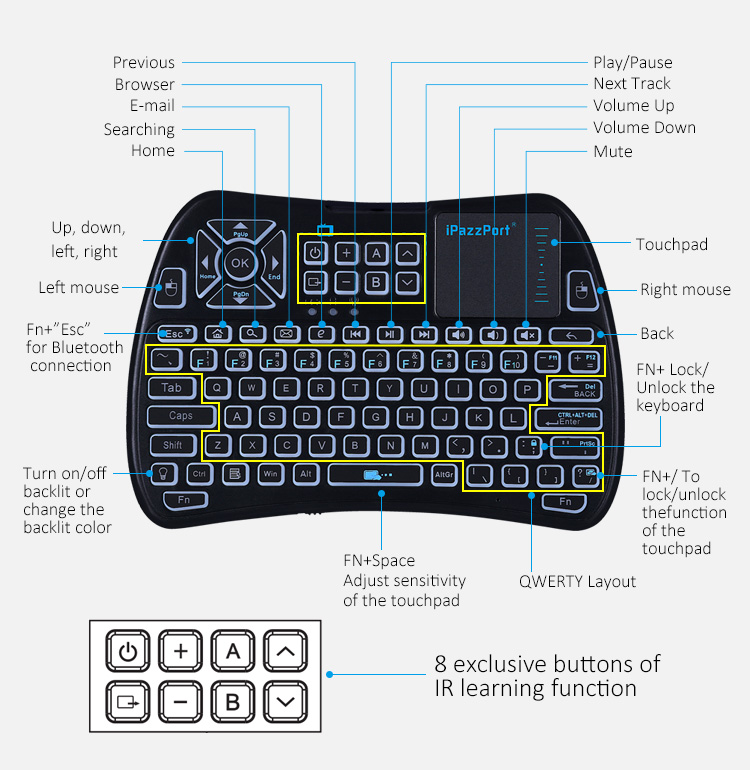 -----------
Infrared learning buttons:
Be tired of juggling multiple remotes and untidy desks?
Then, this is the right one for you.
Just program these 8 infrared buttons to replace your TV remote and control your TV box and TV altogether.–Really convenient and cool.
For example, you can program at least 5 of them to fulfil the specific function as the tag shows by learning from the designated code value of the target buttons, namely: powering on/off your TV, adjusting the volume and switching the channels. And have a try to make the other 3 button separately to control your other TV BOX or TV.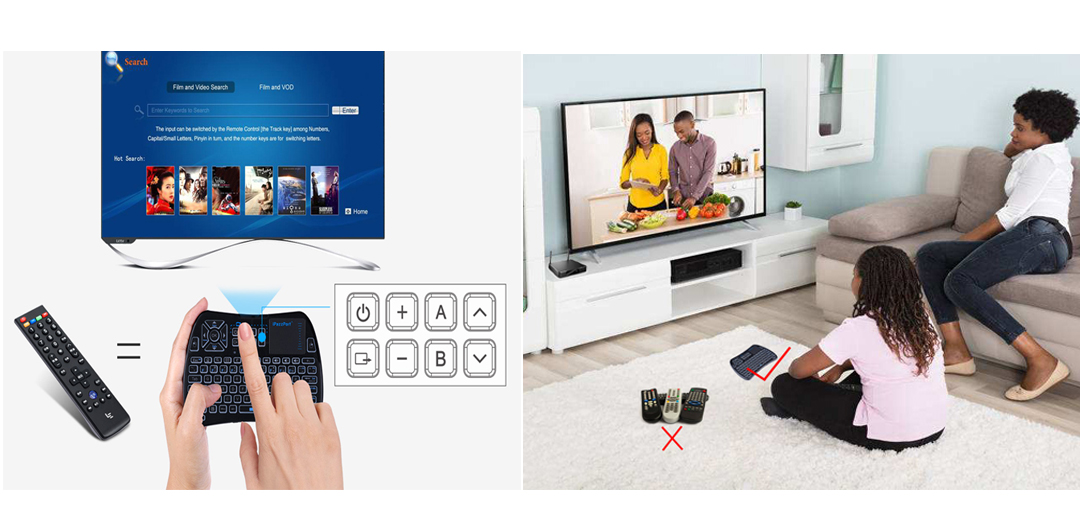 -----------
Touchpad and scrollbar
High sensitive touchpad integrating scrollbar is just at the right place that your right thumb can reach with ease. You can swipe and click to position the cursor conveniently and precisely to paste, copy, move, and other gesture recognitions, which is a perfert alternative of an actual mouse.
-----------
Ergo shape and design:
In palm-fit design, this keyboard is pretty comfortable in hand and in use. At the same time, all the frequently used buttons are just at the right place that your left or right thumb can reach conveniently, including navigation buttons, media playback buttons, touchpad, etc.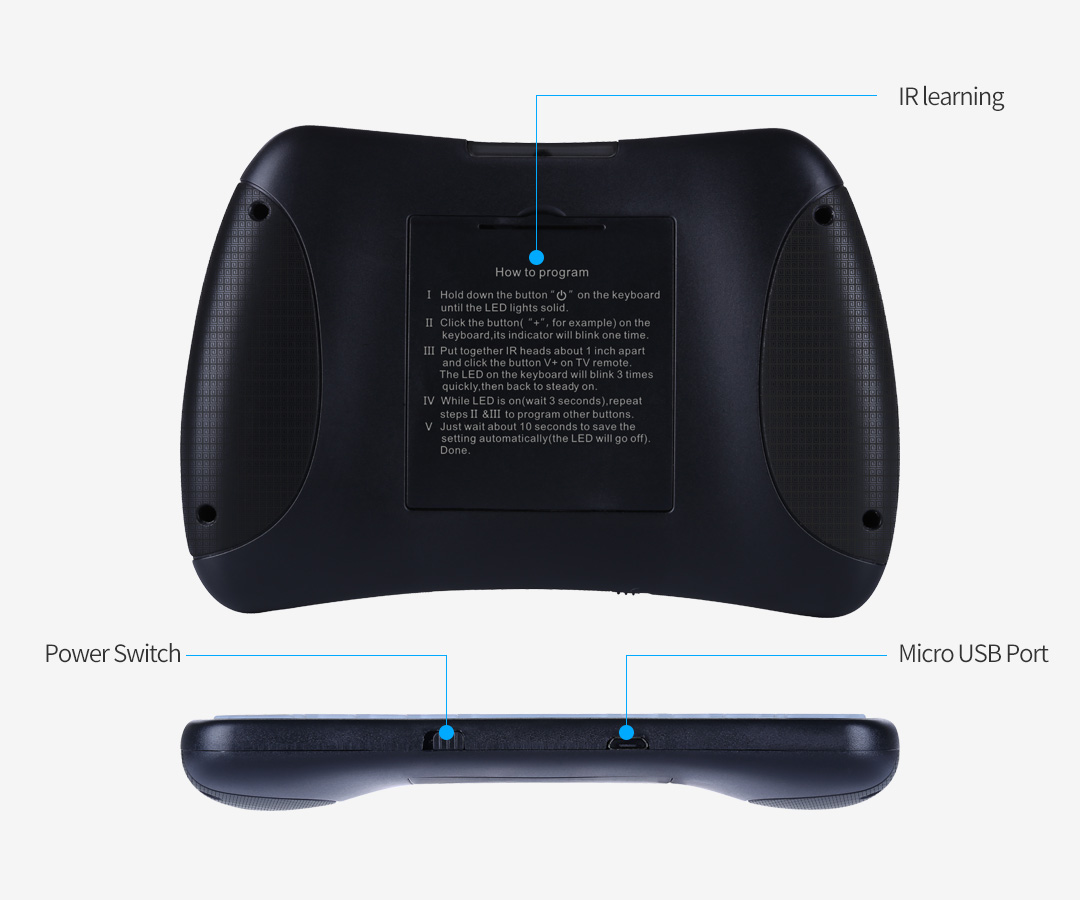 -----------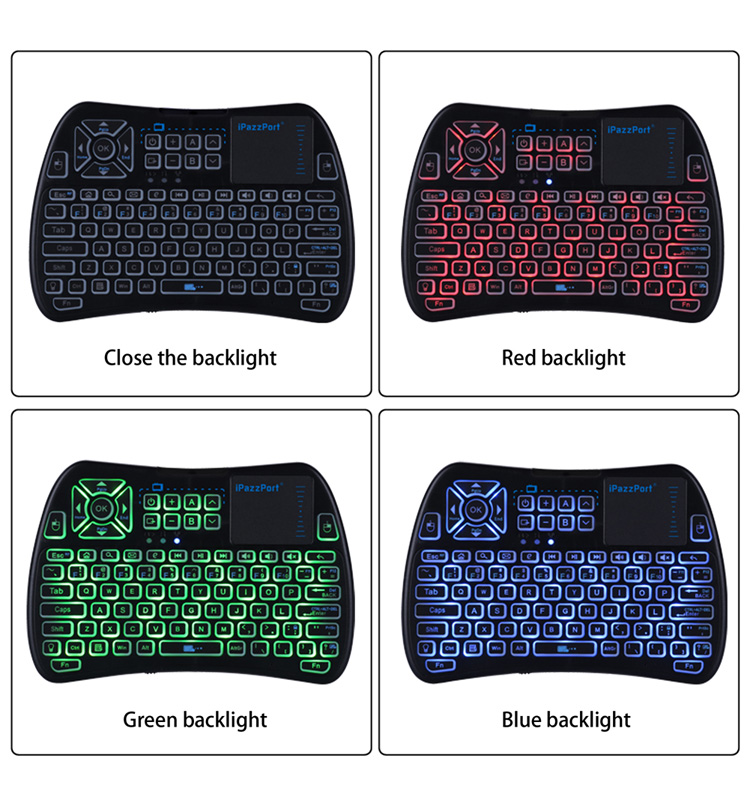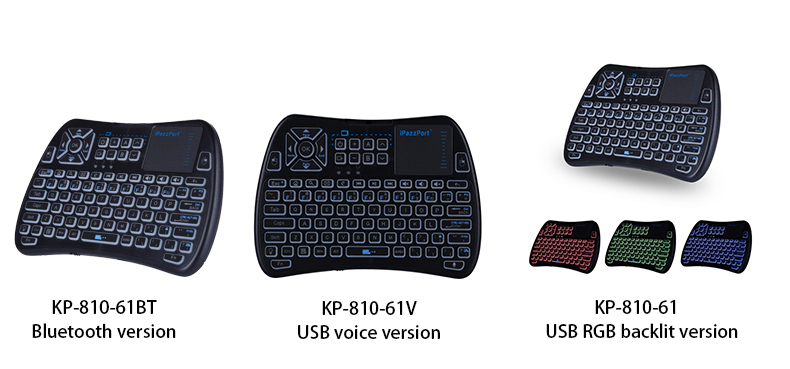 FAQ:
1 Which and where are the learning buttons located?
Answer: There are 8 learning buttons to the left side of the touchpad.
2 . Does it work with my firestick?
Answer: Yes. It works with bluetooth units including firestick, apple tv box, tablet, iPad, etc.
3 Can it controll my TV, and my air conditioning?
Answer: Yes, the programmed buttons can control your TV after learning code value from your original TV remote, like power on/off your TV, change channel or adjust the volume.
As for the air-conditioning, exception may exist though absolute majority of its remote works with the IR learning buttons .
4 How to connect it with my firestick or tablet?
Answer: Activate their bluetooth mode and then follow the prompt to establish bluetooth connection.
5 Is it a backlit version?
Yes.
---
Only logged in customers who have purchased this product may leave a review.