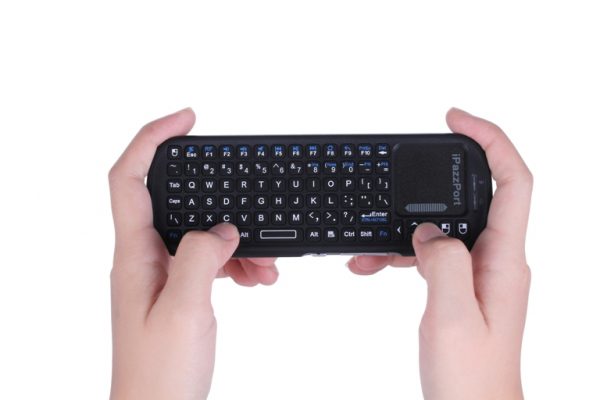 iPazzPort handled wireless mini Bluetooth Keyboard with Touch pad for Pi, Android TV Box KP-810-19BT
This Mini Wireless multimedia Bluetooth keyboard with TouchPad combo is used to slide mouse cursor and write on screen, emphasize words and objects thanks to its QWERTY layout, track pad and scrollbar, available for Android TV BOX, Raspberry Pi, HTPC/ XBMC, PC etc.
$18.99
Out of stock
Description
FAQ
Reviews (0)
Description
Mini handled Bluetooth keyboard
With touchpad mouse combo
* Handled, portable.
* QWERTY layout for smooth input;
* Touchpad mouse and scrollbar
* BLUETOOTH version, easy to pair
*Auto sleep mode, keyboard lock,
*Vertical/horizontal trackpad alternatives,
* Widely used and broad compatibility.
The small size takes up less space on your desk, which makes your desk tidy and neat.
You can put it in your pocket at home, in a bag on a trip, espcially convenient when it comes as a Pi kit.
Supports multi-touch function and gesture recognition, on which you can slide, tap, drag, pinch to position the cursor accurately, operate the target quickly and conduct on-line interactions conveniently.
Left /right mouse keys,  direction keys and the convenient page up/down buttons in the side are all effective in inputing data input and switching TV programs.
It is comfortable and convenient
in one hand to operate the TV/box,
or press FN+ESC to use the
touchpad vertically
You can also use the keyboard
horizontally with two hands,
it is so slim that all the
buttons and the touchpad are
just at the right place that
your finger can reach with ease
iPazzPort mini Bluetooth keyboard with touchpad and scroolbar is used as a universal one in media sharing, and interactive activities .
It is compatible and with notebook, Tablet PC,Modern intelligent player, etc with Bluilt-in Bluetooth,and even non-Bluetooth device in the help of a Bluetooth adapter you bought separately.
It is easy to establish
Bluetooth connection,smple,
intuitive and convenient.
Just keep pressing Fn and then
click BT to pair it with other
Bluetooth devices.
FAQ:
1 Will this work with a PS4 Slim or pi3B?
Answer:
Yes, it works.
And it works well with any standard Bluetooth-enabled devices or non-Bluetooth devices only if they have a standard USB slot to insert a Bluetooth adapter.
2 Does it have builtin re-chargeable lithium battery?
Answer:
It only supports 2AAA battery, not lithium.
3 What is the time frame of inactivity before this keyboard goes to sleep? Does any button push "wake" it up?
Answer
Keyboard will go into sleep mode after 3 minutes of non-use to conserve battery power. And push any button to wake it up.
4 Does it work with an Android Box?
Answer:
It works with Android phone and tablet; it should work with any Android device that has Standard Bluetooth keyboard support.
5 Will it work on an ipad?
Answer:
There's no reason why it shouldn't work. It can be paired it with an Android phone, an Android Tablet, Amazon Fire TV Stick, a Windows laptop, and a Windows desktop. Other users have posted here that they have used it with other Apple products, and the iPazzPort website has instructions for pairing with an iPad.
6 Is it a backlit version?
Answer: No.
---
Only logged in customers who have purchased this product may leave a review.