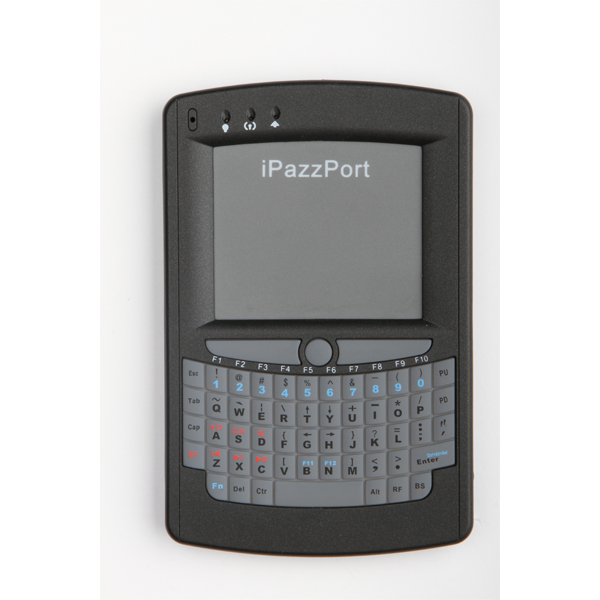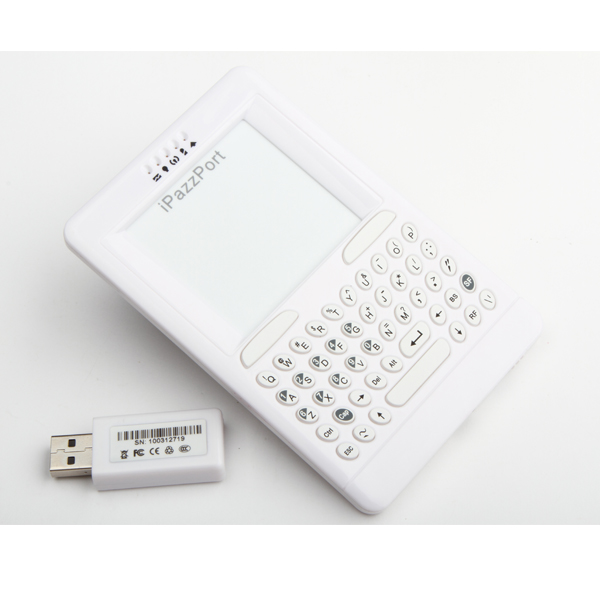 IPazzPort Bluetooth QWERTY touchpad keyboard with laser pointer, backlit, microphone speaker, earphone, etc as a universal and multimedia controller KP-810-05BTT
This is the world's first common phone-shaped-and-sized Bluetooth multimedia keyboard that combines QWERTY keyboard, touchpad and other useful functions like the laser pointer, backlit, microphone/speaker, earphone, etc, which is a perfect solution to removing the mouse hassle of using on trip and on sofa, and is a must for Business trip, speech, home entertainments, HTPC, IPTV.
Description
Features:
Bluetooth QWERTY layout keyboard
Extra-large sensitive touchpad and scrollbar
Cellphone-sized-and-shaped design
Laser pointer and backlit
Microphone and speaker
Multimedia and multi-function
Long standby
Application:
■ Wide application and convenient operation:
To browse web , play movies, input characters and perform other interactivities such as online chat, competing  games , and shopping 10meters away;
■ multimedia education and training and speech:
For its laser pointer and small/ portable design, it enables the users to display and spot the target content without leaving the podium and approaching the computer in lecturers and teaching/ training , to make lively and interesting your performance in speech and training .
■ Business convenience:
Conference, projector, ppt, work/plan demonstrating especially on business trip
■Multimedia and entertainments:
This product is also used in computer-controlled equipment car computers, KTV Song -index system, , home entertainments, etc.
■ Wide compatibility:
For Pi, android TV box, HTPC, IPTV, XBOX, etc.
QWERTY keyboard layout keyboard contains all the standard function and character keys to facilitate real data input.
Laser pointer is to enable you to show emphasis on the target content at your will conveniently and accurately
Sensitive touch pad as well as scroll bar is to replace the function of the mouse due to its accurate cursor positioning and useful gesture recognition.
Bluetooth connection is stable and reliable, its operating distance up to 10 meters
More conveniences are here for you thanks to its built-in speaker and microphone
Specifications:
■ Built-in laser pointer
■ battery capacity: 400 mA
■ working voltage: 3.7V
■ Charging voltage: DC 5V
■ Size, 85 * 135 * 10 mm
■ battery capacity: 400 mA/
■ Weight: 60 grams
---
Only logged in customers who have purchased this product may leave a review.