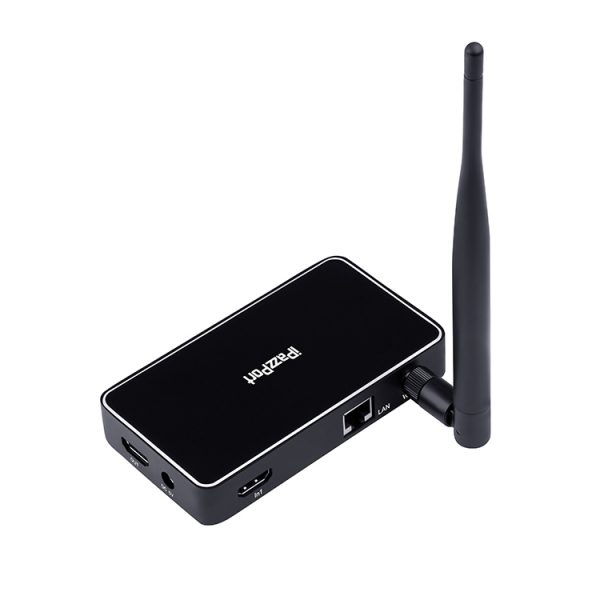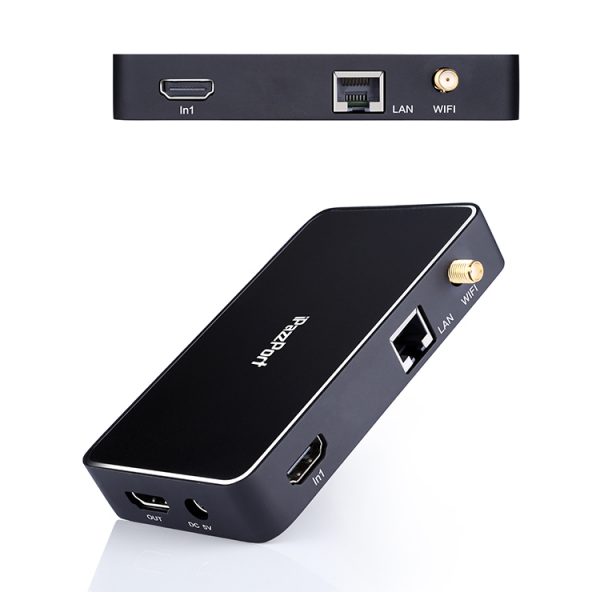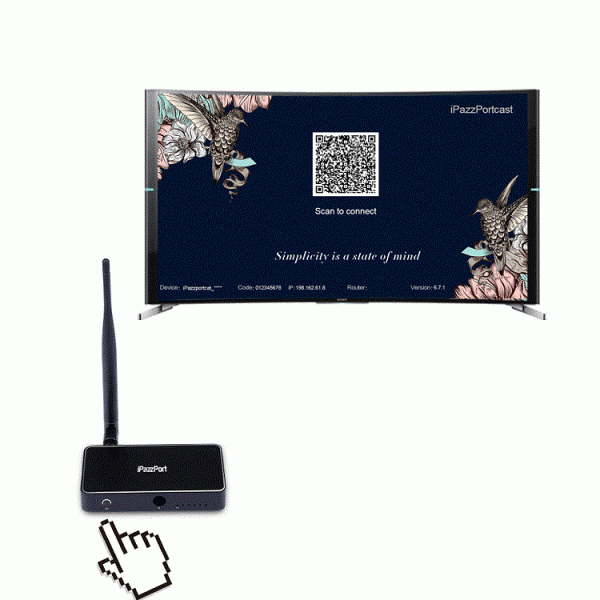 2019 version iPazzPort cast mirroring box wireless AP HD adapter with external antenna NC-812-19B
Besides traditional functions of ordinary Miracast dongle, this mirroring box with top configuration is made of metal material and boasts of 3 unique features, namely Scanning code for quick wireless connection, free switch between Wireless AP and IPTV Mode, hotspot function.
Support OEM and ODM, please contact us for win-win cooperation.
$55.99
Description
Additional information
FAQ
Reviews (0)
Description
Features:
1)Metal material for better dissipation, and external antenna for steady signal;
2) Support protocols of DLAN,Airplay,Miracast; Smooth and No-delay mirroring;
3) Wireless content mirroring for Mobile phone, Tablet, Notebook, PC, etc;
4) Support HD 1080P, synchronous Audio & Video, steady and clear images;
5) Scan the QR code and play, simple and convenient;
6) Multi-task purposes simultaneously:Connect with WiFi / Router to push Movies, and then back out the interface to Wechat or answer / Make a call Without affecting movie mirroring
7) Integrated wireless AP function: Plug in the Ethernet cable to turn wired signal to wireless one for mirroring and internet purpose together.
8) Personal hotspot function: set it up and activate hotspot on your phone for Media casting and website browsing or others simultaneously, if WiFi is not available on some occasion.
9) Free switch between HDMI cast and set-top box: Connect the set-top box with this ipazzportcast and then with TV, you then can switch the signal source through phone, supplied wireless remote controller.
Keyword description:
– Metal material
– External antenna
– Top configuration
– Compatible enough
– HD 1080P, no-delay
– Wireless AP function
– Hotspot function
– One-click free switch of modes
– Push movies while surfing or calling
– Scan the QR code and play
– Certificated product
Specification:
– Chipset: ROCKCHIP RK3036 dual core
– RAM: DDR3 1Gb
– Hard disk: Flash 128MB
– Support system: Android / IOS / Windows / MAC
– Interface: HDMI 1.4.1
– Protocols: Miracast / DLNA / Airplay Mirror
– Network input: Wifi + 10 / 100M + Ethernet
– Wi-Fi: 802 / .11 b / g / n
file type:
– Movie MKV, WMV, MPEG, AVI, MOV, MP4, RM, RMVB
– Audio: MP3, MP4, AAC, WMA, FLAC
– Image: JPG, BMP, GIF, PNG, etc.
– Resolution: 480P / 720P / 1080P
– Power: Micro Mini USB 5V / 450mA
– Charging voltage: DC, 5V / 2V
– Size: 116.2X104X195 mm
– Weight: 204 grams
Application:
– This device is to cast content on your smart phone or tablet to the externals, such as TV, Projector, including HD movies, pictures, Audio, or other files.
– Home entertainment, Business meeting, PPT demonstration, school audio-visuals, etc.
Device requirement:
-Android mobile phone and tablet that support Miracast protocol;
-iPhone and iPad that support Airplay (mirroring screen)
Packaging list:
– Mirroring box     1
– HDMI cable       1
– Power adapter:    1
– User manual       1
– External antenna    1
---

---
---
---
This mirroring box integrates HDMI input function, that is to connect set-top boxes or other devices to it and then to TV through HDMI output port,and then you can switch the display interfaces between IPTV and mirroring mode.
Click and switch the interfaces
Display interfaces can be switched by remote controller or the tab button on the mirroring box.
---
---
The greeting QR code will convert the wireless network into a two-dimensional code, which enables you to free from the network password. That is to say, the connection between phone and mirroring box can be automatically established by scanning the QR code.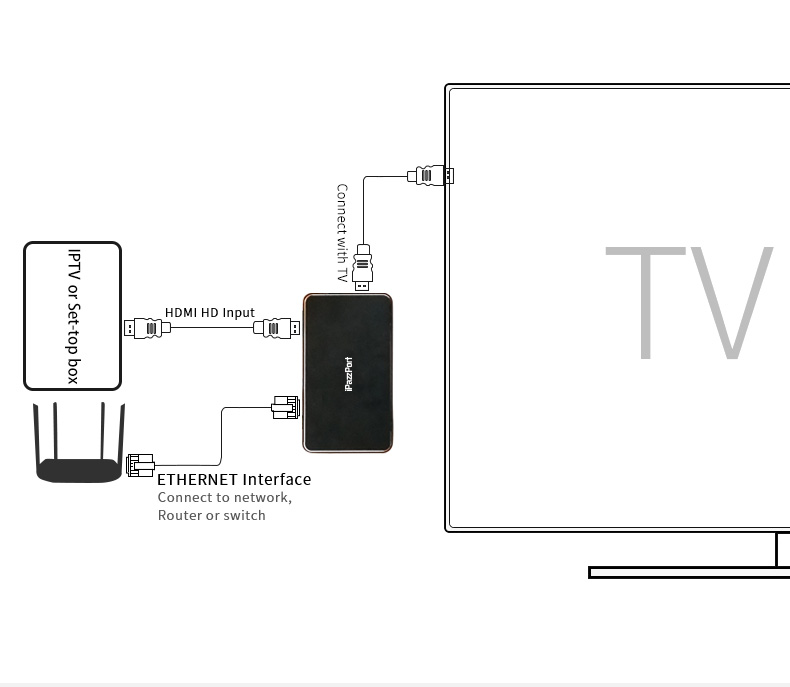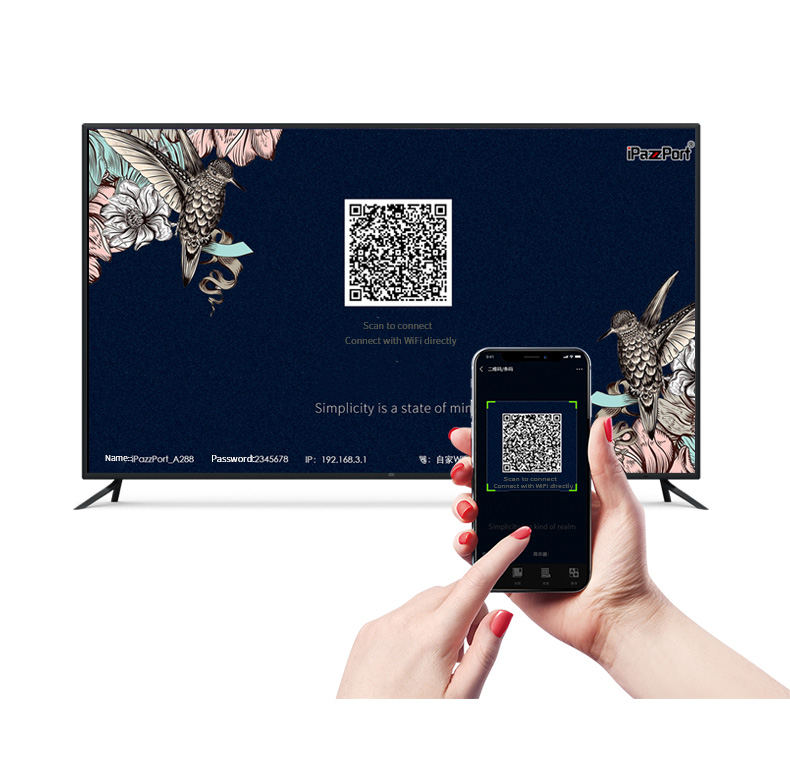 ---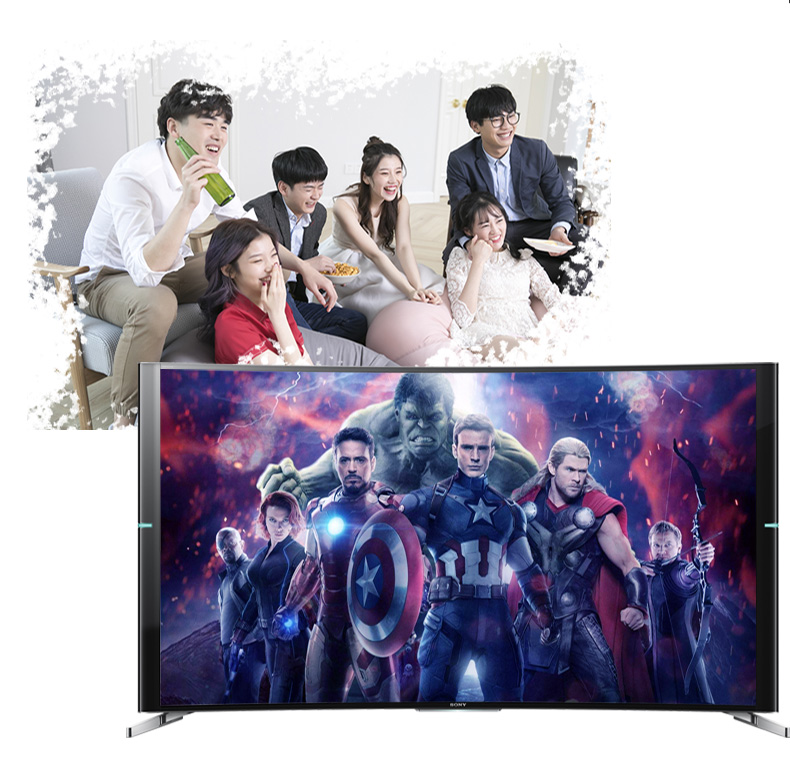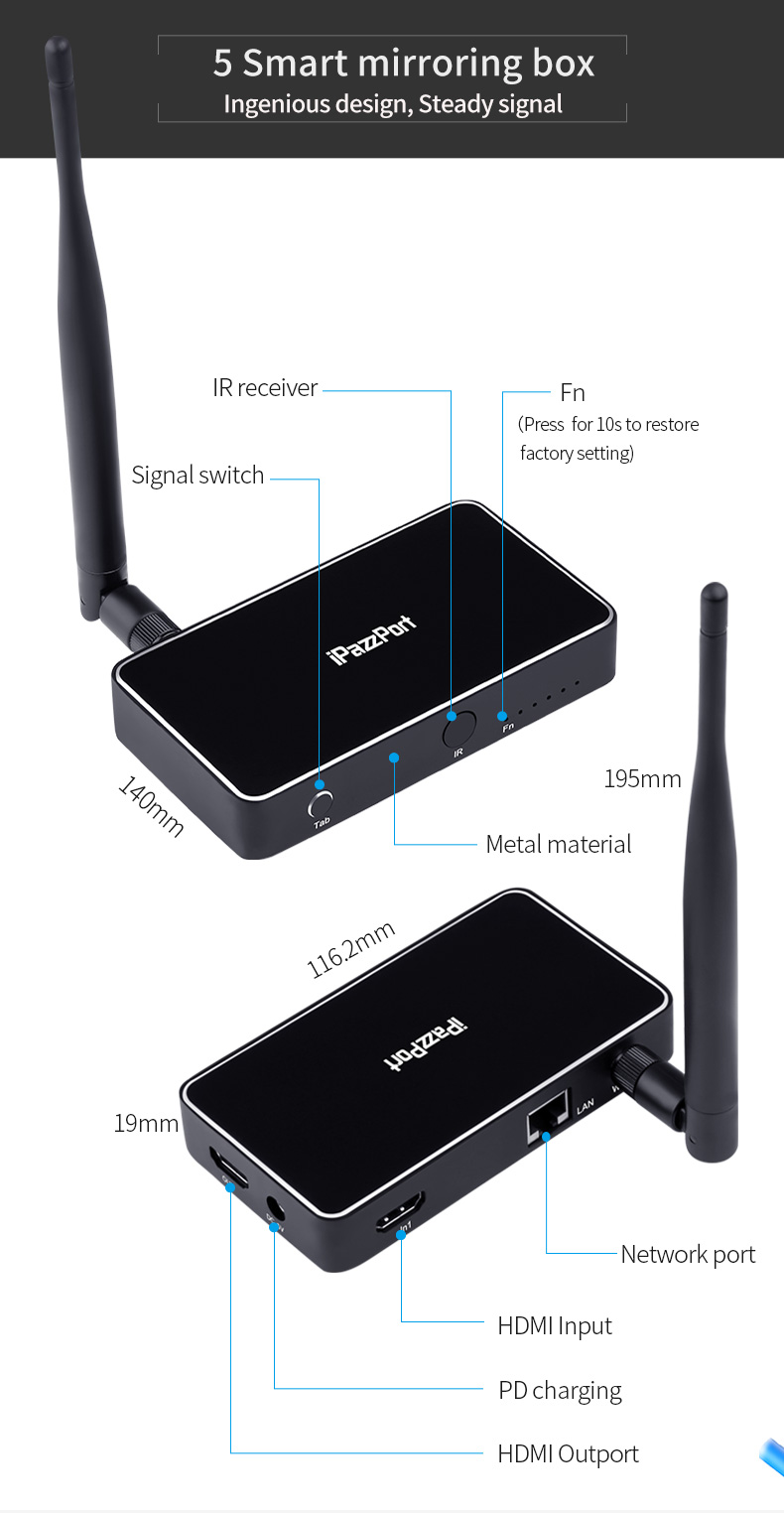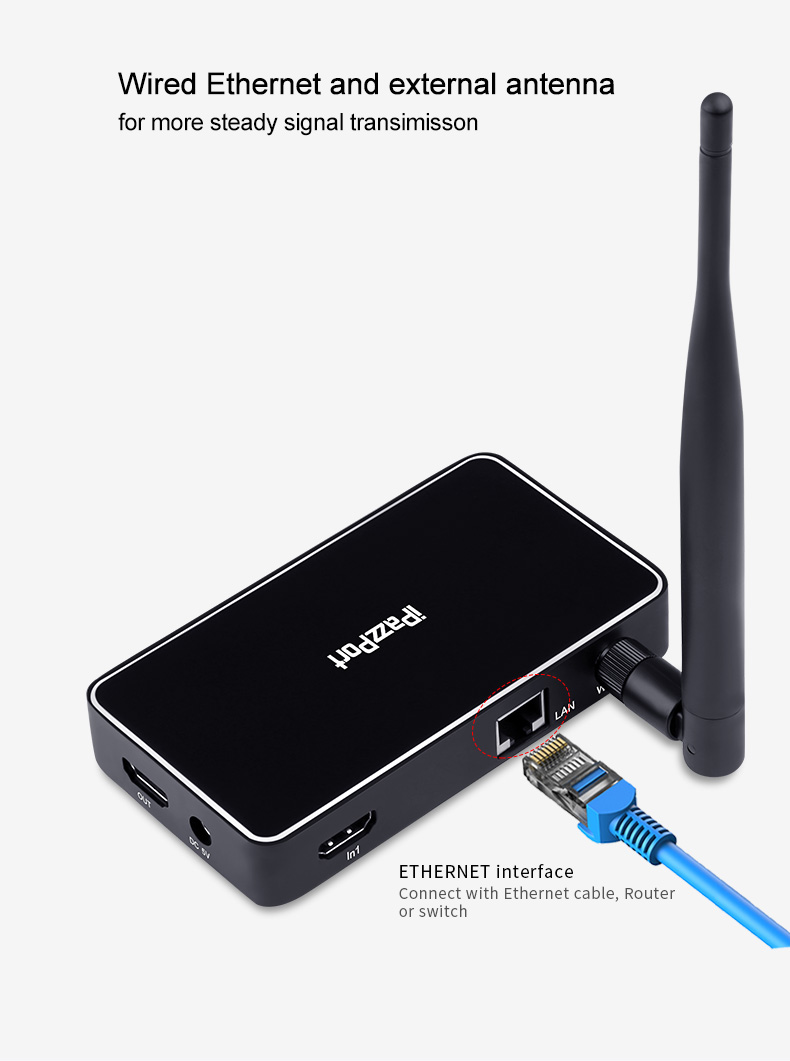 ---
About iPazzPort cast
iPazzPort is a flagship brand of wirless mini keyboard and wireless display from Unisen Group, a comprehensive Hi-Tech company that integrating R&D, design, produce and selling, based on the principles of Smart, Profession, Innovation.
The products of iPazzPort brand share a moderate market in European and Asian markets, and is recognized by people in most countries and regions.
Additional information
| | |
| --- | --- |
| Weight | 0.026 kg |
| Dimensions | 8.8 × 3.3 × 1.1 cm |
FAQ:
1 Does it compatible with iPhone?
Yes, it does. As a matter of fact, this unit is compatible both with Miracast and Airplay protocols.
2 What is the Wireless AP on this uint?
Thanks to its capability of convert wired signal into wireless network-similar to a mini Router to some extent- this provides a pretty convenience in connecting your cellphone or other several ones to this unit for online content after these cellphone detected and connected to this unit by inputting the password.
Note: Several cellphone can connect with this unit for online content at the same time, but only one of these can be set up to display content onto TV monitor simultaneously.
3 What is your recommendation, Ethernet port or wireless WiFi?
Both wired Ethernet and Wireless WiFi are available on this unit. We recommend to you the wired type, considering its advantages of steady signal and simplicity in signal connection.
4 How to adjust the antenna?
The antenna is detachable and bendable, you can calibrate its position and angle by bending it naturally (never reversely) and screwing it into the base skillfully to strenthen the signal.
5 Is the third-party wireless WiFi is the necessity in streaming content?
That depends:
1) You don't have to turn to a third-party WiFi if you only want to stream local content to HD screen no matter whether your cellphone is Android or Ios.
2) Thanks to wireless AP function, you don't have to deliberately connect it with third-party WiFi when streaming online content since this unit itself has turned into an actual WiFi to some extent after connected with the Ethernet cable.
6 How to display local or online content?
Wired type:
1)Connect this unit with Ethernet cable instead of WiFi
2)Follow the cue displayed on TV screen to connect your cellphone to this unit directly.
3)Activate the relavant multiple screen function to make it.
As to the wireless WiFi type, please turn to the user manual for details.
7 How to strengthen the signal for better performance?
1) Put this unit on, beside, or in front of your TV.
2) Adjust the antenna patiently and skillfully.
3) Make the wired type the priority.
8 Others?
Please read our user manual for other concerns
Or contact us at email: support@iPazzPort.com,
Or on social platform: @iPazzPortfans
---
Only logged in customers who have purchased this product may leave a review.