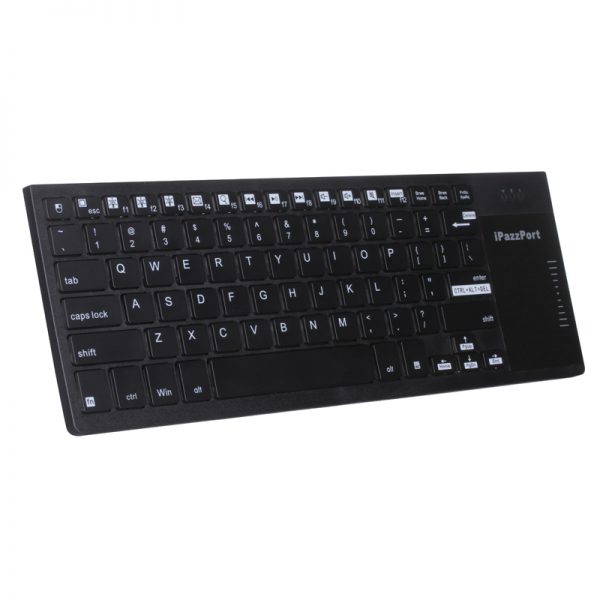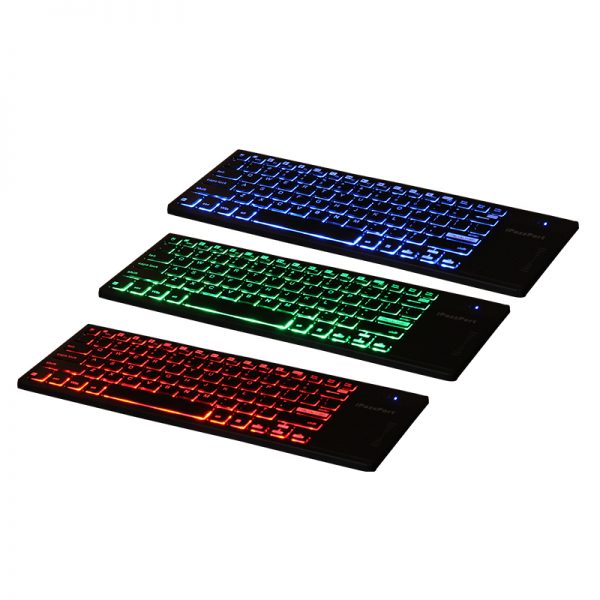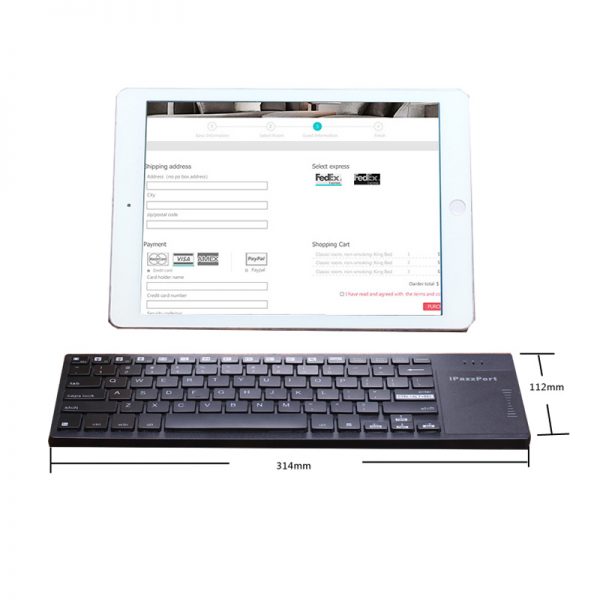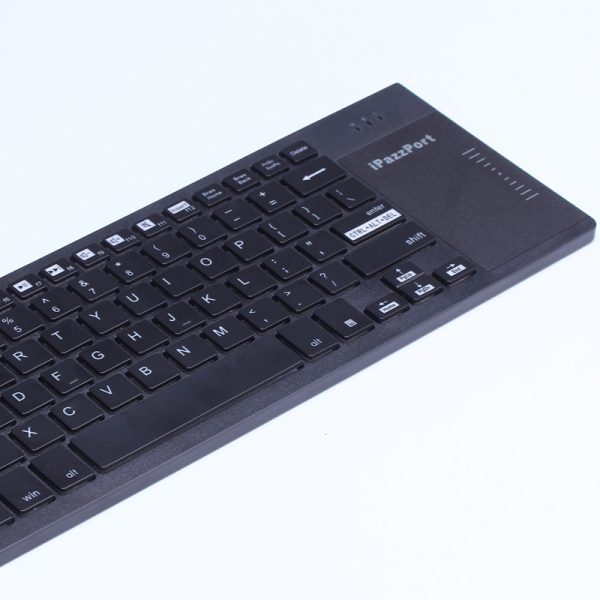 iPazzPort RGB backlit multimedia USB keyboard with touchpad for PC HTPC TV Android Box Raspberry Pi KP-810-35H
This iPazzPort USB multimedia keyboard is a moderate size one with touch pad and RGB backlit. It is widely used at home or on a trip for PC, tablet, laptop, iPad (OTG cable is needed), Raspberry pi, smart tv, XBMC and others with USB connection in surfing, games, TV, HTPC, IPTV and home entertainments.
$31.99
Out of stock
Buy at amazon
Description
FAQ
Reviews (0)
Description
RGB Backlit USB multimedia
keyboard with touchpad mouse
– Slim, portable, ergonomic design
– Touchpad mouse combo and scrollbar
– QWERTY layout and multimedia keys,
– RGB LED backlit and silent clicks
– RF up to 10M, USB,plug and play
– Works for Tablet through OTG cable
– Lithium battery
– Wide compatibility
Besides the basic QWERTY layout as shown below, this keyboard is equipped with separate RGB backlit mode, media-friendly buttons, quick page-browsing buttons and most of all, the extra-large touch pad with scrollbar, which makes this keyboard a multi-function media one and enables you to get rid of the hassle of actual mouse cable clutter.
Considering users often apply their tablet (through OTG cable) to tapping email and play media, this QWERTY keyboard with media buttons and sensitive touch pad is sure to meet your demands.
---
Portable enough to go anywhere along with your tablet series (OTG cable is needed)
---
Smooth data input and touch pad operation
The zone of left button of this keyboard is 250 * 112mm. it is comparatively about the same size of an additional standard keyboard, which makes the button cap and gaps are not too crowded. This is quite important for the persons of normal typing. In another word, we make this keyboard smaller on the basis of sacrificing very few typing experience.
We integrated all the right part of the full-size traditional (even the wired/wireless mouse) into a touch pad, which greatly reduces the size and enables you to free of cable clutter to make it reasonably small and convenient to fit your portable tablet on a travel.
---
Specifically designed for iPad or tablet (OTG cable is needed)
When it comes to this keyboard being designed for IPad, tablet, four basic facts in it.
Firstly, they are about the same size, which has the possibility of going along with each other in a bag.
Secondly, both of them put emphasis on media function
Thirdly, the keyboard is not bad at taping out an email
Fourthly, powerful touch pad is in line with the tablet's principles of simple, intuitive, effective.
---
Scissor structure
Thanks to the scissor structure, the force is evenly distributed to the various parts of the keycap, which makes the typing sound soft and gentle, and the touch feeling more consistent and comfortable.
---
RGB backlit
There are 3 separate buttons on the top line for free switch in RGB color, just one click on it to turn on the target backlit mode.
The backlit is soft and anti-dazzling mode: The backlit is moderately bright and bottom-lit style, which prevents you from shining your eyes by the direct-casting backlit
To prolong the standby, the backlit is energy-saving and equipped with auto sleep mode. You can wake it up by clicking any key.
---
 Broad compatibility
As a universal keyboard due to its moderate size, media-fiendly buttons, sensitive touch pad, familiar QWERTY layout, broad compatibility,etc, this keyboard is widely used in most occasions for most USB enabled devices with popular OSes,such as Raspberry Pi, Smart TV, TV box, etc.
---
Specification:
– USB wireless connection
– 3 color backlit
– rechargeable li-ion battery
– Max Distance: 10 m
– Dimension: 314X112.5X17mm
– Weight: 218g
System Requirement:
– Windows
– Mac OS
– Linux
– Android/Google/Smart
Package:
– Keyboard 1
– USB receiver 1
– Charging cable 1
– Users manual 1
FAQ:
1)Does it work with mac?
Answer:
Yes it works just fine with Mac. And as a matter of fact, this unit works for almost any devices with standard USB slot.
2)Is this keyboard still compatible with Windows 7 or 10?
Answer:
Yes it is. This keyboard is widely compatible with Windows, Linux, Mac, Android/Google OS.
3) My computer is bluetooth capable. Will this work?
Answer: Yes, as long as it has a standard USB port.
4)Does the keyboard use encryption for transmitting keystroke to its USB dongle?
Answer: Yes. It does. However, It is plug and play mode since we have paired this USB with the USB receiver in the factory.
5)What if the keyboard lose connection with the USB?
This is a rare issue after all, and you can make it as this:
Press FN + Esc (the indicator will blinks continuously)
then plug the USB receiver into the PC USB port
A few seconds later, when the indicator goes off, the re-pair is established again
6)What are the main difference between this unit and the traditional QWERTY PC keyboard/
(1)In size: this unit is 3/4 of the traditional full-size PC keyboard
(2)Integrated touch pad and scrollbar
(3)Multi-media keys
(4)RGB LED backlit
(5)Wireless USB connection and built-in battery
(6)Soft keypad sense and silent clicks
7)How to turn on the backlit?
Answer: Press FN and one of the keys with the light symbol to turn the backlit on/off
8)Is this unit with auto sleep mode?
Answer: Yes, it will go into auto sleep mode within of no-use status. You may click any key to wake it up.
9)What about the touch pad and scrollbar?
Answer: touch pad is for moving the cursor to insert, confirm items. The scrollbar(the equivalence of the side scrollbar of the PC screen) is for scrolling up/down the page.
---
Only logged in customers who have purchased this product may leave a review.