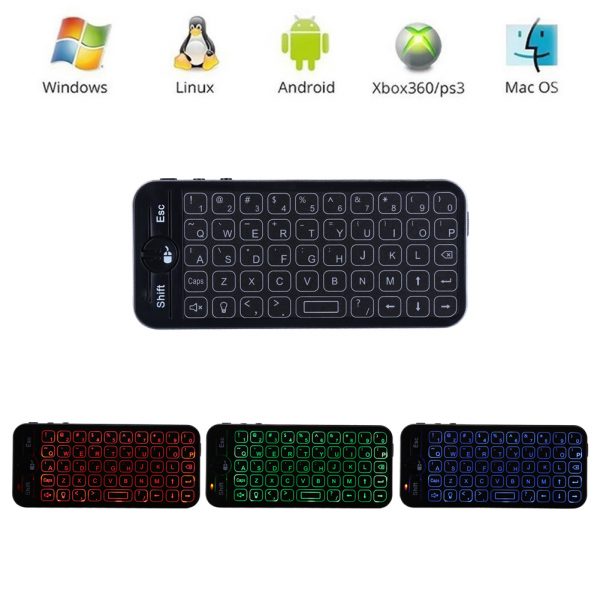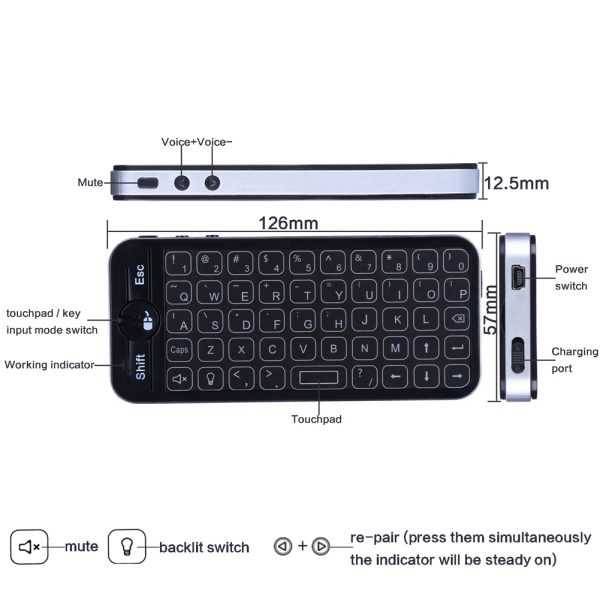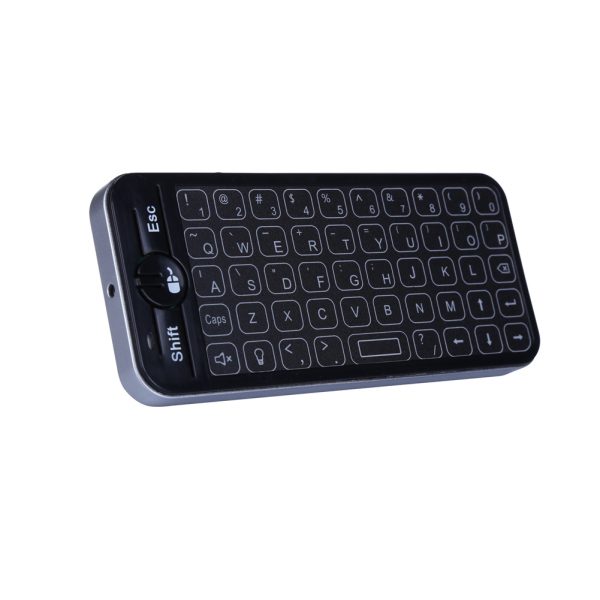 iPazzPort Wireless backlit keyboard whole-panel keyboard Touchpad Mouse Combo for Android TV Box, HTPC, IPTV, PC,Xbox 360, Smart TV
This is a perfect wireless RGB Backlit keyboard with flat keys and full-screen touchpad mouse to replace your traditional USB keyboard and actual mouse. Now that lots of people get used to inputting letters on phone screen, they will enjoy better experience in operating their TV, tv box, etc.
This keyboard is on sale (till 31/8, 2019) at only $8.8 (the shipping cost is on you). Please contact us to change the price and confirm the shipping cost when you order.
$23.90
Out of stock
Description
Product details:
The whole-panel touchpad
The touchpad is much more larger than those similar ones or even some full-size touchpad keyboard, with which you may obtain accurate and swift cursor track and gesture recognition like copy,paste, zoom in/out, etc.
Adjustable RGB backlit and flat pad
Many people may like the colorful backlit during the typing experience. The RGB backlit makes its appearance pretty cool , adds to good feels of typing, and offers practical convenience in dim situation . The backlit is soft and stead in case of dazzling your eyes. To save power, you can click the button with bulb icon to change its color or even turn off it.
Standard QWERTY layout
Some buttons of the common keyboard, to compromise its overall universal functions, sometimes are located beyond your expectation that you have to pick and peck it with extra patience. We remove some unnecessary composed keys (the user seldom or never to use) and try to put the buttons on the position they should be- standard QWERTY layout.
Wonderful typing experience:
Most people have the positive experience in inputting lines of word on your phone screen, so few people will hate editing some characters with this QWERTY keyboard equipped with flat panel / keys. Actually, this keyboard panel is a bit larger than the onscreen one on your phone, which may provide you a prospectively good typing experience less than that on your phone.
Thus, if you want to have a try to experience flat keys in flat panel instead of spring buttons on common keyboard. It is the right time.
Specifications and packaging list:
Specifications
:-RF2.4G wireless connection
-Distance: Max 10m
-Powered by: Lithium battery
-Working voltage:3.3V
-Voltage: Lithium battery 3.8V
-Working voltage:3.3V
-Minimum voltage:3.3V-3.4V (indicator blinks)
-Working current:10mA-23mA
-Sleep current:0.1Ma/80" Off
-Backlit current:
Green:23mA
Blue:26mA
Red:78mA
-Dimension:126X57X12.5mm
-Weight:73g
Packaging list:
Keyboard: 73g/0.16lb
Size:126*57*12.5mm /4.96″x 2.24″x 0.49″
White foam cotton:2.5g/0.01lb
USB cable:22g/ 0.05lb
padding:4.5g/0.01lb
Instructions:7.5g/0.02lb
Color Box:49g/0.04lb
Unit weight: 158g/0.35lb
Size: 143*79*32mm/5.63″x 3.11″x 1.26″
————————–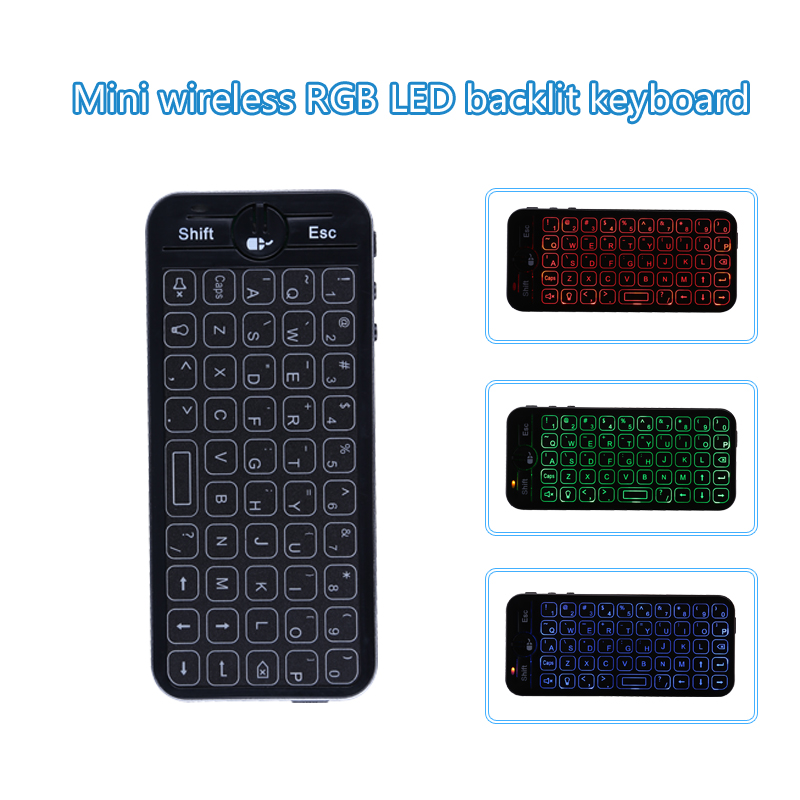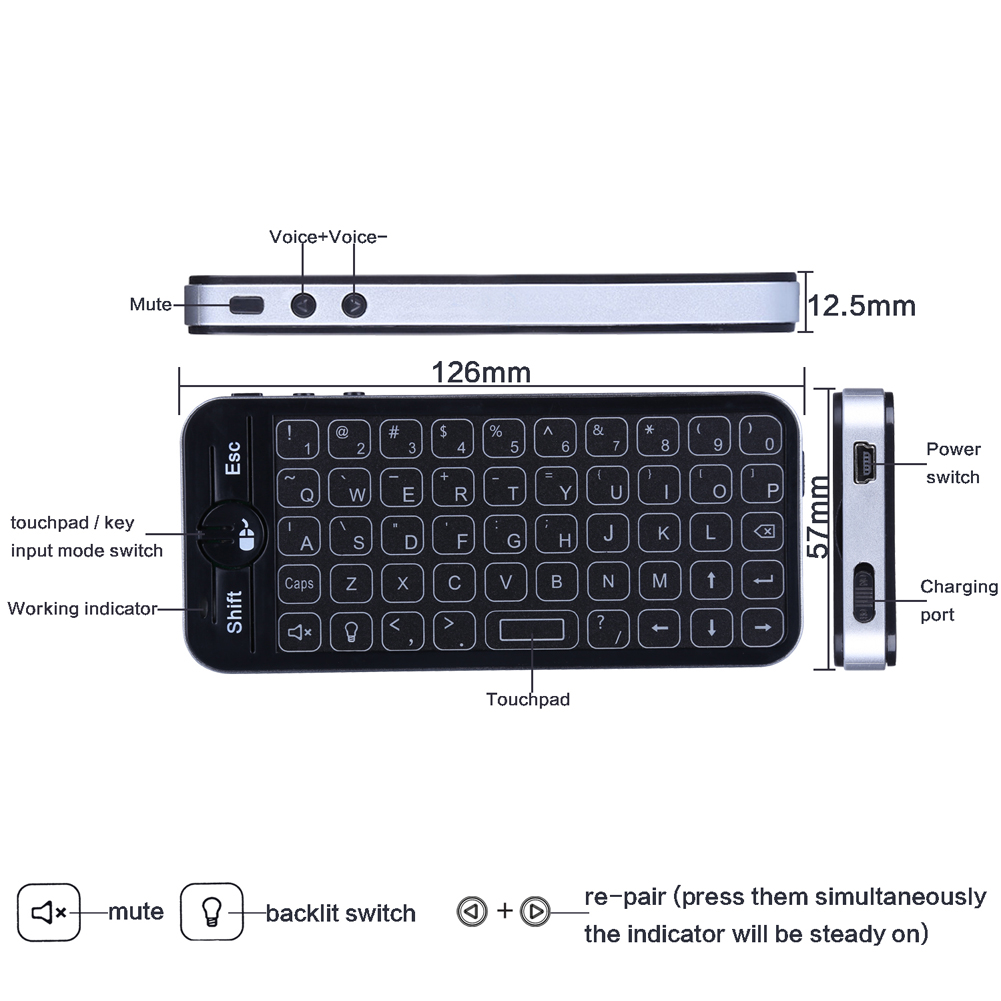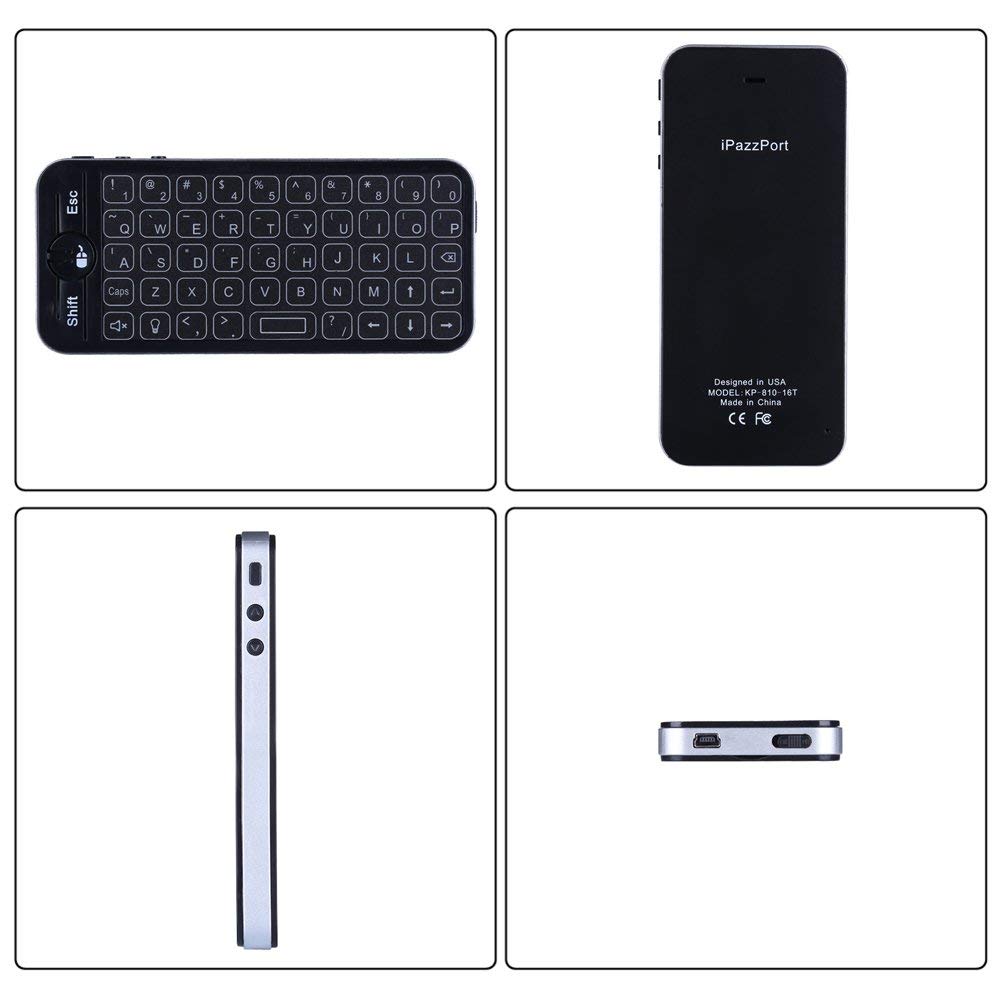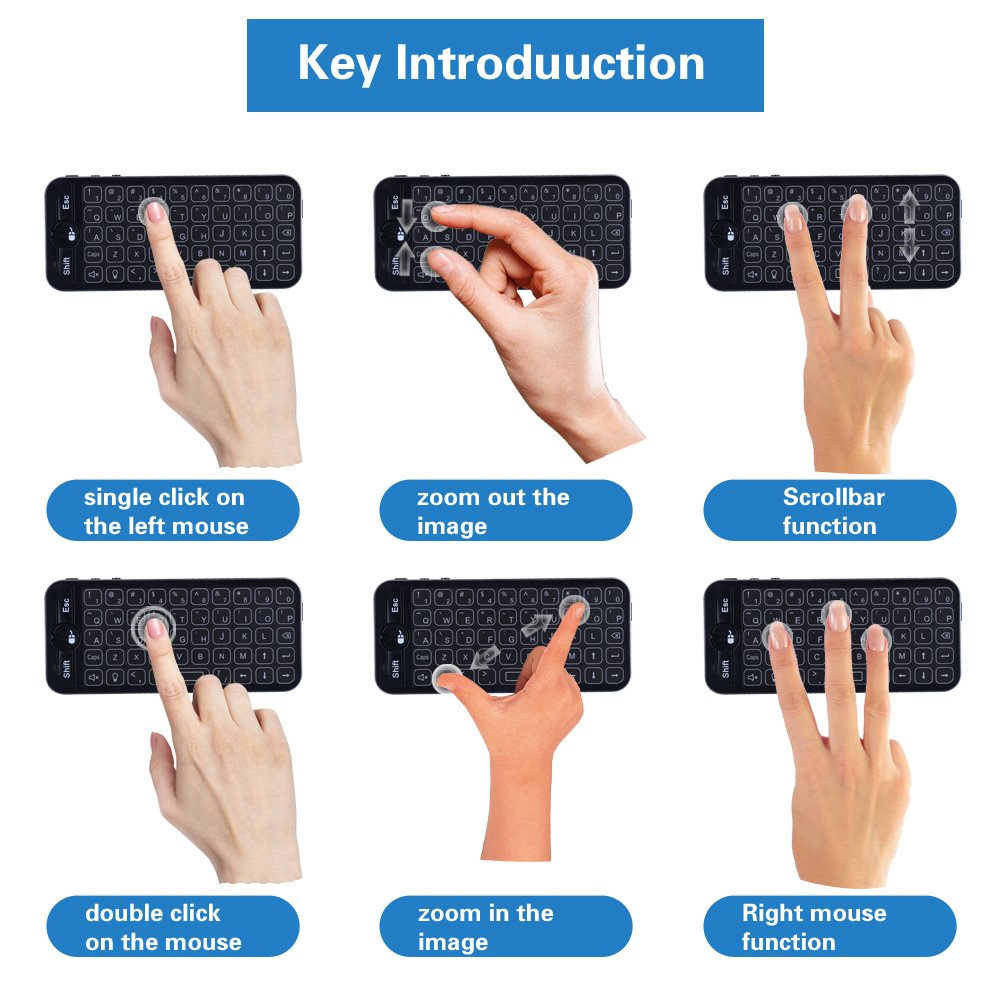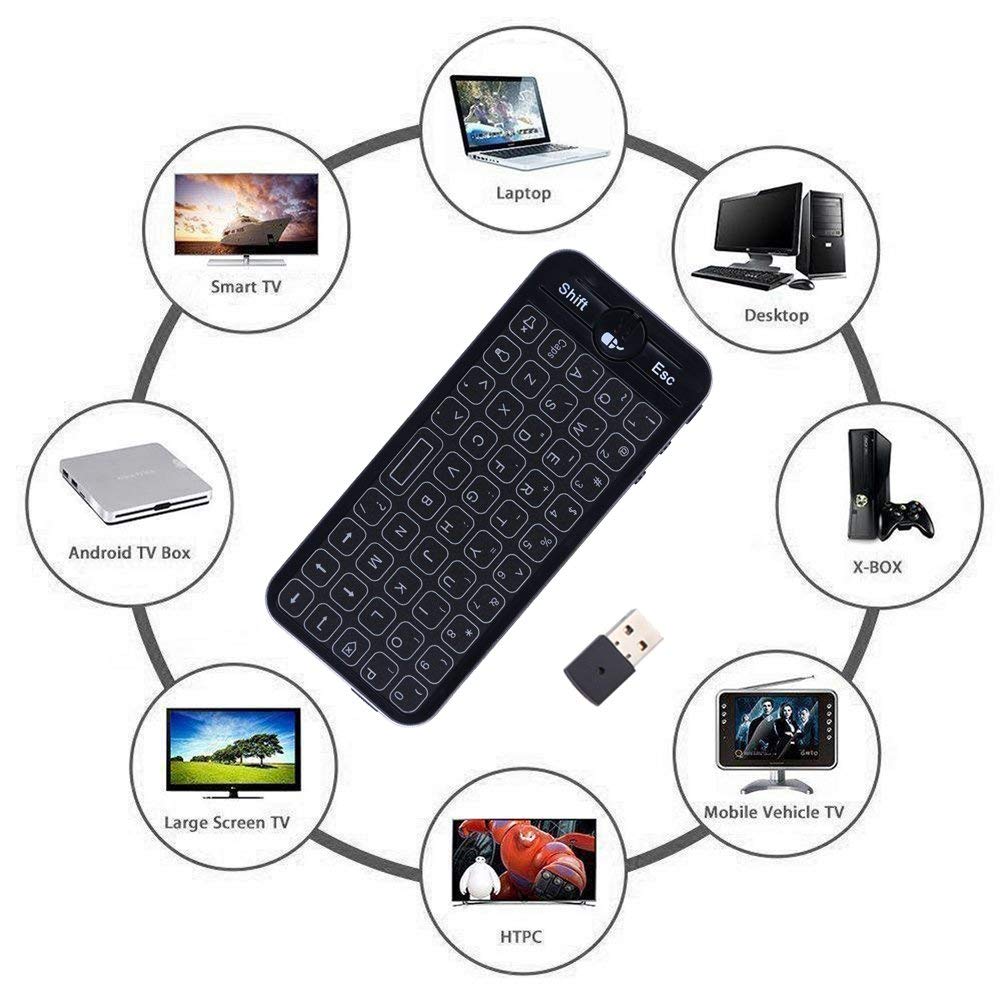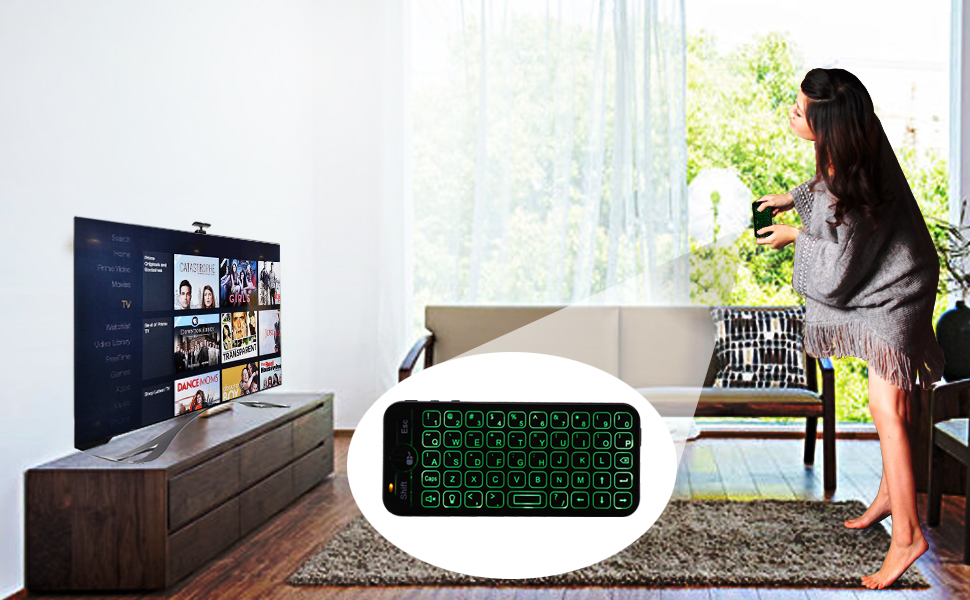 ---
Only logged in customers who have purchased this product may leave a review.