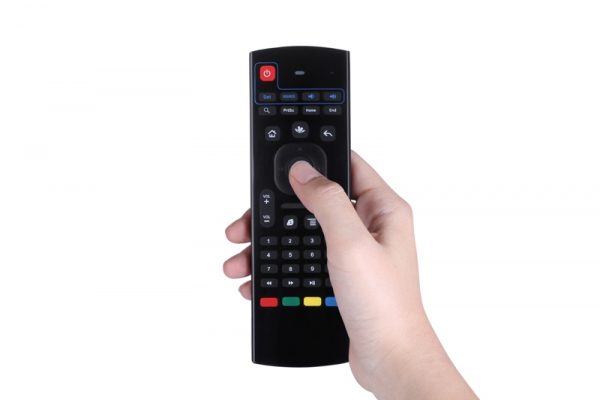 iPazzPort handled mini wireless IR/RF air mouse keyboard remote for Pi, PC, HTPC, IPTV, KP-810-27R
This is an powerful all-in-one air mouse keyboard remote characterized as a combination of QWERTY keyboard, fly mouse,  IR remote, User-defined keys. It is used as an universal multimedia keyboard for Android Smart TV, IPTV, Networked set-top Box, Mini PC, Android TV Box, HTPC and so on.
$16.99
Available on backorder
Description
FAQ
Reviews (0)
Description
Features:
– A combination of IR, RF,air mouse
– Mini 2.4G USB QWERTY for smooth data input
– Double-sided keyboard, plug and play
– 6-axis gyroscope sensor for flexible and accurate cursor track
– Four IR learning keys to be programmed as user-defined ones
– Steady and reliable sign, up to 10 meters
Specification:
– RF2.4G wireless
– USB receiver, plug and play
– Powered by: 1.5V X 3AAA  2
– Wireless transmitter:2dBm
– Recieving sensitivity:-85dBm
– Size: 172X52X19mm
– Weight: 97g
System requirement:

– Windows
– Linux
-Mac OS
– Android/Google/Smart TV OS
No need of traditional move-or-scroll-on-keyboard style due to its 6-axis gyroscope motion sensing design, this air
mouse features excellent performance in fast & accurate positioning, fine control and arbitrary gesture
recognitions. This is a sync heart-to-gesture way of accurately controlling the cursor or the game characters by
your hand track and your body movement, which makes you behave like a skilled master or real role in the
games.
There are four IR-learning  enabled button on the top for the users to freely program them separately ( learn code value from the source IR remote ) to control your TV,TV box, or other IR-controlled devices .
Top of that, these buttons can be programmed randomly and repeatedly except that the latest code value will replace the former one.
The keyboard side is a QWERTY layout . it is intuitive and familar with your formal keyboard that you just spend a few minutes getting used to this keyboard before you operate it skillfully and smoothly to input data in quick search of your favorite program, items or other content.
1) How do you program the 4 colored buttons at the bottom? I wanna program one of them as a back button for kodi.
Answer:
the four color buttons at the bottom can only be programmed as infrared with your TV, etc ... You can program the red one to turn my TV on/off and the other three to switch the TV input and the 3D options ... for the Kodi back button or program the "home" button just above the cursor/OK button in the center

2) Can I use more than one in a small area ? I need to use two in my bedroom. Will they interfere ?
Answer:
It depends:
1) You can use two USB keyboards in a small area at the same time, for each keyboard is connected with different USB receiver that owns specific code value.
2) The IR commonly has similar frequency. At the same time, it also has learning capabilities, so it could possibly take over the duties of another remote if the two devices ( like TV ) are close enough or in a straight line.
3) Without line of sight can I use the keyboard to change channels? Or it is IR based? I plan to put my HTPC behind the tv.
Answer:
Yes you can use this 2.4G USB wireless keyboard without line of sight only if your HPTC, TV box ,etc have USB port.
The only IR functions on it are 4 programmable buttons on the bottom of the remote which you can use for devices like television to power on/off them or to switch their modes. That is to say you can program them any way you'd like.
4) will this work with ps3, ps4?
Answer:
It will work with any USB compatible device.
5) how to do pair it to the nvidia shield tv ?, if i plug the usb it does not recognize it, do i need to do anything else?
Answer:
You are supposed to unplug the receiver and reconnect it, wait for 20 to 60s for the receiver driver to be installed.
Press [OK] and [TV] button at the same time about 5 to 8 seconds to establish the pairing.
6) Does it work with chrome OS devices?
Answer:
We haven't test it for  all the chrome OS devices, but it works with most of Google TV and Android TV.
7) Will this remote work as a universal remote for my TV and PS3?
Answer:
Yes, the USB media keyboard side is powerful and compatible. The other side includes a universal TV/Media remote and Four IR learning keys that you can program them to other specific functions as you like. It is multifunctional largely instead of totally "universal"
8)  Is there a button that works as a right mouse click or is there a way to program it to add this function?
Answer:
The blue "OK" button is the left hand clicker and the button right of home button which is the "BACK" button on android is the right clicker button for windows.
---
Only logged in customers who have purchased this product may leave a review.