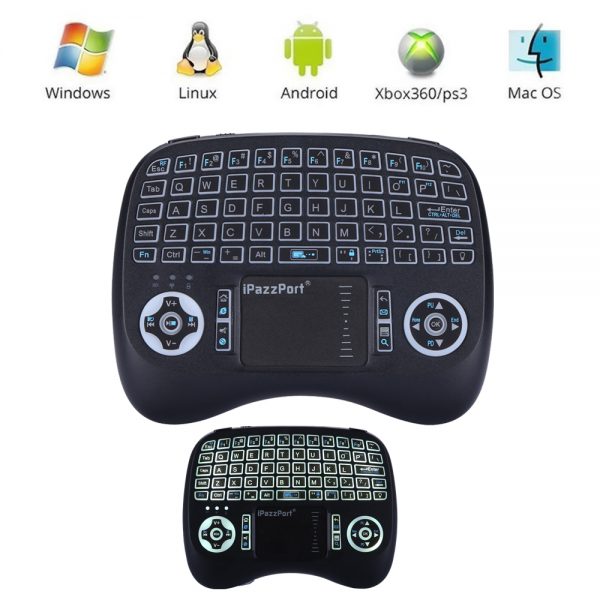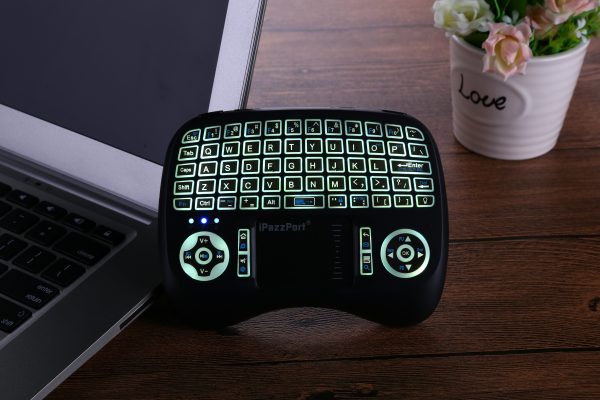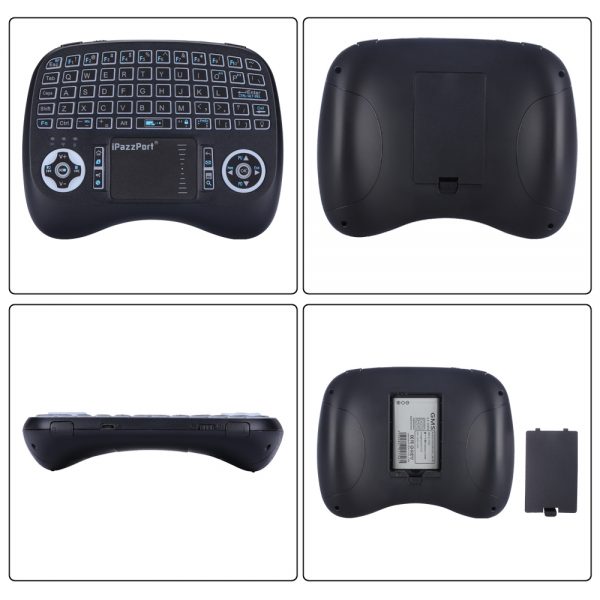 iPazzPort Ergo Mini Wireless USB Keyboard with Backlit and Touchpad for Android TV Box and Raspberry Pi 3 and HTPC KP-810-21TL
With effective and exclusive design, this palm-fit ergo mini USB wireless keyboard with touchpad and backlit is a true helper to advance multimedia and data input exoperience. Widely used for Raspberry pi, PC, smart tv, smart tv box, etc in home entertainment, education, games playing training, meeting, speech, projector and more.
$19.99
Out of stock
Buy at amazon
Description
FAQ
Reviews (0)
Description
iPazzPort ergo backlit QWERTY
keyboard with touchpad mouse
* Palm-fit, ergo in design
* Wireless 2.4GHz, plug and play
* Touchpad and scroll bar
* QWERTY and media keys
* Focuses on multimedia and surfing
* With useful backlit
* Auto sleep and one-click wakeup
* Long standby
UPC 745369294799
Two years ago, we revealed the heart-shaped wireless keyboard with touchpad and scrollbar. The ergo, multimedia, QWERTY layout keyboards for affordable price are popular among many users around the world.
There are so many similar products on the present market and the users are eager to find some unique ones. Based on their suggestion and feedback to our products, we put this wonderful version in the Amazon catagory which, apart from the basic similar functions, boasts three advantages over others, namely: ergomatic design, multimedia layout, Smooth edit.
Surfing, password edit,
home entertainment,
education, games,
training, meeting,
speech ,projector etc.
In daily life
PC, raspberry pi, smart
TV,smart tv box, iPad,
tablet, laptop, IPTV, and most
other devices with Standard
USB port.
Used for
*Ergo design to ease your fingers/wrists
*Multimedia
*Smooth edit like slide,
click ,copy, paste
Focus on
a replacement of
mouse aTV/box
remote a common
game remote a
multimedia keyboard
Used as
Unlike other flat keyboard, this keyboard features unique curve, shape, which makes it pretty comfortable in hand and in use. You will never let it go before you fondle it.
Advantageous over other keyboards on the market, the media-related buttons are at the right place that your fingers will naturally rest the moment you cup the keyboard, which enables you to operate this keyboard to play music, movies, even more effectively and flexbly
This keyboard is equipped with left/right mouse button on the up side that your index fingers can reach with ease. that is to say, you don't have to move your finger fluctantly to press the left /right mouse to open the menu and copy /paste the item, which helps you browse page and edit more smoothly.
Of course , you can also press Fn and Q (with a bulb icon ) to turn on /off the white-only backlit and input the right letters in dim room. This backlit is much convenient when you want to input password or letters to search at midnight without turning on light and waking up your roommate
Specification:
– RF2.4G wireless connection
– Wireless distance:up to 10m
– Powered by: 800mA lithium battery
– Operating voltage: 3.3V
– Battery voltage : 3.8V
– Sleep current: 0.1mA
– Backlight current: 66mA
– Low voltage: 3.3V (flashing)
– Size: 135X100X30mm
– Weight: 110g
– Touchpad: 48.4 × 34.7mm
System Requirement:
– Windows
– Mac OS
– Linux
– Android/Google/Smart TV
Package:
– Mini Keyboard 1
– User manual 1
– USB cable 1
– USB receiver 1 (beneath
the back case)
1 will it work with fire tv?
Answer:
Yes, it can work with your amazon fire tv, it connects via the supplied 2.4Hhz USB receiver beneath the back cover. And as a matter of fact, this mini keyboard works for almost all the devices with standard USB port.
2 I repeatedly failed to connect it with my raspberry pie 3 and keyboard, Blue light flashes once and then off. Any ideas?
Answer:
Tip 1, pull out and replug the USB receiver. Or switch off/on the keyboard.
Tip 2: if tip 1 doesn't work, please follow the steps to re-sync the keyboard with the receiver: (1). Charge keyboard for two hours and switch on;  (2). Press Fn+RF simultaneously for three seconds, the light on keyboard would blink;  (3). Plug receiver into device USB port, after the light goes out. It is well done.
3 How does that touchpad and scrollbar works?
Answer:
It supports gesture recognitions, you can slide and click to move and position cursor, confirm objective just as you do it with a mouse.
4 How to connect with my Windows 7 PC?
Answer:
This keyboard is plug and play mode. But for Windows 7, it will take the PC a few seconds (30 seconds) to recognize the USB receiver at the first time. ( The PC will recognize the USB receiver automatically next time thanks to their memory function)
5 Is this a RGB backlit version?
Answer:
No,. It is white-only backlit available.,
---
Only logged in customers who have purchased this product may leave a review.