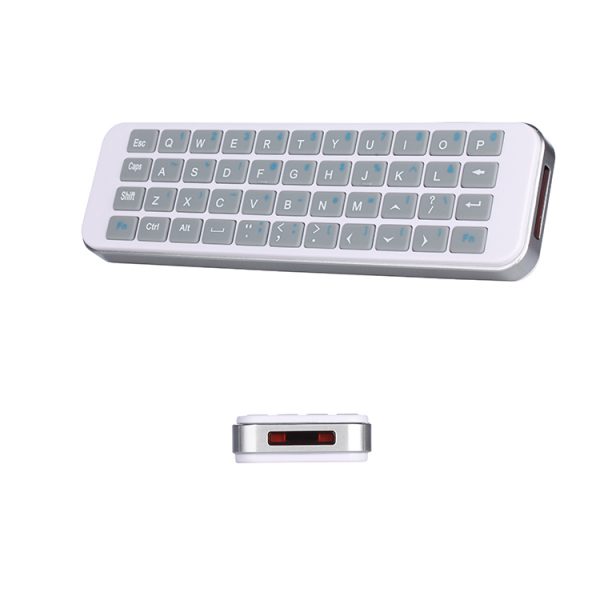 iPazzPort 2.4G mini wireless QWERTY keyboard with silicon sleeve for fire tv box 1,2nd generation
Users' Feedback shows that they love the supplied Remote and also prefer to type in a traditional keyboard format, for they are really tired of the time-consuming pick-and-peck method of data inputting with the standard Fire Remote.
And this QWERTY keyboard with back silicon sleeve, besides keeping and making good full use of voice search on its original remote, is the most considerate solution to inputting data.
This keyboard is on sale (till 31/8, 2019) at only $6.8 (the shipping cost is on you). Please contact us to change the price and confirm the shipping cost when you order.
$21.90
Buy at amazon
描述
Keyword Features:
– Mini, handled and portable
-QWERTY layout 75keys
– 2.4G USB receiver, plug and play
– Back silicon case for fire tv box 1st,2nd
– Separately for devices with USB port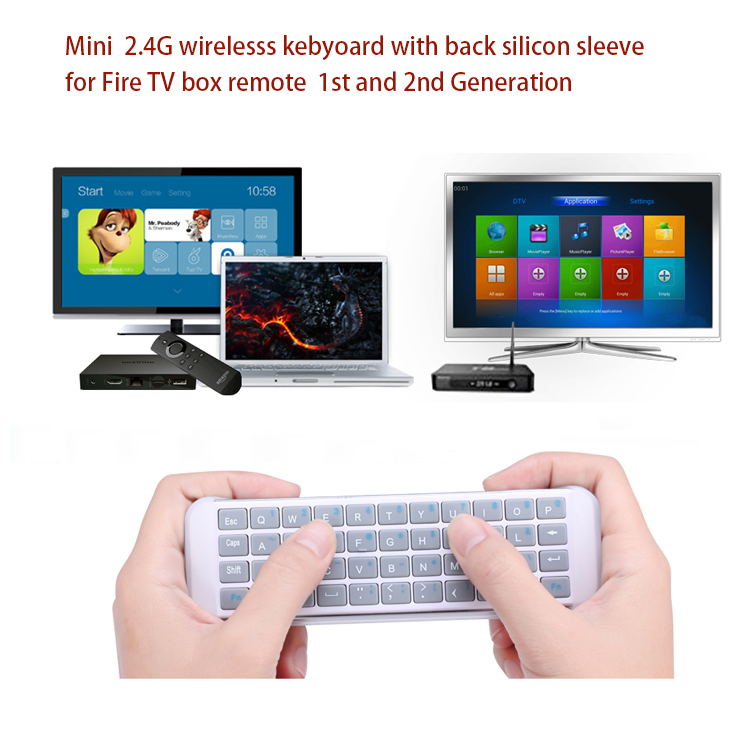 Detailed description:
-Handled keyboard, mini size of 155x46x15mm, easy to go into your pocket on trips.
-75 keys of traditional QWERTY layout, Much more effective in typing for search than on-screen method.
-2.4Ghz USB receiver of anti-interference capability, plug and play
-Separately used for fire tv box 1st & 2nd, Nvidia Shield, Android TV Box, Smart TV, Raspberry Pi, and others with standard USB port.
-Customized sleeve is to hold both keyboard and supplied remote together, which prevents the remote from missing and at the same time makes full use of them.
Note:
1) 2AAA battery and fire tv remote are not included in the packaging.
2) It doesn't work for firestick and new fire tv box until it goes with an OTG cable.
Specification:
-Power by: 2AAA battery
-Distance:10m
-Working voltage: 3.3V
-Low voltage: 3.3V (LED blinks)
-Sleep current: 0.06mA
-Working current: 0.2mA ~ 3.2mA
-Backlight current: 50mA /(off in inactivity of 1 minute)
-Size: 155X46X15mm
-Weight: 60 g
———————–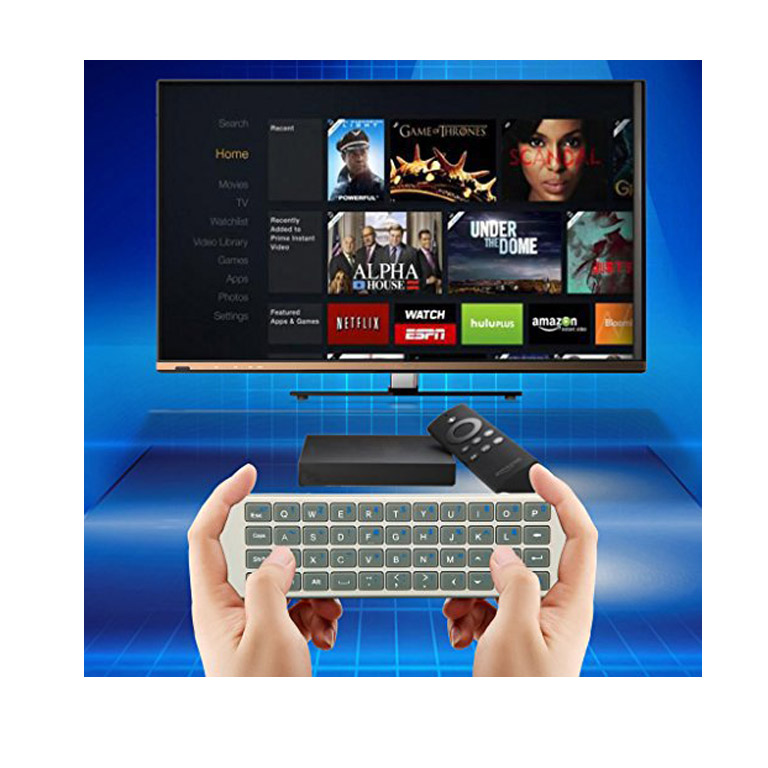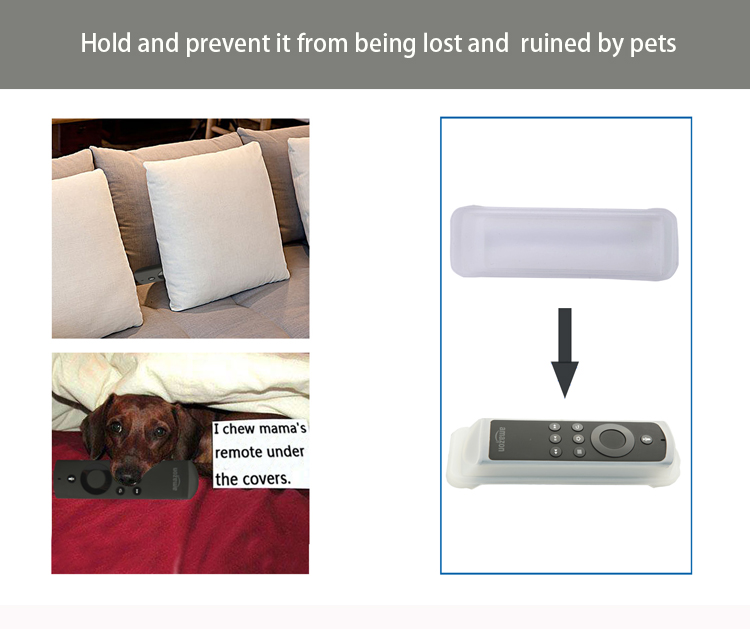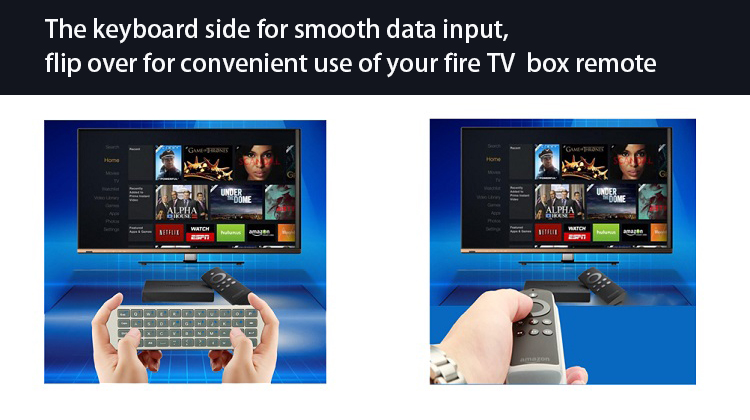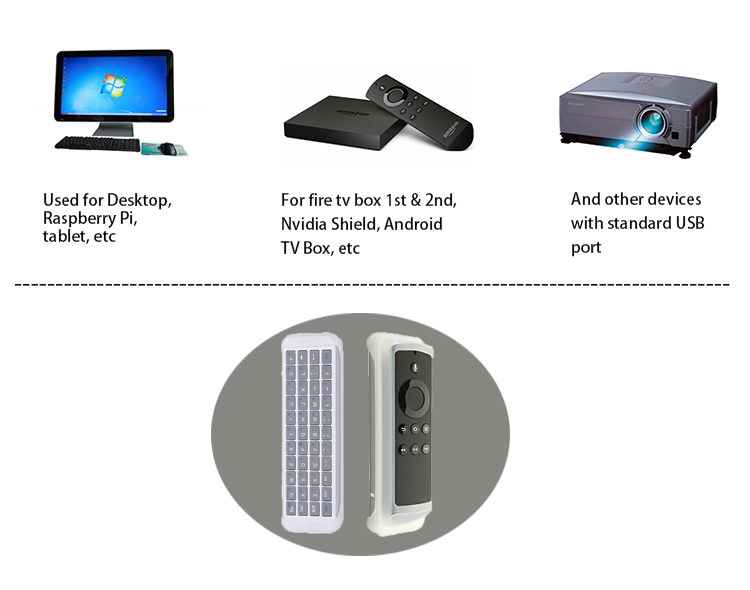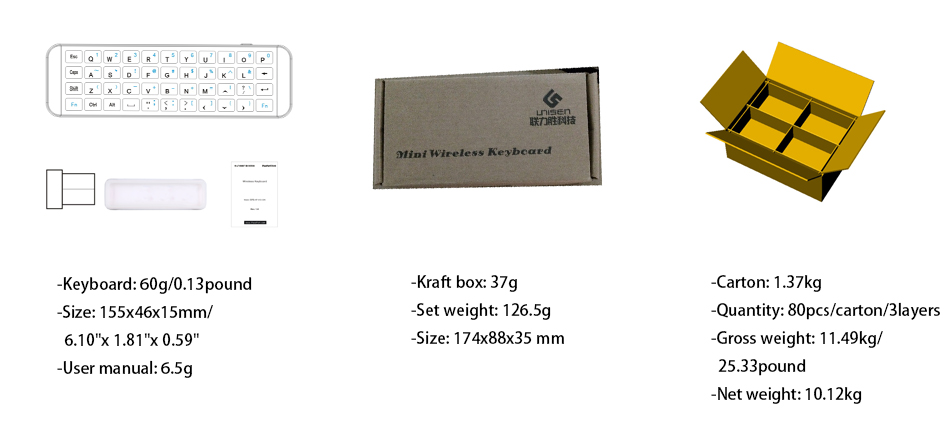 Specification:
-Power by: 2AAA battery
-Distance:10m
-Working voltage: 3.3V
-Low voltage: 3.3V (LED blinks)
-Sleep current: 0.06mA
-Working current: 0.2mA ~ 3.2mA
-Backlight current: 50mA /(off in inactivity of 1 minute)
-Size: 155X46X15mm
-Weight: 60 g
What's in the package:
1x Mini Keyboard Fire TV BOX
1 x Silicon sleeve for fire TV box remote
1 x User Manual
Keyboard: 60g/0.13pound
Size: 155x46x15mm/6.10″x 1.81″x 0.59″
Kraft box: 37g
User manual: 6.5g
Set weight: 126.5g
Size: 174x88x35 mm
Carton: 1.37kg
Quantity: 80pcs/carton/3layers
Gross weight: 11.49kg/25.33pound
Net weight: 10.12kg/22.31pound
Size: 583x376x279 mm/22.95″x14.80″x10.98″