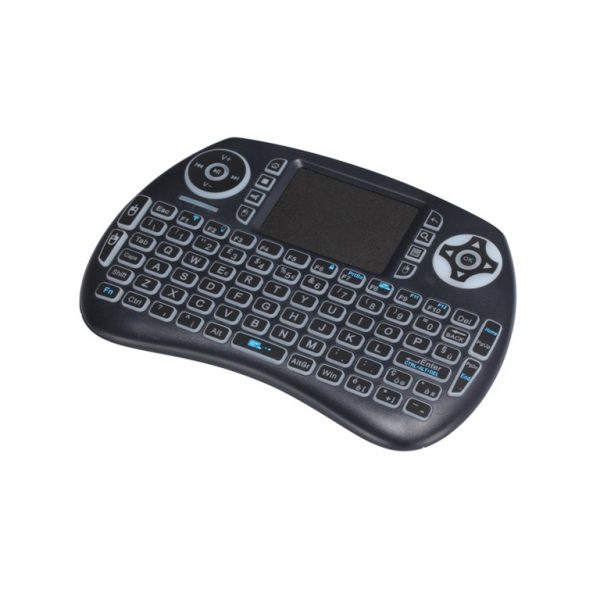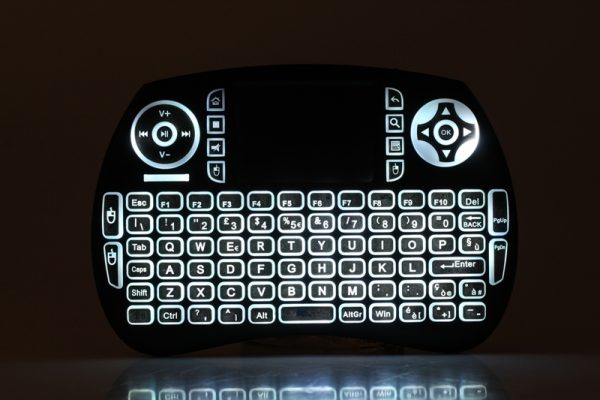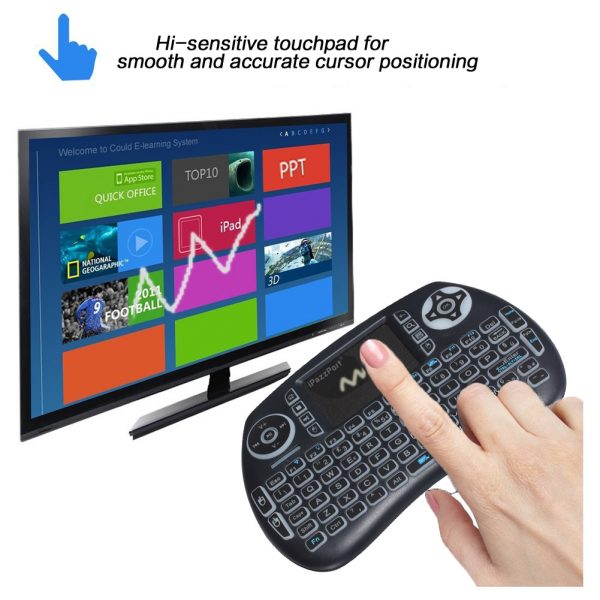 iPazzPort clear backlit 2.4GHz USB mini Wireless multifunction keyboard with touchpad mouse combo KP-810-21SL
This is a 2.4GHz USB Mini Wireless QWERTY keyboard with TouchPad combo. It is used as an universal multimedia keyboard remote for smooth inut and precise move and position of your cursor,  compatible with Raspberry pi, PC, Android TV Box, Google TV Box, Xbox360, PS3, HTPC/IPTV set-top box, and others with standard USB port.
$16.99
Out of stock
Buy at amazon
Description
FAQ
Reviews (0)
Description
Bullet points
–  Easy to carry and operate
–  2.4GHz USB receiver, plug and play,
–  Sensitive touchpad with gesture recognition
–  92keys QWERTY layout for smooth input
–  4-in-1 mulitfunction keyboard remote
–  Clear buttons and backlit version
–  Broad compatibility and application
–  Auto sleep mode, Li-ion battery and long standby
UPC: 745369294072
Free switches and seamless cooperation among Multi-media keys, independent direction keys, shortcut keys, multi-touch pad and QWERTY layout are convenient and effective in multi-platform interactive acitivities, smooth data input, basic TV games, home entertainment and other daily life occasions like meeting, education, training, PPT , presentation, etc
With emphasis on ergo design, acurate cusor position and character input, as well as space-saving on desk and flexible in hand, this iPazzPort mini wireless keyboard is to conveniently and smoothly remote your smart TV, Android TV box, computer or other devices with USB port within 10meters, With emphasis on ergo design, acurate cusor position and character input.
Hi-sensitive touchpad support multi-touch function and gesture recognition, on which you can slide, tap, drag, pinch to position the cursor accurately, operate the
target quickly and conduct on-line interactions conveniently.
You can activate the backlit mode by Pressing the button "Fn" and click the key F2 with a symbol of light) to operate this keyboard at midnight without turning on the bulb and waking up your roommates.
The LED backlit is soft and clear due to the transparent key.
Specifications:

. RF 2.4G connection
. Max Distance:10 M
. Built-in rechargeable
Li-ion battery(300mA)
. Size: 146.8*97.5*19mm
. Weight: 110 g
. Charge: DC 5V
. Standby: about 300h
System Requirement

– Windows
– Android
– Linux / – Mac OS
– Google/Android/Smart TV
Package  listing:

1* Wireless keyboard
1 * Wireless receiver
1 * Charging cable
1 * User manual
FAQ:
Question:
Is the mouse touchpad multi-touch available ?
Answer:
Yes the entire square area serves as a mouse somewhat similar to a laptop mouse pad. You can slide and click with different finger gestures to move, position the cursor , to edit (copy, paste, zoom in/out), and more.
Question:
How to pair with Amazon Fire tv?
Answer:
It is plug and play mod. Just plug the USB receiver in and wait a few seconds, swipe the mouse pad and you will see the active cursor.
Question:
would this work with samsung smart tv ?
Answer:
As i don't know the axact things of your TV and its USB interface, I have to say it works if your TV supports standard USB dongle.
Question:
will this work on microsoft surface pro?
Answer:
Yes, it works. As a matter of fact, it works with almost any devices with standard USB port.
Question:
How do you change colors ?
Answer:
You hold the FN button and hit F2 for default white-only backlit. Please note that this unit is not RGB version, it is white-only backlit one.
Can it be connected to multiple devices?
Answer:
It can be used for different devices with USB port but only for one device at a time.
No response or frequent disconnection
Answer:
1)Charge the keyboard for One hour and turn the keyboard on ;
2)Press FN and then F1 simultaneously, till the LED flashes;
3)Plug USB dongle into USB port of PC and put the keyboard close to the USB dongle . when indicator goes out , the connection is successful.
Note:
For Windows OS, After you insert USB dongle, it will take a few seconds to install
driver automatically.
How to lock/unlock the touchpad?
Just hold the key "Fn" and click the F6 (with a bulb icon on) to lock the touchpad by default and another click to unlock it.
---
Only logged in customers who have purchased this product may leave a review.
Related Products
Out of stock

iPazzPort 3-color Backlit Wireless Mini Keyboard USB with Touchpad for Android TV Box, Nvidia Shield TV, Raspberry Pi 3 KP-810-21SDL-RGB

With QWERTY layout and TouchPad combo.  This  Mini Wireless bluetooth keyboard  is used as an universal multimedia keyboard remote for Raspberry pi, PC, Android TV Box, Google TV Box, Xbox360, PS3, HTPC/IPTV set-top box, and others with built-in Bluetooth connection.

UPC: 790704414561

$

22.99

Out of stock

iPazzPort Ergo Mini Wireless USB Keyboard with Backlit and Touchpad for Android TV Box and Raspberry Pi 3 and HTPC KP-810-21TL

With effective and exclusive design, this palm-fit ergo mini USB wireless keyboard with touchpad and backlit is a true helper to advance multimedia and data input exoperience. Widely used for Raspberry pi, PC, smart tv, smart tv box, etc in home entertainment, education, games playing training, meeting, speech, projector and more.

$

19.99

Out of stock

Mini wireless keyboard-Infrared learning backlit remote with touchpad mouse combo|KP-810-61

A must with ergo design and effective layout to controll your TV box and TV conveniently altogether:
Infrared buttons for your TV; Media-friendly buttons for media playback; touchpad mouse combo for precise cursor track; QWERTY layout for smoooth input; RGB backlit for convenient operation in dim room. 12 months warranty, free shipping.

Note: As a new arrival, this price is just in promotion period on Official site and will go up to $21.99 soon.

$

18.99