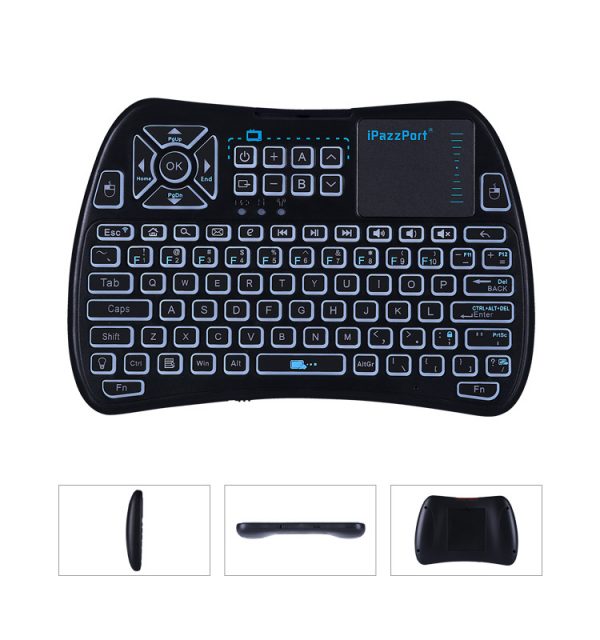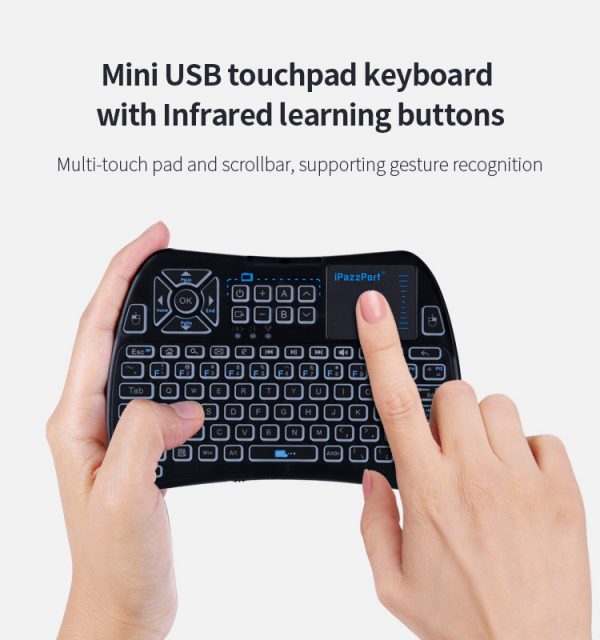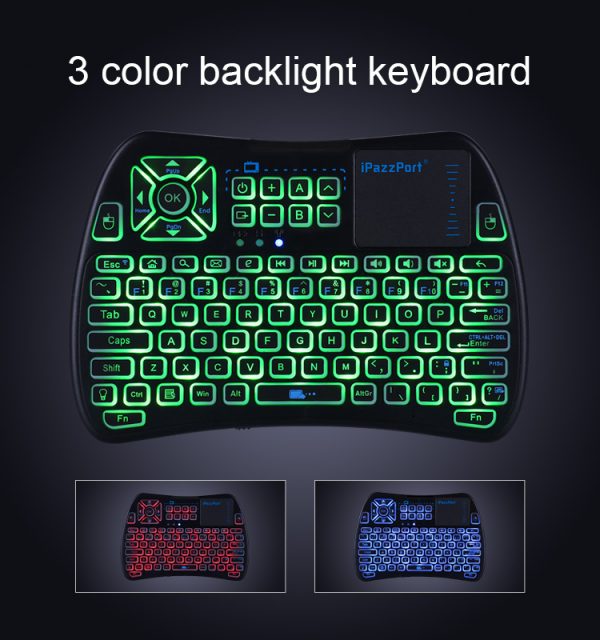 Mini wireless keyboard-Infrared learning backlit remote with touchpad mouse combo|KP-810-61
A must with ergo design and effective layout to controll your TV box and TV conveniently altogether:
Infrared buttons for your TV; Media-friendly buttons for media playback; touchpad mouse combo for precise cursor track; QWERTY layout for smoooth input; RGB backlit for convenient operation in dim room. 12 months warranty, free shipping.
Note: As a new arrival, this price is just in promotion period on Official site and will go up to $21.99 soon.
$18.99
Out of stock
Buy at amazon
Description
FAQ
Additional information
Reviews (0)
Description
---
Bullet features:
– 8 learning function buttons to controll your TV
– Effectively located direction and shortcut keys.
– High sensitive touchpad and scrollbar
– Media-friendly buttons
– Palm-fit, ergonomical design
– QWERTY keyboard layout
– Backlit mode
Application:
– Mini RF/IR backlit keyboard for home entertainments, education, training, meeting, speech and projector
-Windows,Mac, Android/Google, Linux,
-Computer,Smart TV, Raspberry Pi, TV box,set-top box, and other devices with standard USB port
– Most current IR-controlled devices
Specifications:
– Wireless connection
– Max Distance:10 m
– Dimensions: 142.5X97X19.8mm
– Weight: 121g
– Working voltage: 3.3V
– Power Supply:Rechargeable Li-ion battery
Be tired of juggling multiple remotes and untidy desks?
Then, this is the right one for you.
With these built-in IR-learning buttons, you can control your TV, TV box, without putting together all your remotes and juggling multiple ones.–Really convenient and cool.
For example, you can program at least 5 of them to fulfil the specific function as the tag shows by learning from the designated code value of the target buttons, namely: powering on/off your TV, adjusting the volume and switching the channels. And have a try to make the other 3 button separately to control your other TV BOX or TV.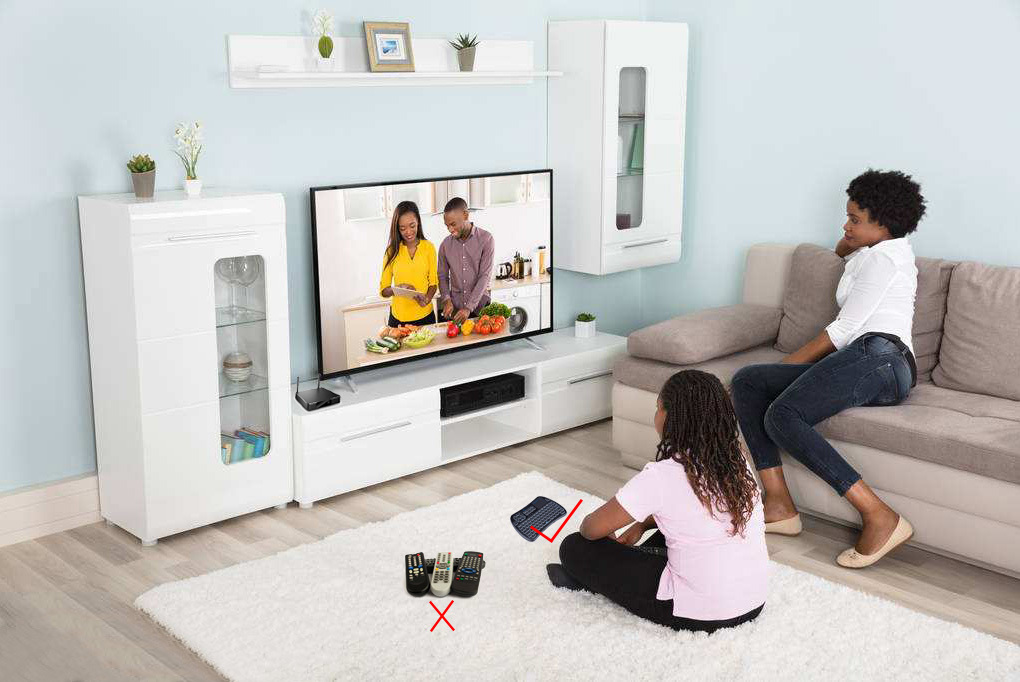 As we mentioned in another article emphasizing its shape and layout, this keyboard is an impressive combination for its sleek appearance, elegant curve on both sides, more of that , two ergonomical bumps in the back as anti-slip palm cushions. It is so comfortable in hand and in operation that you even hate to let it go of your hand.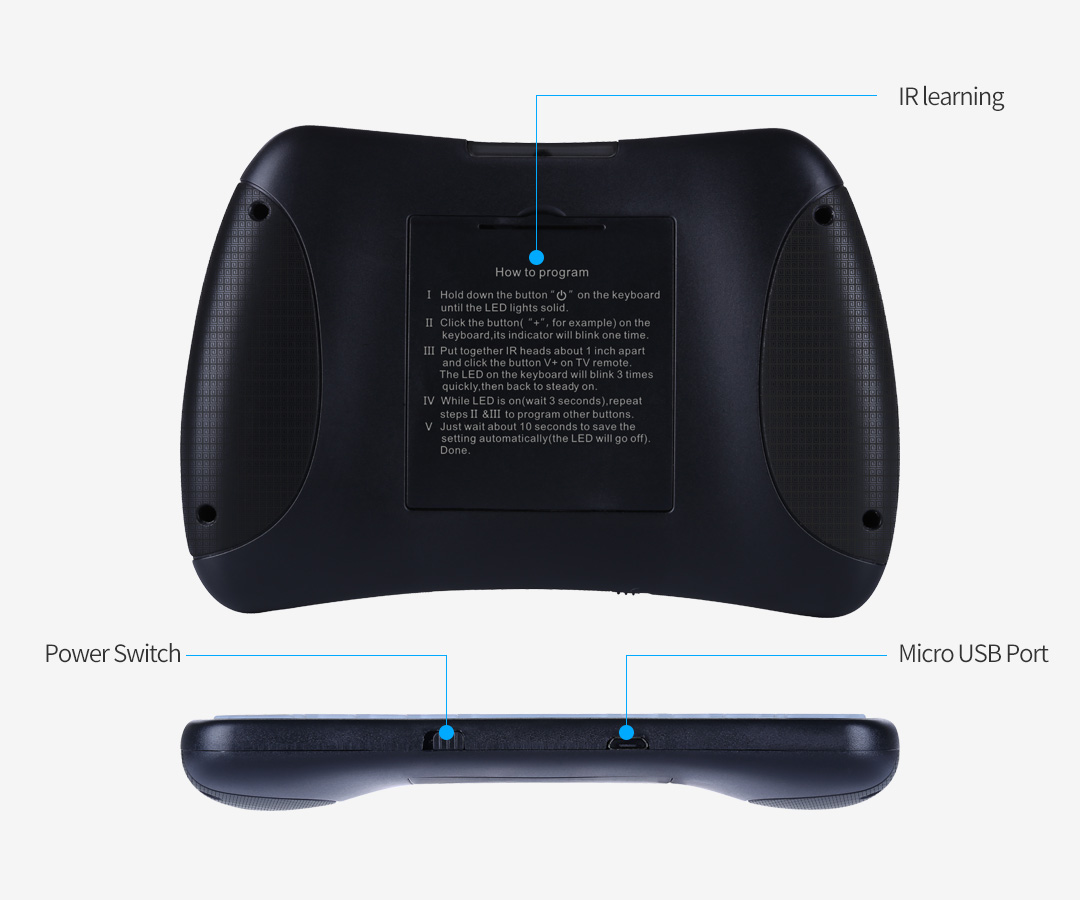 We put all browse-and-edit-related buttons and the touchpad at the very postion your thumbs can naturally and conveniently reach with ease.
1)The direction and the left mouse buttons elegantly under control of your left thumb.
2)The touchpad and the right mouse buttons elegantly within your left thumb's reach.
3)Composed buttons for quick pagebrowse (page up/down, head/end) are also thumb-friendly.
4)All the units above-mentiond can cooperate seamlessly
Unlike most of other touchpad keyboard, this keyboard remote, its track pad is located at the top right where your right thumb can arrive naturally so that you can slide, click to move and positon your cursor accurately and effectively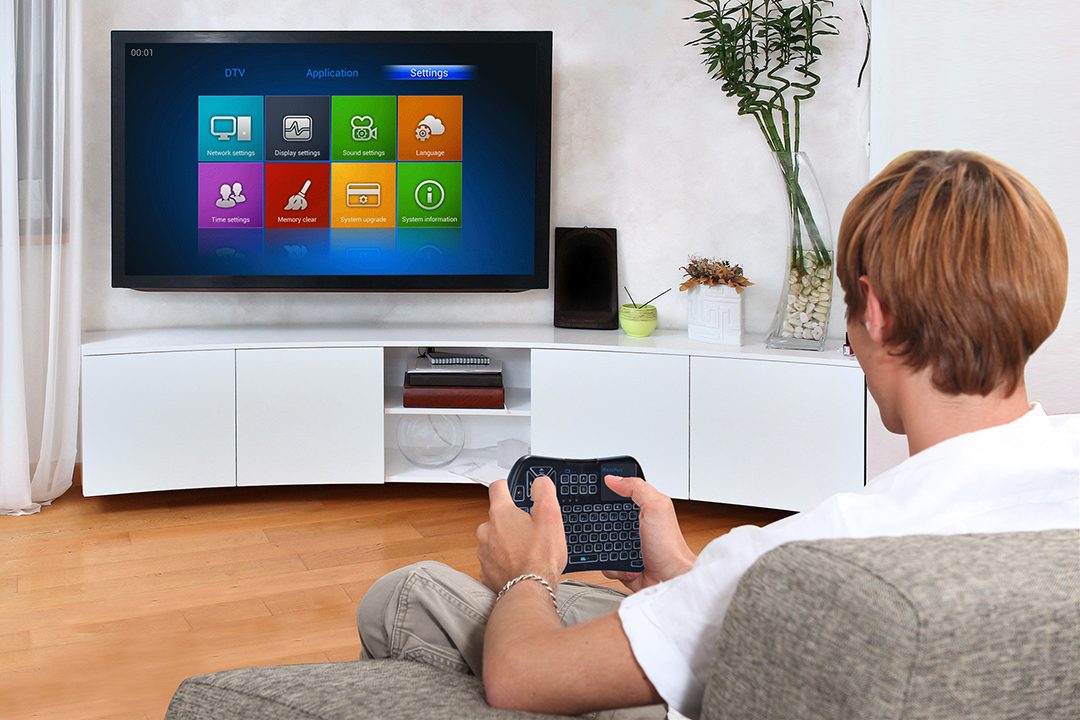 10 basic media-friendly buttons are deployed in a line. 6 of them, on one hand,are right within your right thumb' s reach for convenient control of the media playing, including play/pause, previous/next,Voice+/-, mute;4 of them, on the other hand, are within your left thumb's reach for quick interface shift to browser home, Email, search, etc.
It is convenient to operate in dim room, one-click switch style and free of dazzling your eyes.
Under backlit mode, the backlit will go off in the period of inacitivity. You can wake it up by clicking any key.
And to prolong the standby, you can also turn off the backlits at any time.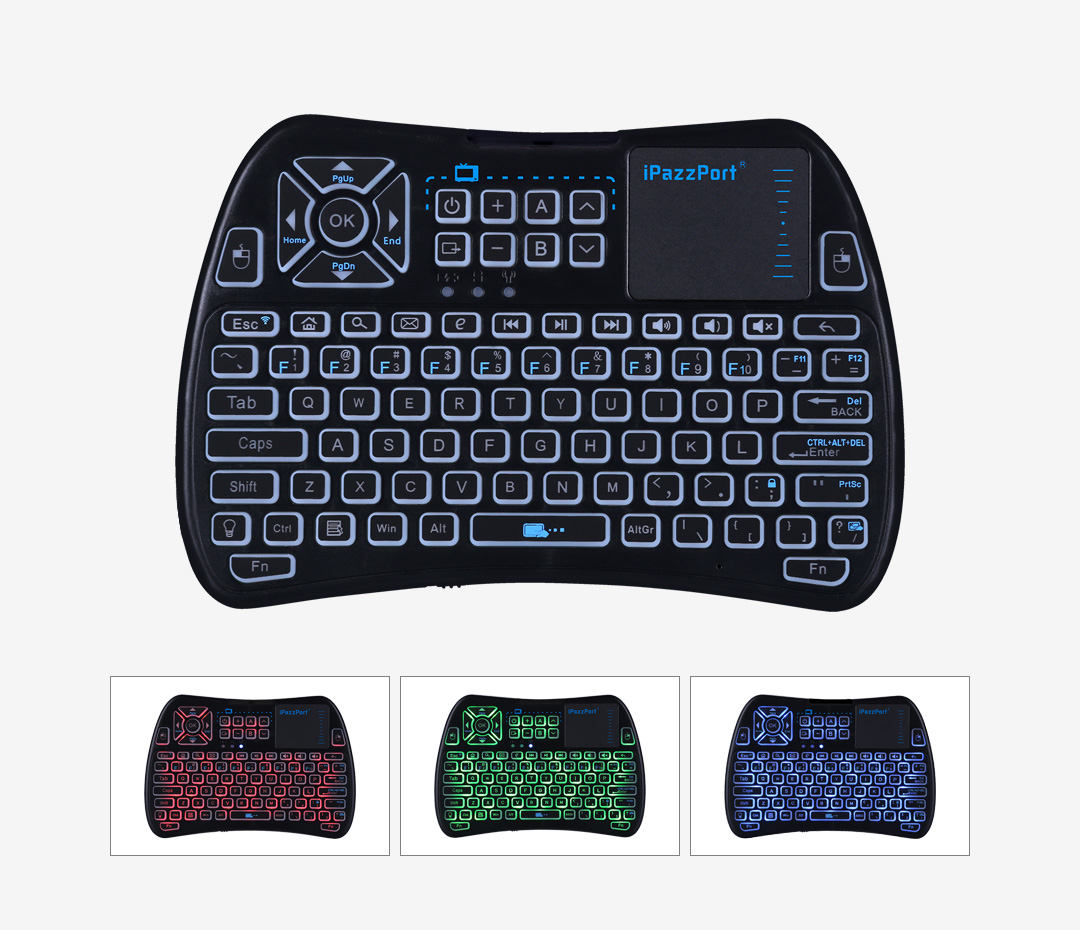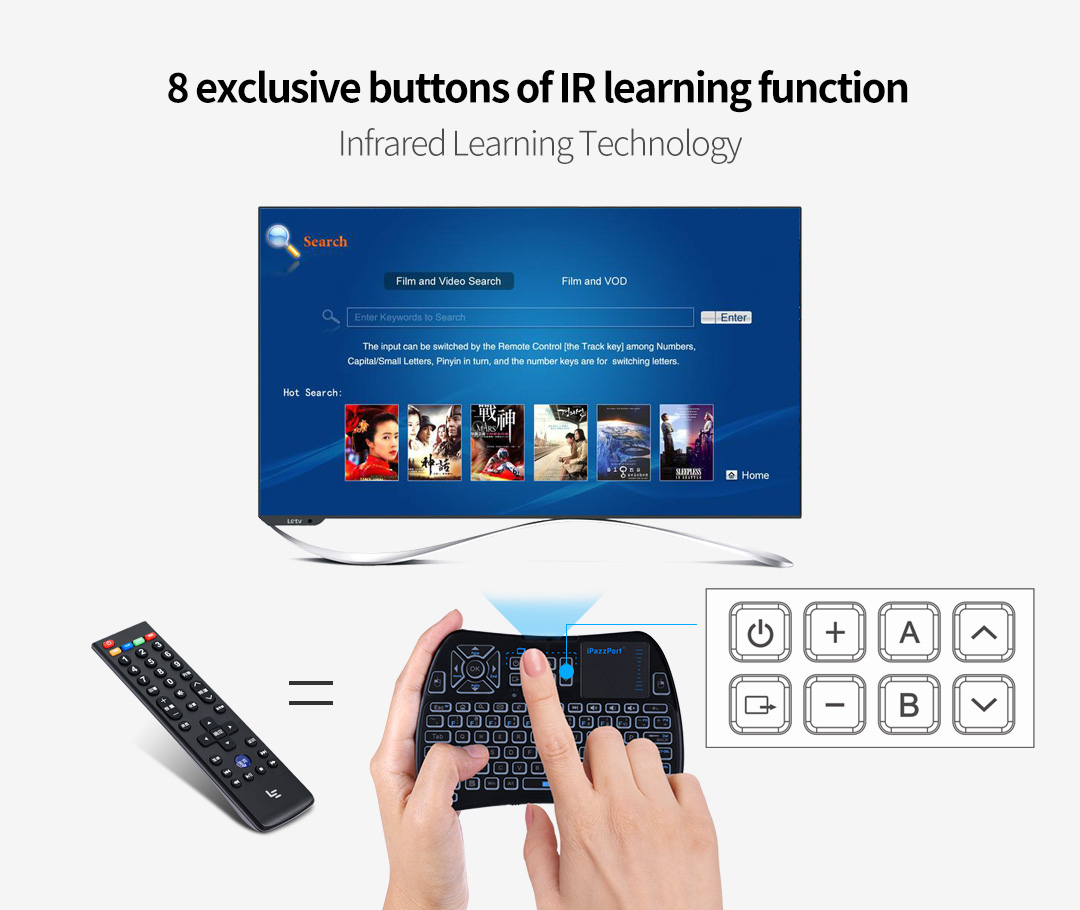 FAQ:
1) Which and where are the learning buttons located?
Answer: There are 8 learning buttons to the left side of the touchpad.
2) Does this work with my Pi?
Answer: It is a RF keyboard with USB receiver. It works with any devices with standard USB port, including Pi, TV box, PC, etc.
3) Can it controll my TV, and my air conditioning?
Answer: Yes, the programmed buttons can control your TV after learning code value from your original TV remote, like power on/off your TV, change channel or adjust the volume.
As for the air-conditioning, exception may exist though absolute majority of its remote works with the IR learning buttons .
4) How to connect it with my PC, or TV box?
Answer: Just plug the USB receiver into the PC usb port. It is a plug and play mode.
5) Does it mean that I can control my TV box, TV and air conditioning at the same time?
Yes, Just plug the USB receiver into the TV box to control the TV box, and program 5 of these 8 learning buttons to control the TV , and the rest to power on/off, ajust the temperature.
6) Is it backlit version?
Yes.
Additional information
| | |
| --- | --- |
| Weight | 0.12 kg |
| Dimensions | 14 × 9.7 × 20 cm |
| Color | Black |
---
Only logged in customers who have purchased this product may leave a review.