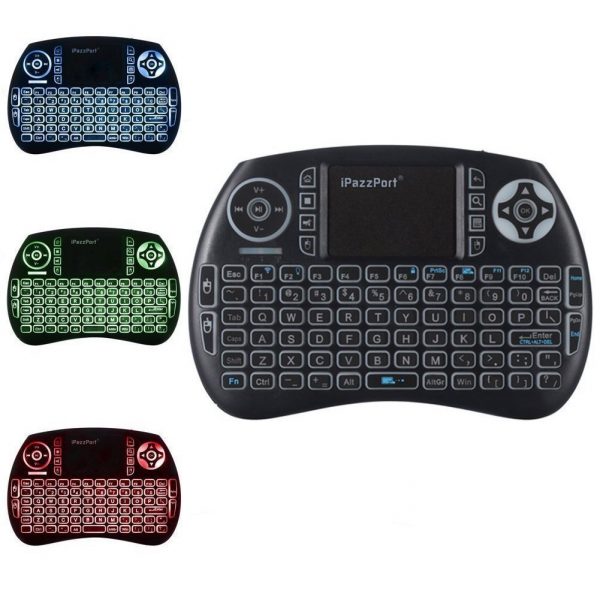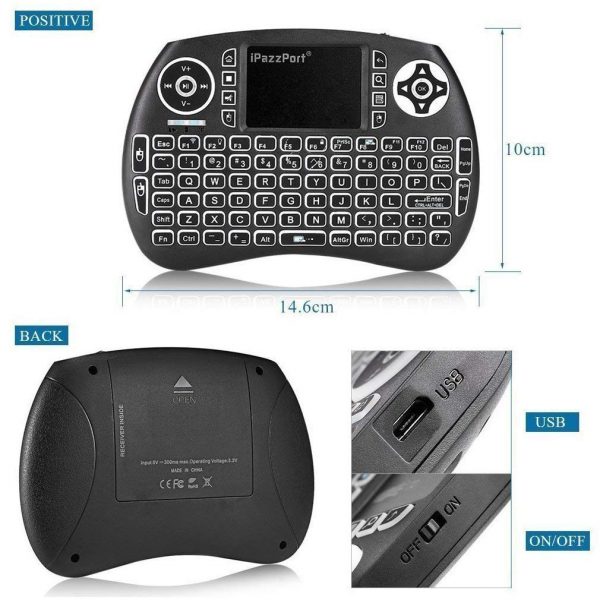 iPazzport wireless RGB backlit multi-media USB keyboard with touchpad mouse combo for Pi,Android TV Box KP-810-21SDL-RGB
This is a 2.4GHz RGB LED Backlit QWERTY keyboard. With USB interface adapter and touchpad combo, it is much convenient in lecture, meeting, education, presentation, wirelessly controlled by PC within a 10′ radius. And it is widely used for PC, Pad, Andriod TV Box, Google TV Box, etc to change slides and screen options, write on the screen, emphasize words and objects.
$16.99
Out of stock
Description
Additional information
FAQ
Reviews (0)
Description
RGB backlit keyboard with
Touchpad
– Portable, QWERTY layout
– RGB backlit
– Touchpad and scrollbar
– USB receiver, plug and play
– Lithium battery, long standby
– OEM ODM accept
UPC:6928647284871
---
-Raspberry pi ,Android TV Box, PC ,Smart TV ,HTPC,
IPTV, XBMC ,X Box 360 , ps4 and others with standard USB port
-Home entertainment, multi-media Education, Training, Conferencepresentation,etc.
QWERTY keyboard layout + multimedia keys and gaming control keys. +touchpad mouse of 360-degree flip design + RGB LED backlit
Portable and ergonomically handheld design ( easy to carry and operate).
These LED backlights are edge-lit style,
which distributes even and soft light.
You can activate the backlit version by
pressing the button "Fn" and click the
key with a symbol of bulb.
One click to turn on red backlit
Another click to turn on green backlit
The third click to turn on blue backlit
The fourth click to turn off the backlit
Click with one finger to slect the target;
Slide with two fingers to browse the page;
Click with three fingers to open menu
Charge the keyboard with the included USB cable
Auto sleep mode for long standby( click any to wake it up),
energy-saving RGB LED backlit and lasting Li-ion battery.
Additional information
| | |
| --- | --- |
| Weight | 0.2 kg |
| Dimensions | 8.8 × 3.3 × 1.1 cm |
1.No response or frequent disconnection
1)Charge the keyboard for One hour and turn the keyboard on ;
2)Press FN and then F1 simultaneously, till the LED flashes;
3)Plug USB dongle into USB port of PC and put the keyboard close to the USB dongle . when
indicator goes out , the connection is successful.
(4)Move your finger on the keyboard touchpad to check out if the the cursor is answering
your finger gesture. The answer "yes" means the re-pair is completed successfully. Or, repeat the steps above .
Note:
For Windows OS, After you insert USB dongle, it will take a few seconds to install
driver automatically.
2.Touchpad become unstable /insensitive or stuck on the screen when clicking the keys.
solution: Charge battery for several hours 2) make sure the source signal is strong enough.
3)make sure the wireless connection is well
3.No response or need to press several times from a long distance.
1)put the keyboard closer to the USB receiver
2)please use the supplied extend USB cable to reduce unexpected interference.
4.The multi media keys can't work.
Solution: Update player version or install relevant driver. It's same with Logitech
5. Other needs beyond above inquires, please contact us for further support
All questions would be answered within 2 business days.
6 does it work with Amazon fire tv?
Answer:
It sure does. I use it on my Amazon Fire tv box. As a matter of fact, this mini keyboard is available for any device which have a USB interface, such as PC, Mouse, Printer, Charger, and Video game console etc.
7 Is the light one color or does it have the option to change colors
Answer:
The backlight color can change between 3 preset colors. The colors are red, green or blue.
8 Can it be connected to multiple devices?
Answer:
It can be used for different devices with USB port but only for one device at a time.
9 How do you get the backlight function ?
Answer:
Thanks very much for your question.
Press the key" Fn" + " F2" quotes button simultaneously to turn on/off the backlight. The mini keyboard also have the up/down key for channel up and down and volume up and down keys
10. Other needs beyond above inquire, please contact us for further support
All questions would be answered within 2 business days.
---
Only logged in customers who have purchased this product may leave a review.