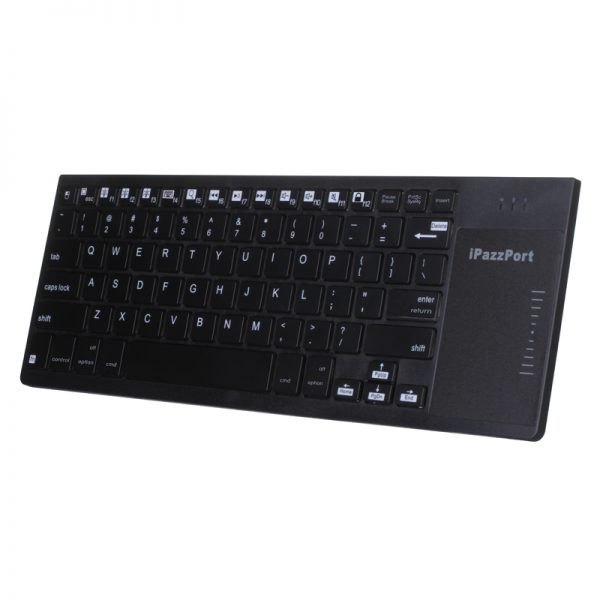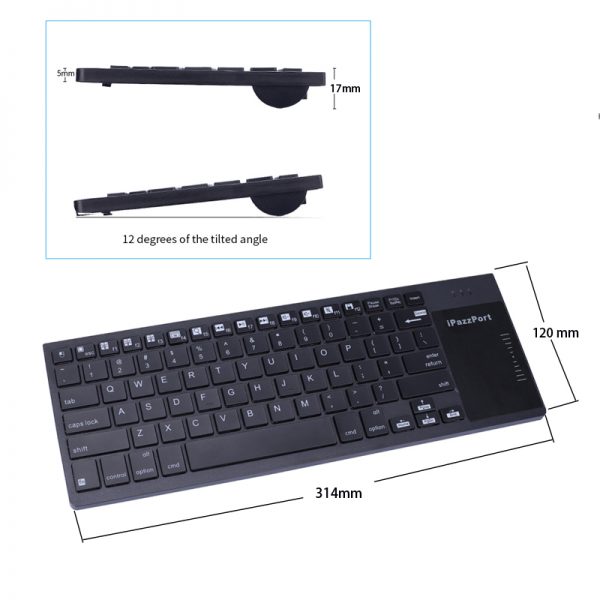 iPazzPort multimedia RGB backlit Bluetooth keyboard with touchpad and scrollbar for iPad, tablet, PC, etc KP-810-35BTT
This is a RGB Bluetooth multimedia keyboard combines an about-full-size QWERTY zone in the left side and a sensitive touchpad with scrollbar in the right side, which provides a probability of smooth letter input and precise & flexible multi-touch function. And the RGB backlit services as a bonus.
$24.99
Out of stock
Description
FAQ
Reviews (0)
Description
RGB backlit Bluetooth multimedia
keyboard with touchpad mouse for iPad
Tablet, laptop,etc
– Slim, portable, ergonomic design
– Touchpad mouse combo and scrollbar
– QWERTY layout and multimedia keys,
– RGB LED backlit and scissor structure
– Works for Tablet, iPad, laptop
– Lithium battery
– Multmedia and multifunction
– Wide compatibility
1 Used as a basic desktop kebyoard
2 Used as multimedia keybboard in HTPC IPTV, home entertainments, surfing,, games, etc
3 Compatible with iPa, tablet, Android/Google Smart TV (box, Raspberry pi,etc
4 Works with Windows,Mac os, Linux, Adroid ios(os)
314*112.5*5mm(17mm of the thickest), this keyboard is considerately smaller than a full-size desktop keyboard and larger than other mini QWERTY keyboard , which enables you to put it and your iPad in the same bag with ease on a travel. And of course ,you can operate it to control your Smart TV ,Raspberry pi or other Bluetooth devices on your sofa within 10meters as a keyboard remote.
We believe that most of you have been tried of some cumbersome Folio-case-style keyboards or stand-alone iPad keyboard. The main letter zone of this unit is about the same size of that of a full-size traditional keyboard,and also is a bit larger than other stand-alone ones, which means a better feeling of typing and  provides a probability of smooth edit and effective multimedia operation.
On the top row of this keyboard, there are some basic separated media buttons that provide convenient and effecitve ways of media sharing in daily life.
To replace the mouse with touchpad and scrollbar is also an attraction of this multi-fucntion keyboard. This extra-large, pretty sensible touchpad helps you position the cursor swiftly and accrately, to edit documents smoothly, browse up/down the pages effectively and change the interfaces conveniently, thanks to useful gesture recognization.
With chocolate mode , the pressure on the keycap is evenly distributed which makes every keystroke quickly and accurately. With and low-profile key travel, every click on it becomes smooth and silent.
The backlit is soft and appealing, and the edge-scattering light won't dazzling your eyes at all ,which helps you quickly get your fingers on the right position in dim room.
Specification:

– Bluetooth connection
– Max Distance:10 m
– Size: 314X112.5X17mm
– Weight: 218g
– Powerd by:Li-ion battery
System Requirement
– Windows
– Mac OS
– Linux
– Android/iOS OS
Package:
Bluetooth keyboard  1
Charging cable    1
User manual     1
How and where to turn backlight on?
Answer:
There are three separate buttons on the top line to switch the backlit color.
where is the bluetooth connect button?
Answer:
Hold the blue FN and push "P" for about 5 seconds till the blue indicator blinks.
Is this also works with my firestick?
Answer:
It's the newer Bluetooth version that works with Blutooth-enabled devices such as pc, Android, Amazon fire, etc.
What if my PC is non-bluetooth version?
Answer:
As for non-bluetooth devices, a extra Bluetooth adapter (to buy separarely on your own) and a USB port to insert it in are both needed.
What about the touchpad and scrollbar?
Answer: touchpad is for moving the cursor to insert, confirm items. The scrollbar (the equivalence of the side scrollbar of the PC screen) is for scrolling up/down the page.
how long does it take to charge?
Answer:
The keyboard can last a long time, and the red flashing keyboard light will remind you of the charging issue.
Does this work with Samsung smart TVs?
Answer:
If your TV is Bluetooth available, it can.
How to use the touchpad effectively?
Answer:
Yes, the same with the touchpad on tablet.
Is there a way to disable the auto sleep feature on the remote?
Answer:
Another random click on the any key seems like an acceptable compromise of the longer standby.
---
Only logged in customers who have purchased this product may leave a review.