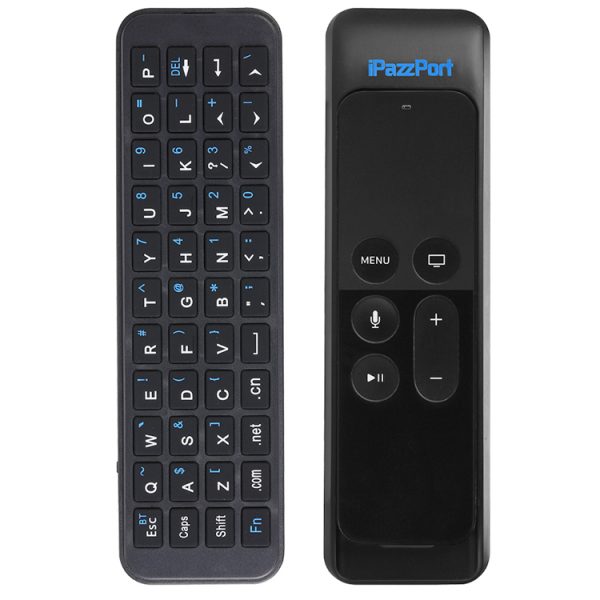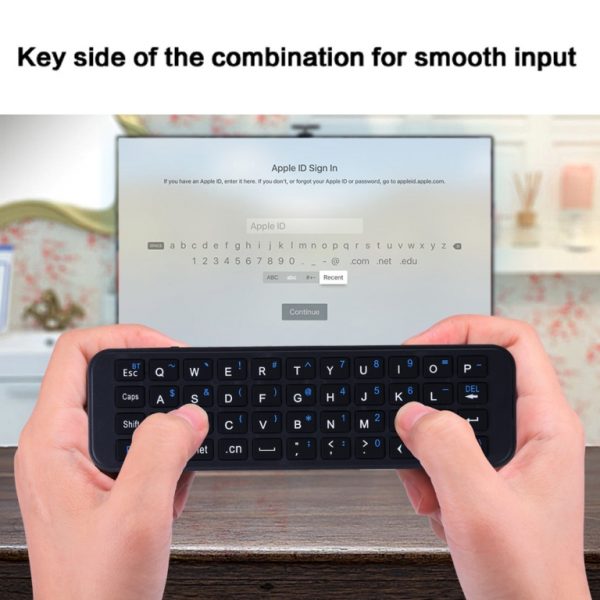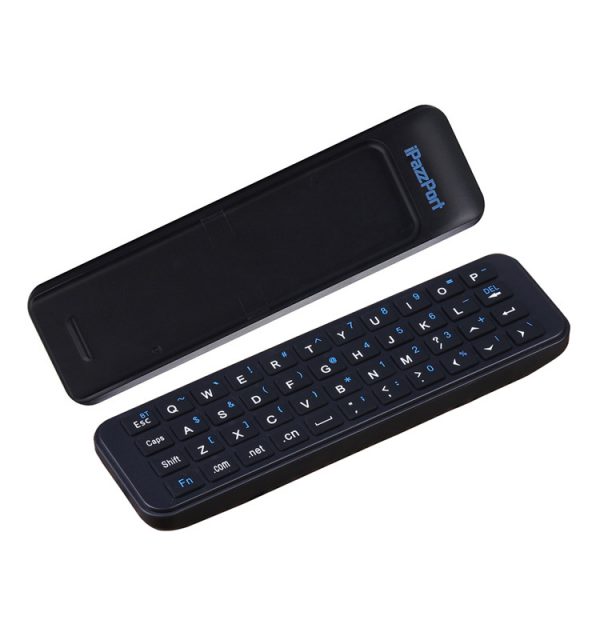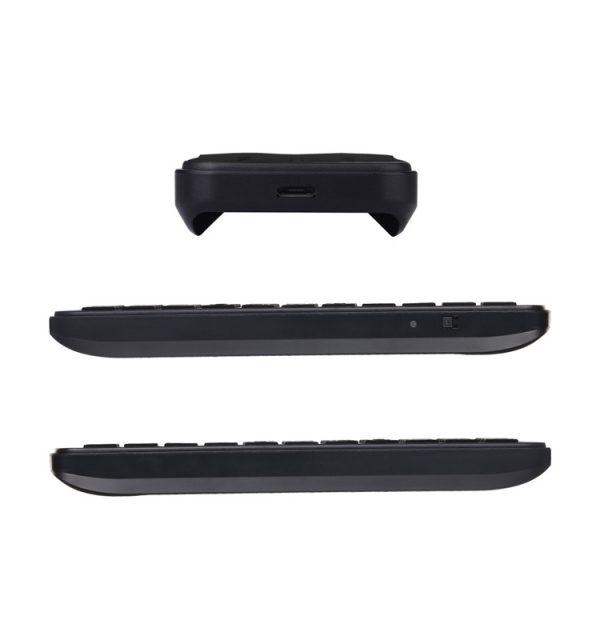 iPazzPort Mini wireless Bluetooth keyboard with back case for Apple TV 4th to input smoothly and work as a remote protector KP-810-56S
With a specifically designed case in the back, this mini wireless bluetooth QWERTY keyboard is to advance your original TV remote, such as to input letters smoothly for searching your favorites, make it bigger to avoid being lost in the cushions, and prevent the glass remote from being broken or crushed.
$19.99
Out of stock
Description
FAQ
Additional information
Reviews (0)
Description
UPC: 745369294829
Inspiration 1
The absolute majority of the ATV4 users are unwilling to aband the original remote for 4 reasons below:with touchpad and voice mode; simple, sleek and powerful in boosting potential functions; pricey ; no real equivalence on the market such as App or third-party keyboards.
Inspiration 2: Nothing is perfect, neither is its original remote. Its superiority is diluted by some drawbacks derived from its tiny size ( always search all the room for the tiny remote), time-consuming on-screen-input style, fragile glass material–.
Our idea: To keep and make best of your pricey, powerful original remote, top of that, remove almost all the drawbacks with a simple and affordable way.
And then, comes about this deliberately designed keyboard remote.
Features: – Bluetooth connection
– QWERTY layout
– Hand-held keyboard remote
– Embedded back case
– For Apple  TV box 4th remote
– Effective and convenient
Detailed description:
-Bluetooth mini remote keyboard for Apple TV 4th generation, new apple tv 4K 32GB/apple tv 64GB
-Mini·Bluetooth keyboard can be paired, make search and password entry much easier
-Bluetooth keyboard with mini size design, make it portable to take, doesn't take up much space
-Don't lose your siri remote, it can maintain the remote together, one side is for voice search, another side is for keyboard search
155X46X15mm in dimension, this mini Bluetooth keyboard is a sleek hand-held version with backcase that specifically designed to hold your Apple TV 4th remote. It remains the same size of an average TV box remote after you put your remote in the back case, which means your remote will never be lost in the crevices of cushions.
Not only the back case acts as a protector to prevent your fragile and sensitive glass touchpad from being crushed and damaged, but also the combination is more comfortable and convenient in hand and in operation, especially for the persons with big hands.
This bluetooth keyboard has a traditional QWERTY keyboard layout,  and its edit-friendly version will surely enables the users to  input password, or letters to search for their favorite programs, which is obviously advantageous over previous pick-and-peck on-screen input style.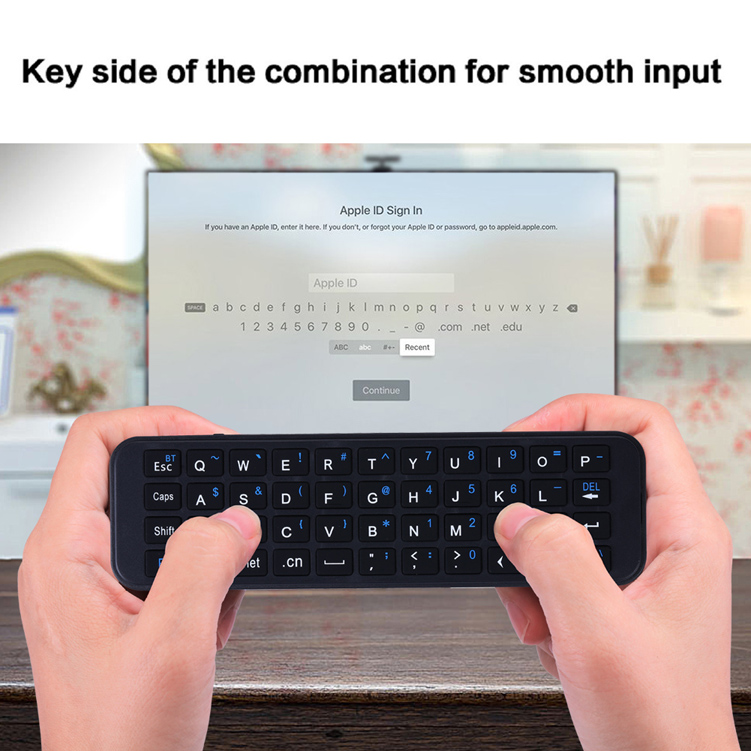 Unlike other bluetooth keyboard remote that claimed to replace your original Apple TV box remote,  the combination (the keyboard in the front and Apple TV remote in the back case ) is much effective  considerate. Just start to use the Keyboard on top for text entry, and flip it over for the convenient use of your existing remote, it is convenient and flexible enough. That is to say, you don't have to juggling multiple remotes any more.
Specification: – Bluetooth connection
–  Max distance:30ft
–  Power Supply: DC 3.7V
–  Recharge Li-ion Battery
–  Size: 155X46X15mm
–  Weight: 58g
System requirement: –  Windows
–  Mac OS
– Linux
–  Android /Google OS ,ios
Package: –  Mini keyboard    1
–  Charging cable   1
–  User manual     1
FAQ
1 Does it work with iPad?
Yes. As a standard Bluetooth keyboard remote, this unit works with other Bluetooth-enabled
devices including iPad.
2 Does it works with Apple TV 2,3rd?
Yes, this unit works with Apple TV 2,3rh in function, while the back case doesn't go with the original remote of the Apple TV 2,3rd.
Of course, we also revealed another specially designed bluetooth keyboard for atv2,3rd separately
3 Can it pair with multiple devices at the same time?
No. Though this Bluetooth keyboard is also compatible with other Bluetooth devices ,but it can only control one device at the same time.
4 lost my Apple TV remote. Does this device replace the original remote, or do I still need the Apple TV remote?
Answer:
You need your Apple TV remote to activate the Apple TV's bluetooth function in order to sync this product with the Apple TV.You should establish Bluetooth connection to your  TV box with your original TV remote before it works with your AppleTV 4th box.
5 How can I do if lost my original remote.
To get a Apple TV remote from your friend and get this keyboard connected with your TV box. It is a good alternative if you are not  a fan of its voice search mode.
6 Can this keyboard completely remplace the original TV remote?
Partly insteadly completely. This keyboard is designed to remove its drawbacks and advance its powerful features mentioned in the section of "Inspired by".
Additional information
| | |
| --- | --- |
| Weight | 25 kg |
| Dimensions | 15 × 15 × 20 cm |
| Color | Green, Red |
| Size | Extra Large, Large |
---
Only logged in customers who have purchased this product may leave a review.