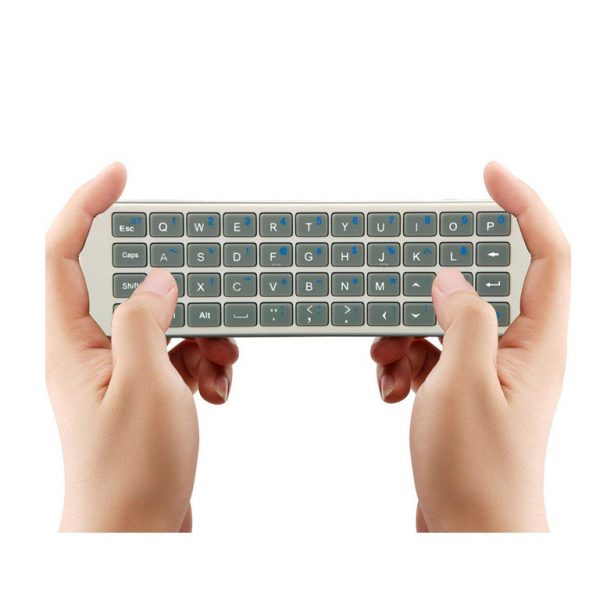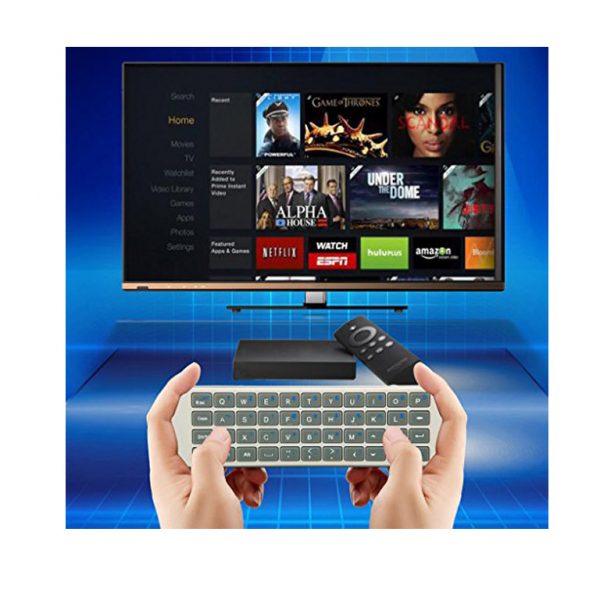 iPazzPort handled mini wireless Bluetooth keyboard with back case for Firestick KP-810-30B
Fire TV stick remote is small and time-consuming in password input. Thus this mini Bluetooth QWERTY keyboard With detachable silicon sleeve is specifically designed for fire TV stick (update to Fire OS 5.0.5) to comfort your hands and speed up password input. More ever, it is widely used for others devices like PC, iPad, tablet, smart tv box, etc with Windows-Linux/Mac OS or  Android/Google OS.
$25.99
Out of stock
Buy at amazon
Description
FAQ
Additional information
Reviews (0)
Description
—An effective solution to Fire TV stick remote
Firestick is the most popular streaming device on the market today! While the feedback on Amazon suggests that users like to type in a traditional keyboard format instead of the hunt-and -peck method with the standard amazon stick remote, and that they are tired of searching all the sofa for that small remote.
And then, comes this mini Bluetooth keyboard with silicon sleeve, which is a pretty good solution to the complaints above mentioned.
Bullet points:
–  The detachable silicon sleeve holds the remote together in the back.
–  QWERTY keyboard layout guarantees a smooth input
–  Keyboard side for smooth text entry, flip it over for your    firestickremote
– It is wide compatible : also for most other devices with built-in Bluetooth.
– It is intuitive to use and easy for Bluetooth connection
Please note:
Fire stick remote and AAA battery are not included
It doesn't work with youtube due to system incompatibility
 it is for fire TV stick instead of former fire TV box.
Specifications:
— Bluetooth connection
— Max distance:10m
— Power Supply: DC 3V(1.5V 3A Battery x2)
— Physical Parameter:
— Size: 155X46X15mm
— Weight: 90g
System Requirement:
– Windows
– Linux
– Mac OS
– Android/iOS OS
Package listing:
– Keyboard
– Silicon sleeve
– User manual
One of the complaint is that the original remote is likely to lost in the cushion and to be crushed or get ruined by the children and pets. We offer a solution by packing a sleeve in the box as a pretector to hold your original remote in the back case. Now that this keyboard combine Your fire TV stick into a single unit, they will never escape your eyesight and fall apart off the table easily.
Thanks to its QWERTY keyboard layout, shortcut keys and the function keys, this keyboard makes inputting letters smooth, precise and time-saving. which is to help you out of that time-consuming onscreen input with your original remote.
The combination (the keyboard in the front and the remote in the back case ) is much effective and convenient in inputing letters and performing wonderful functions of your original Fire Stick remote. Just start to use the Keyboard on top for text entry, and flip it over for the convenient use of your existing remote control. It is that simple..
Generally, the steps to pair the Bluetooth keyboard with the fire TV stick.is quite similar with that to pair some Bluetooth device with your Phone. Very simple . Once paired ,the keyboard will work next time automatically due to the memory function.
Besides the firestick, this keyboard, when leaving aside the silicone sleeve,also works with other Bluetooth devices.
FAQ:
Does this work for fire TV box?
Answer: no. This is a Bluetooth version for fire TV stick instead of Fire TV box.
Does it work for my Pi, or PC?
Answer:Yes, this Bluetooth keyboard works not only for Fire TV stick but also for other devices with Built-in Bluetooth connection.
Can this keyboard control multiple fire sticks in your home?
Answer: Yes, it is Bluetooth so it can connect to any fire stick. But you cannot control more than one at the same time.( you had better turn off others in case of  frequency  interference)
can this keyboard compatible with YouTube on fire TV stick .
Answer: No ,this keyboard is not compatible with YouTube. On YouTube Search,YouTube onscreen keyboard only support Arrow keys and the Enter key function to navigate,not allowing input;The Backspace key acts like a return key and takes to the previous page; The same issue with other keyboards in present market.
What are the two silicon sleeves for?
Answer: The hollow one is for your supplied remote and another one is for your coming siri remote. And of course, you can put away the sleeves to use the keyboard remote separately.
How to connect it with my Fire TV stick?
On TV :open your TV—"setting" --- "Controllers and Bluetooth Devices" --- "Other Bluetooth Devices"-----click "add Bluetooth device" (your TV begin to search the existing device).
On keyboard : 1)make sure to have fully charged your keyboard ---2)turn on your keyboard (the .director light will flash and go off in one or two seconds )---- 3)firstly. press the key "FN" and then "BT' simultaneously for a moment till the blue director in
one end flashes continuously ,which means the keyboard is searching Bluetooth device around .(don't mistake the order ,and then press the two keys with two finger at the same time. Don't let go off your fingers until the blue light flash).
On your TV again: you will see a icon ' iPazzPort keyboard ' ,just click--- a tag "the iPazzPort keyboard is connected " appears in a few second --- it is OK
How to connect this keyboard with my fire TV stick next time?
Answer: You don't have to connect it manually from the start unless you have canceled the keyboard in the stick setting interface. The fire stick and the keyboard will recognize each other and establish connection automatically next time due to its memory function.
Does it a backlit version?
Answer: No, this is a non-backlit version. And we of course have a backlit version soon named kp-810-30BL.
3  Why it fails to stay connected with fire stick
(1) You have to go forward or back out of some APP or programmer with your remote .( the keyboard may be not compatible with some APP or programmer)
(2) Not being used within 2 minutes ,it disconnects but reconnects once you use it again. Example: watching a movie on Netflix it shows disconnected and once the movie is done you press any button to reconnect the keyboard if you want to watch something new
(3)  Please make sure the resource signal is strong enough
(4) Please make sure the keyboard is not in low power capacity
(5)  Please make sure the keyboard is not being connected with some other Bluetooth devices    around at the same time ( like TV ,smart phone, speaker ,etc)
(6)  Frequency interference always exists. Please put away obstacles or shut off other Bluetooth enable units with similar frequency, or put the keyboard closer to the PC or TV.
(7)  An external HDMI cable is to be needed under some uncertain reasons.( the stick is plugged in the port behind the monitor, which may block or weak transmitting/receiving signal between stick and keyboard ).
Additional information
| | |
| --- | --- |
| Weight | 25 kg |
| Dimensions | 15 × 15 × 20 cm |
| Color | Green, Red |
| Size | Extra Large, Large |
---
Only logged in customers who have purchased this product may leave a review.