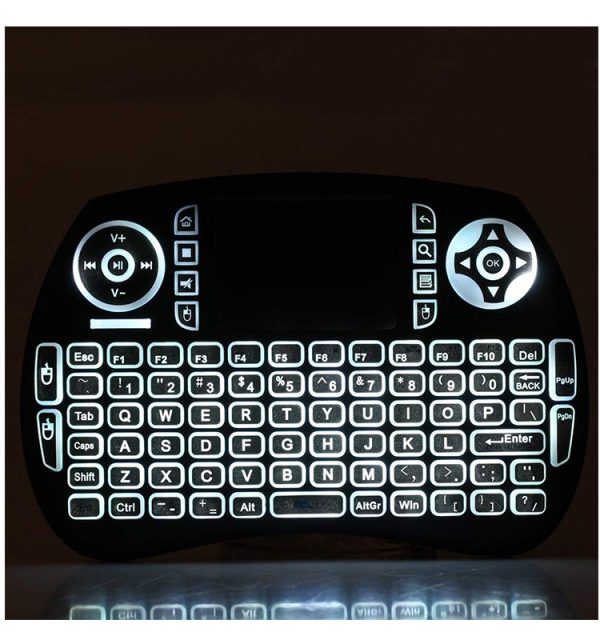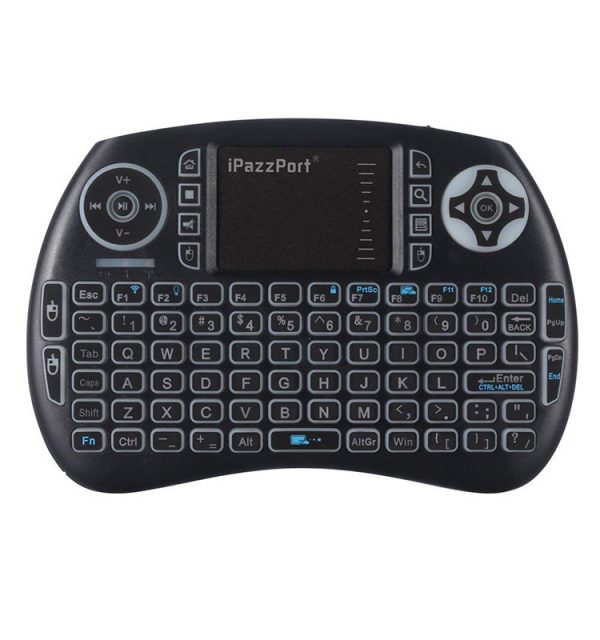 iPazzPort backlit mini Bluetooth and 2.4GHz keyboard with touchpad mouse combo for Pi, PC,TV box, HTPC, etc KP-810-21SM
With QWERTY layout and TouchPad combo.  This  Mini Wireless bluetooth keyboard  is used as an universal multimedia keyboard remote for Raspberry pi, PC, Android TV Box, Google TV Box, Xbox360, PS3, HTPC/IPTV set-top box, and others with built-in Bluetooth connection.
UPC: 790704414561
$26.99
Description
Additional information
FAQ
Reviews (0)
Description
Backlit Bluetooth keyboard
with touchpad mouse
– Mini, portable and ergo design
– 92keys QWERTY keyboard
– Touchpad mouse combo and scrollbar
– Clear keys and useful backlit .
– Widely used for Pi, Android TV box, PC, ect.
– Long standby
– Bluetooth connection
– Multimedia function
Detailed description:
-Bluetooth Wireless Keyboard for fire TV stick/ fire TV box /Smart tv/ Raspberry Pi, nvidia shield tv, wireless control via included bluetooth
-Connect via bluetooth(No bluetooth dongle in package),can walk around without wire limited,mini remote keyboard for nvidia shield tv 2017 and 2018 streaming
-Control it in your home theater(XBMC media center) wireless remotely on your couch, input the text/surf the internet/play games without several remotes, make life more easier and enjoyable
-Backlit keyboard, support backlit in dark room,it only works after connected successfully
Application:
– Used as a mini keyboard to input letters for search
– Used as a common game control for basic TV games
– Used as a perfect partner to Raspberry pi
– Used as a universal TV/TV box remote like Fire TV Stick
– Used as a multimedia remote or keyboard for multi-platform activities
– Used to replace your mouse.
Product Specifications:
– Bluetooth connection
– Battery Charging: DC:5V/300mA
– attery: 3.7V,800mA re-chargeable lithium-ion battery
– Working Voltage: 3.3V
– Working Current: 6mA~14.5mA
– Charging Voltage: 3V-5.5V
– Standby Current: <4.3mA
– Transmit power: +5db Max
– Interface: Mini USB 1
– Wireless Distance: 10m
– Size: 14.70 x 9.80 x 1.90 cm
– Weight: 208g
System requirement:
– Windows
– Android
– Linux / – Mac OS
– Google/Android/Smart TV
Package:
1 * Wireless keyboard
1 * Charging data cable
1 * User manual
QWERTY layout 92 buttons including multimedia keys, PC keys, navigation keys, pageup/pagedown, left/right mouse, function keys, shortcut keys, touchpad,, scrollbar,etc, they are for you to operate your cursor, input letters and change interfaces.
It is small and space-saving enough to be in your pocket/bag or on your desk.
The ergo curve, shape and the textture make it comfortable in hand.
Palm-fit in both your hands. Both the buttons and the trackpad are in the right place that your finger can reach with ease, which ensures a smooth and flexible operation.
Bluetooth connection is stable and reliable. It is broad compatible with Pi,PC, Pad, Android TV Box, Google TV Box, for Xbox 360, for PS3, HTPC/IPTV and other devices with built-in Bluetooth connection or non-Bluetooth devices. (if only they have USB port for a Bluetooth adapter you bought separately)
Built-in high adjustable sensibility touchpad mouse combo and scrollbar with 360-degree flip design. It is convenient in surfing the webnet, ,editing ,zooming in/out the images
One click with one finger is the same result as you click the right mouse;
two fingers, as the middle wheel of the mouse,and three fingers.
Thanks to its combination of media-friendly keys, independent direction keys, shortcut keys, touchpad and trackpad, you will enjoy a wonderful experience in surfing, game playing, multi-platform activities, home entertainments, PPT control, meeting, speech ,training, etc.
Additional information
| | |
| --- | --- |
| Weight | 0.2 kg |
| Dimensions | 8.8 × 3.3 × 1.1 cm |
FAQ:
1)How and where to turn backlight on?
Answer:
Backlit would not work until it has connected with other Bluetooth devices successfully. Please press FN+F2 to turn on/off backlit.
2) Where is the bluetooth connect button?
Answer: Press keys "Fn+F1(with Bluetooth symbol)" till the indicator blinks.
3) What are the steps to connect it with other Bluetooth device?
Step 1: Press keys "Fn+F1(with Bluetooth symbol)" till the indicator blinks to activate Bluetooth mode( could be searched by other devices around).
Step 2: open other device's Bluetooth in "setting" interface to search the Bluetooth keyboard automatically.
Step3: click on the icon of the keyboard on the screen) to establish Bluetooth connection.
Note: As for the Bluetooh devices without a screen, both of them will search each other and establish Bluetooth connection automatically only if you turn their Bluetooth mode on.
4) Does it work for Pi3?
Yes ,it works through Bluetooth. As a matter of fact, you can even connect it with a non-Bluetooth device in the help of a Bluetooth adapter.
5) Is there a supplied Bluetooth adapter?
Sorry, a Bluetooth adapter is not supplied and you have to buy one separately on your own if necessary.
6) the keys don't answer your clicks correctly or promptly.
please short the distance to reduce frequency interference.
Please make sure the keyboard is not in low power.
7) Multimedia keys is reluctant to respond to your click
please update player version or install relevant driver programmer.
8) Any other problem?
please email us at sales@unisenonline.com.cn or contact us on social platforms @iPazzPortfans for more timely helps.
---
Only logged in customers who have purchased this product may leave a review.