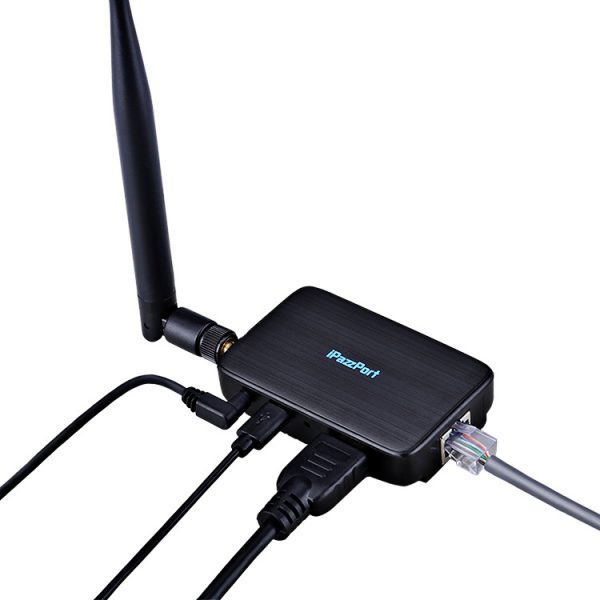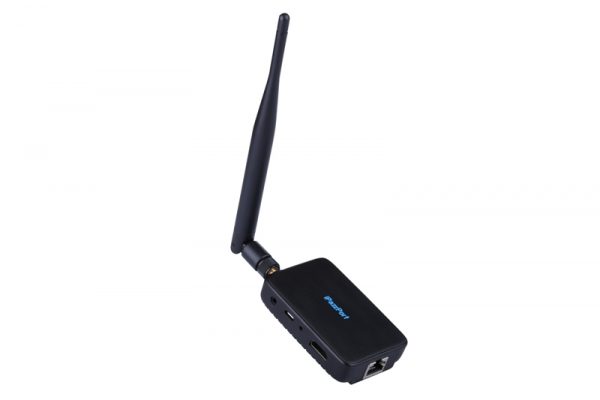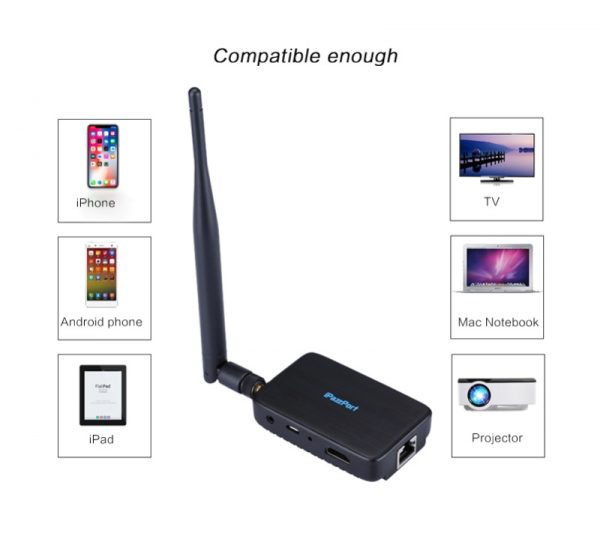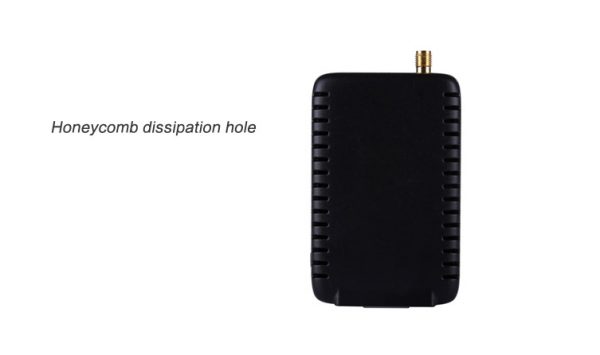 iPazzPort cast wireless AP HD adapter with audio outport and external antenna NC-812-16HW
Wireless AP availaible, External antenna and Audio output, this unit is used to wirelessly stream HD content of pictures, music,or movies on your Smart phone or tablet onto the HD externals ,such as the monitors of TV, projector or others, making your HD externals as media sharing centers.
$36.99
Description
Additional information
FAQ
Reviews (0)
Description
Features:
-Support Miracast,Airplay protocols
-Wireless AP plus no-delay display.
-1080P HD and Hi-fidelity audio output
-Miniature, portable and easy to use.
-External interference-abate antenna
-Ethernet port, WiFi connection.
Application:
* Home entertainments, business meeting,
PPT presentation, Education E-teaching.
* Protocols: MIRACAST protocol of Android mobile phone/tablet,   AirPlay protocol of iPhone/iPad
Specification:
*.CPU: rk3036 Dual-core
*.Memory:DDR3 1Gb
*.Hard disc:flash 128MB
*.Wi-Fi 802/.11 b/g/n
*.Interfaces
HDMI 1.4            1
Mirco USB           1
Audio output            1
* Power supply:Micro USB,DC:5V/2A
*.Size: 95×51.3×20mm(the antenna is not included)
*.Weight:58g(18g of the antenna is included )
---
---
---
---
---
---
---
---
About iPazzPort cast
iPazzPort is a flagship brand of wirless mini keyboard and wireless display from Unisen Group, a comprehensive Hi-Tech company that integrating R&D, design, produce and selling, based on the principles of Smart, Profession, Innovation.
The products of iPazzPort brand share a moderate market in European and Asian markets, and is recognized by people in most countries and regions.
Additional information
| | |
| --- | --- |
| Weight | 0.026 kg |
| Dimensions | 8.8 × 3.3 × 1.1 cm |
FAQ:
1 Does it compatible with iPhone?
Yes, it does. As a matter of fact, this unit is compatible both with Miracast and Airplay protocols.
2 What is the Wireless AP on this uint?
Thanks to its capability of convert wired signal into wireless network-similar to a mini Router to some extent- this provides a pretty convenience in connecting your cellphone or other several ones to this unit for online content after these cellphone detected and connected to this unit by inputting the password.
Note: Several cellphone can connect with this unit for online content at the same time, but only one of these can be set up to display content onto TV monitor simultaneously.
3 What is your recommendation, Ethernet port or wireless WiFi?
Both wired Ethernet and Wireless WiFi are available on this unit. We recommend to you the wired type, considering its advantages of steady signal and simplicity in signal connection.
4 Is the Audio cable included?
Considering almost all the wired speaker are equipped with an audio cable, we didn't include a audio cable in the packing list, which will save your a few bucks.
5 How to adjust the antenna?
The antenna is detachable and bendable, you can calibrate its position and angle by bending it naturally (never reversely) and screwing it into the base skillfully to strenthen the signal.
6 Is the third-party wireless WiFi is the necessity in streaming content?
That depends:
1) You don't have to turn to a third-party WiFi if you only want to stream local content to HD screen no matter whether your cellphone is Android or Ios.
2) Thanks to wireless AP function, you don't have to deliberately connect it with third-party WiFi when streaming online content since this unit itself has turned into an actual WiFi to some extent after connected with the Ethernet cable.
7 How to display local or online content?
Wired type:
1)Connect this unit with Ethernet cable instead of WiFi
2)Follow the cue displayed on TV screen to connect your cellphone to this unit directly.
3)Activate the relavant multiple screen function to make it.
As to the wireless WiFi type, please turn to the user manual for details.
8 How to strengthen the signal for better performance?
1) Put this unit on, beside, or in front of your TV.
2) Adjust the antenna patiently and skillfully.
3) Make the wired type the priority.
9 Others?
Please read our user manual for other concerns
Or contact us at email: support@iPazzPort.com,
Or on social platform: @iPazzPortfans
---
Only logged in customers who have purchased this product may leave a review.